Creating new builds in Armored Core 6 is part of the fun, as you can easily change your mech if you've acquired the right equipment. For added fun, no "one build to rule them all" will force you to switch it up often. While searching for the most efficient build is pure joy, creating a mech from your favorite anime is even more entertaining. And we did just that with our list of best builds in Armored Core 6.
Top 10 Armored Core 6 Builds
Important note: We have PC and PS5 AC6 editions in our Steam Game Guides office, so I tested PlayStation 5 and PC Custom Share ID codes for Armored Core 6.
10. Louis Vitton Build – Armored Core 6
Thanks to the very dedicated Louis Vitton fan, we can be deadly yet fashionable in Armored Core 6. While the equipment is far from pricey, just having that LV pattern makes this probably the most expensive-looking custom build in AC6!
Louis Vuitton Build (PC): RQTF2LKWTGNT
9. Hello Kitty Build – Armored Core 6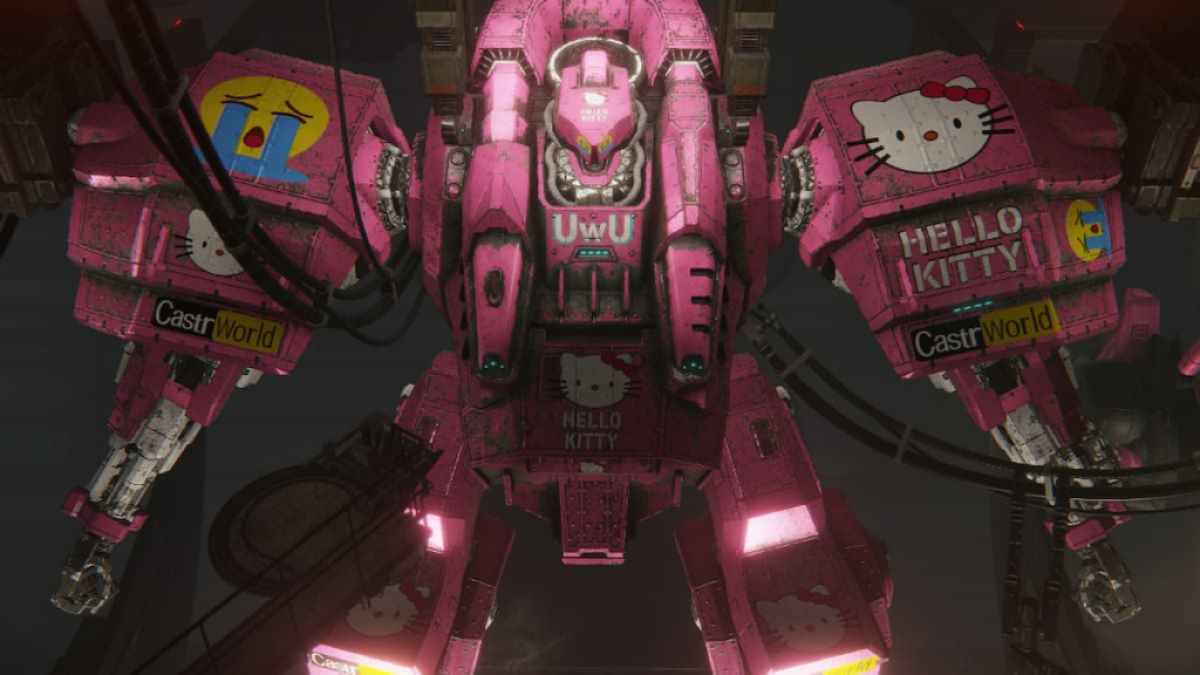 No matter how strong this Armored Core 6 build is (and it is!), you have to appreciate the creator's effort. The build is so imaginative that it may make your enemies in PvP mode let their guard down. While they're hypnotized with giant Hello Kitty, you'll make them bleed oil.
Hello Kitty Build (PC): C71PPQTNJCNF
8. Ranged early game build – Armored Core 6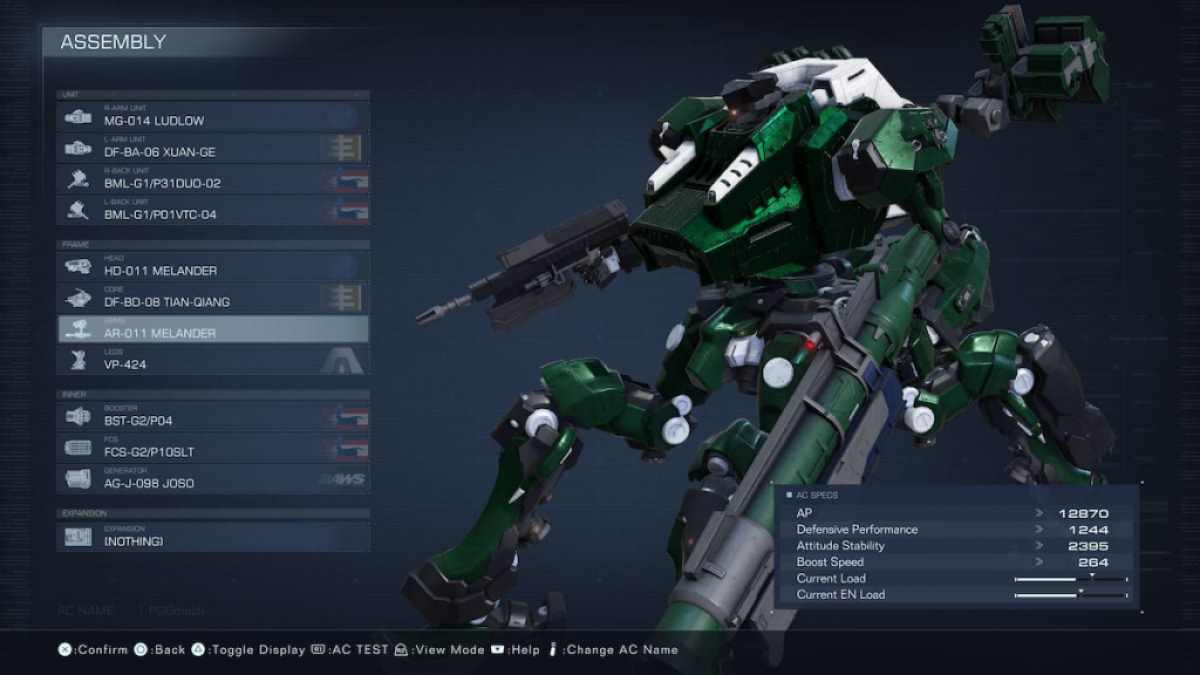 In the beginning, there was ranged shoot 'em up. You may like a different approach, but I'm a fan of long-distance combat, especially when my options are limited. Until you get better gear, focus on raining fire on enemies while maintaining good air and ground mobility with this spider-like mech.
Ranged early game build share ID (PS5): JP2DGSEFSCYE
7. Best Chapter 2 Bulldozer Build – Armored Core 6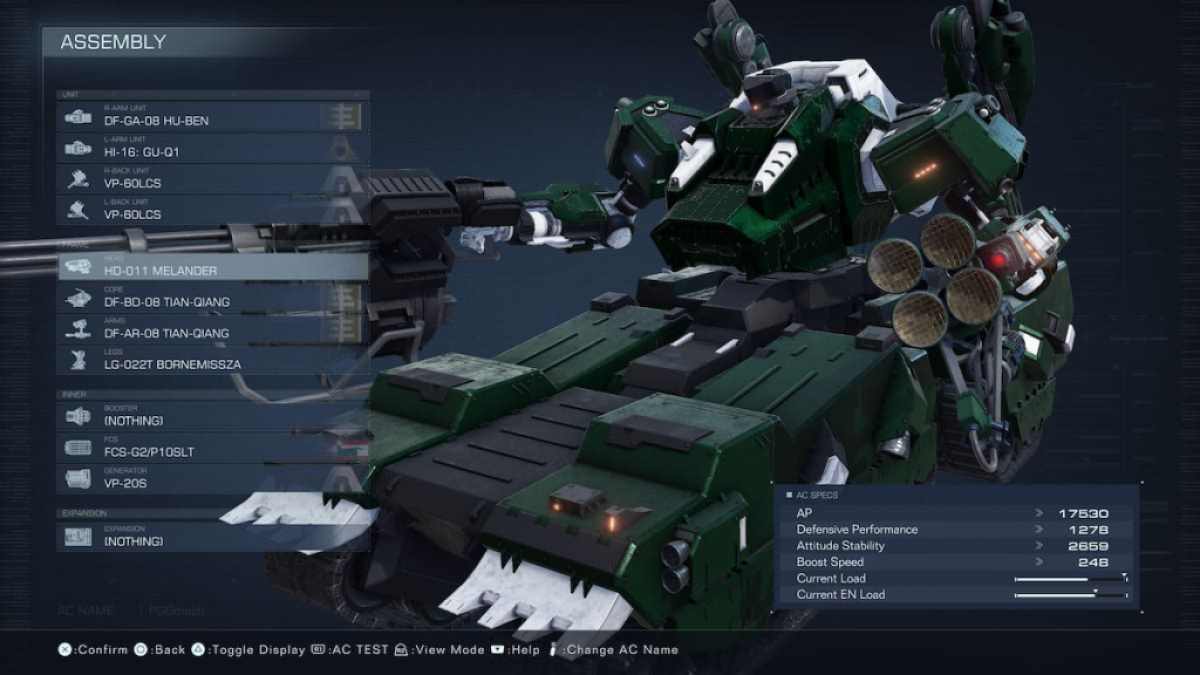 For super-heavy damage in the first couple of chapters, this AC6 bulldozer build is everything you need. A combination of stun and quick burst damage will bring down even the most challenging enemies, mainly if you use Songbirds. After a while, you'll need better gear, but until then, enjoy!
Best Chapter 2 Build (PS5): QUMP7NDQ564C
6. Best Chapter 4 Build – Armored Core 6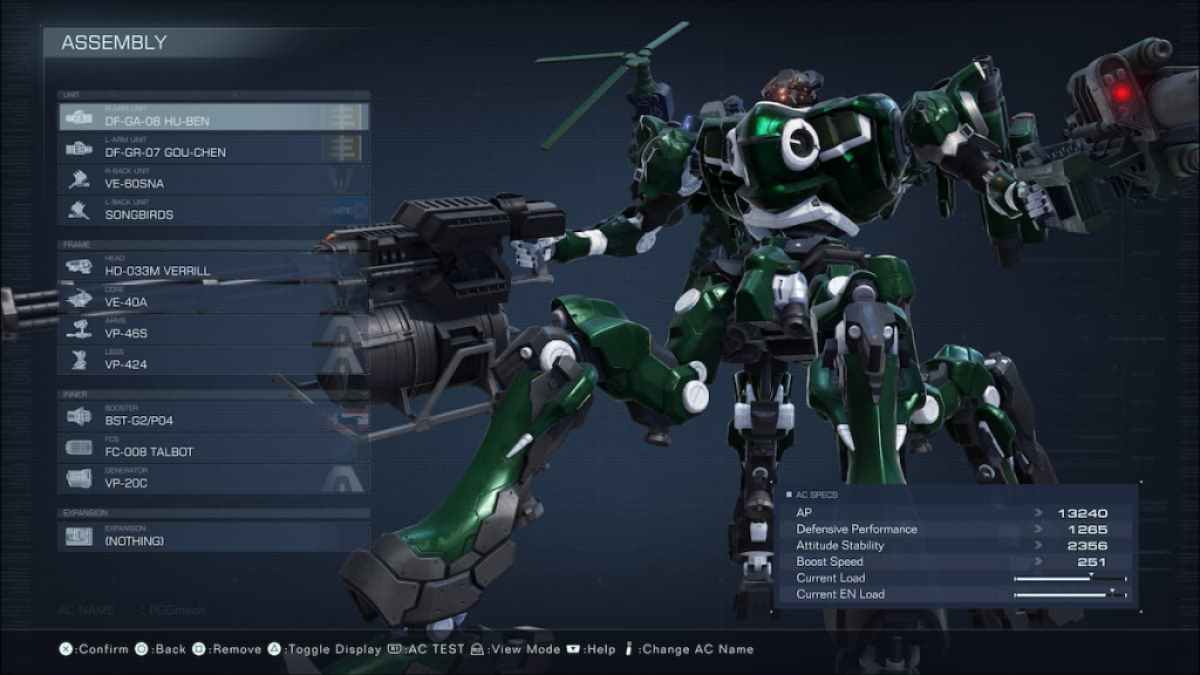 If you're a fan of aerial combat (and you should be in AC6), you'll find this Chapter 4 build entertaining. As this is not the ultimate endgame build, you can tweak this mech even further. While you can modify this Chapter 4 build, I wouldn't change anything on this mech's shoulders. I would go to the end of the world (or at least New Game++) with the ve-60SNA and Songbirds combo.
Chapter 4 Build (PS5): 8YWG5D6CECK5
Related: Armored Core 6 Mech Customization Guide
5. Robotech/Macross VF-1S Build – Armored Core 6
Armored Core 6 is the best opportunity to drive legendary mechs from popular anime titles. While there are many robots, I would pick Robotech/Macross VF-1S Valkyrie (Skull-One) every time. Even if you're not a fan of this anime (why?), you'll appreciate this speedy and easy-to-use build.
Anime Macross VF-1S Skull-One Build Share ID (PS5): V6ZUE8ZRG8T6
4. Ice Worm Killer Build – Armored Core 6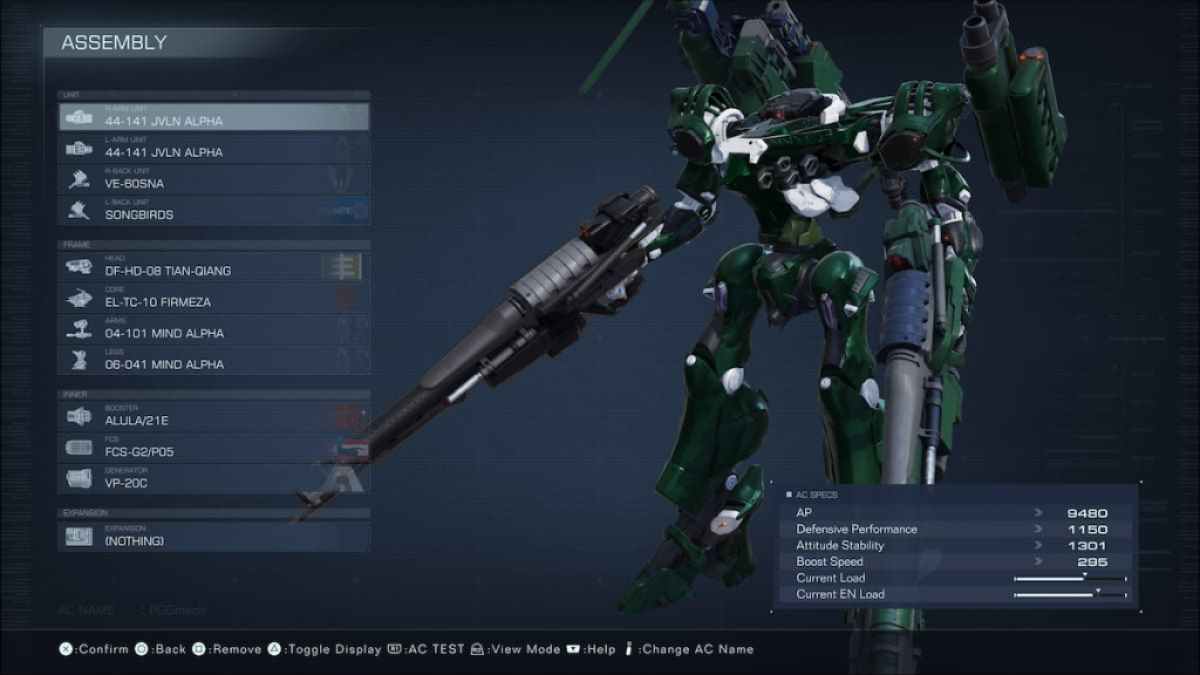 Ice Worm Killer Build is one of the fastest mechs you'll get to use AC6. This robot is created firstly as an Ice Worm boss killer, but you enjoy driving this speedster long after that. Why? Because he can stun, run, outgun, and bring you so much fun!
Ice Worm Killer Build (PS5): 2AGQ0B43A4HK
3. Walter Killer – Armored Core 6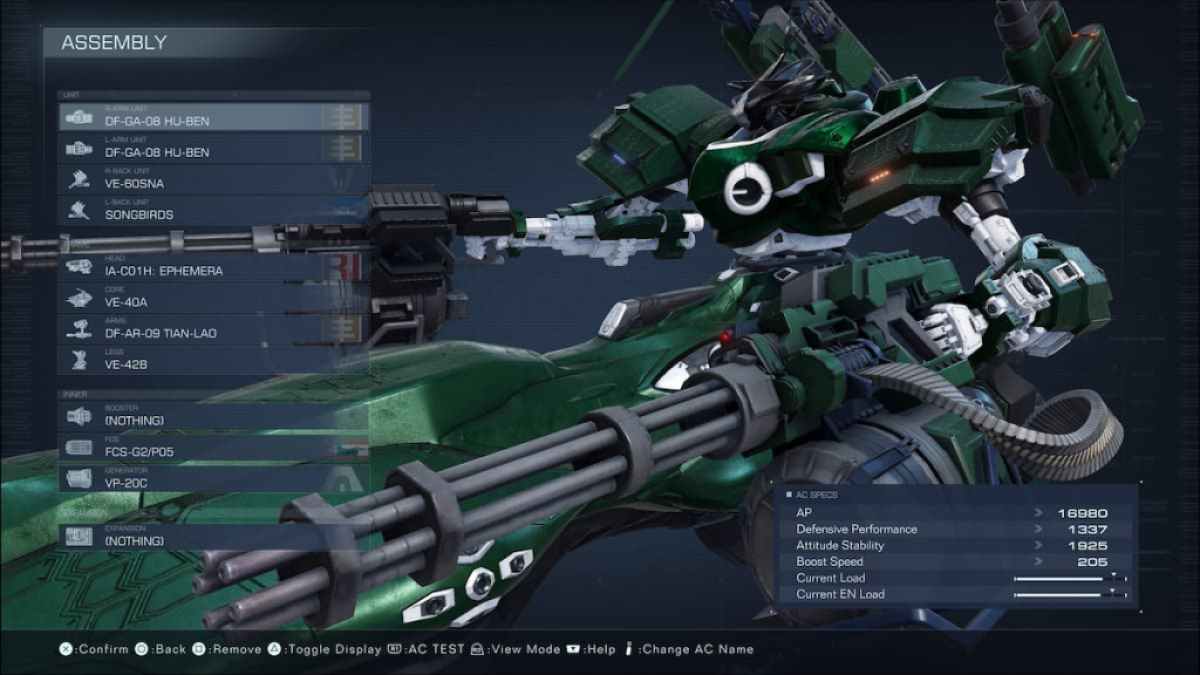 Walter Killer was my choice for the clash with the final AC6 boss. Like most boss fights, stun equipment is necessary, while this symphony of destruction is incomplete without Songbirds. Although this build is heavy, it's by no means slow.
Walter Killer Build (PS5): 0QKAGGUGPB6Y
Related: Best Armored Core 6 Paint Jobs
2. Optimus Prime G1 Build – Armored Core 6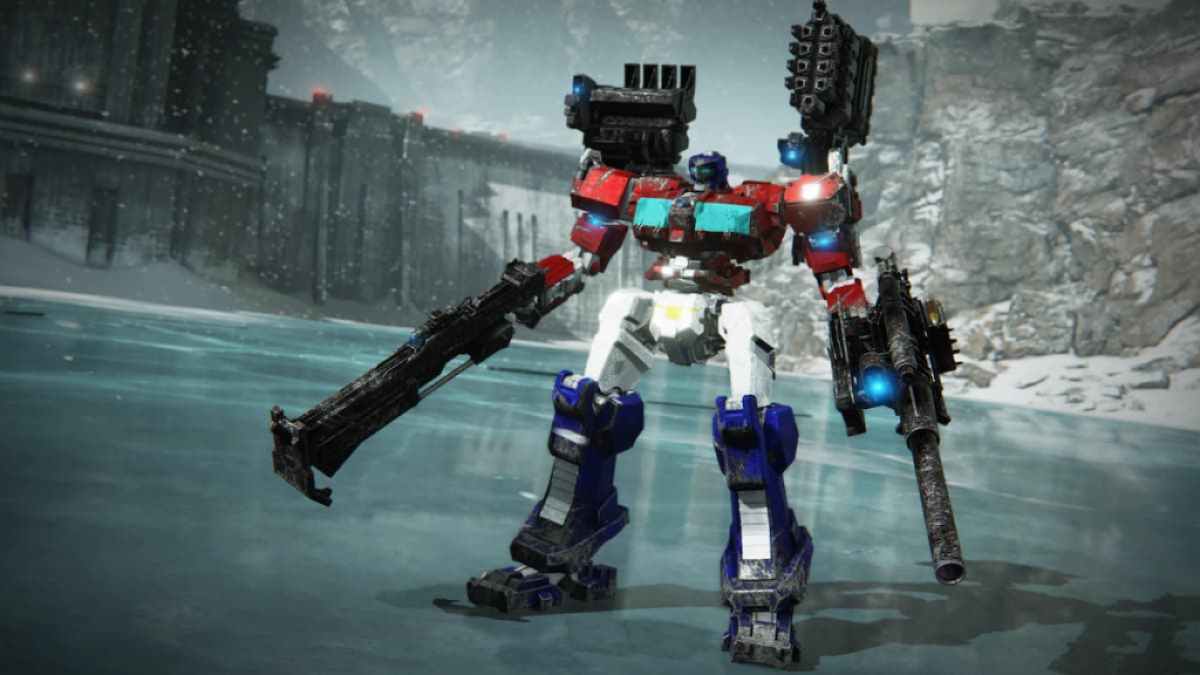 This Transformers build is more than meets the eye! As you can see from the image above, the arsenal is not lacking, making my favorite robot from childhood a deadly choice against most opponents, PvE or PvP. While far from being the ultimate battle machine, Optimus Prime G1 is my favorite build in Armored Core 6.
Optimus Prime G1 Build (PS5): 1EBRXLZYHQLA
1. Ephemera Assassin Build – Armored Core 6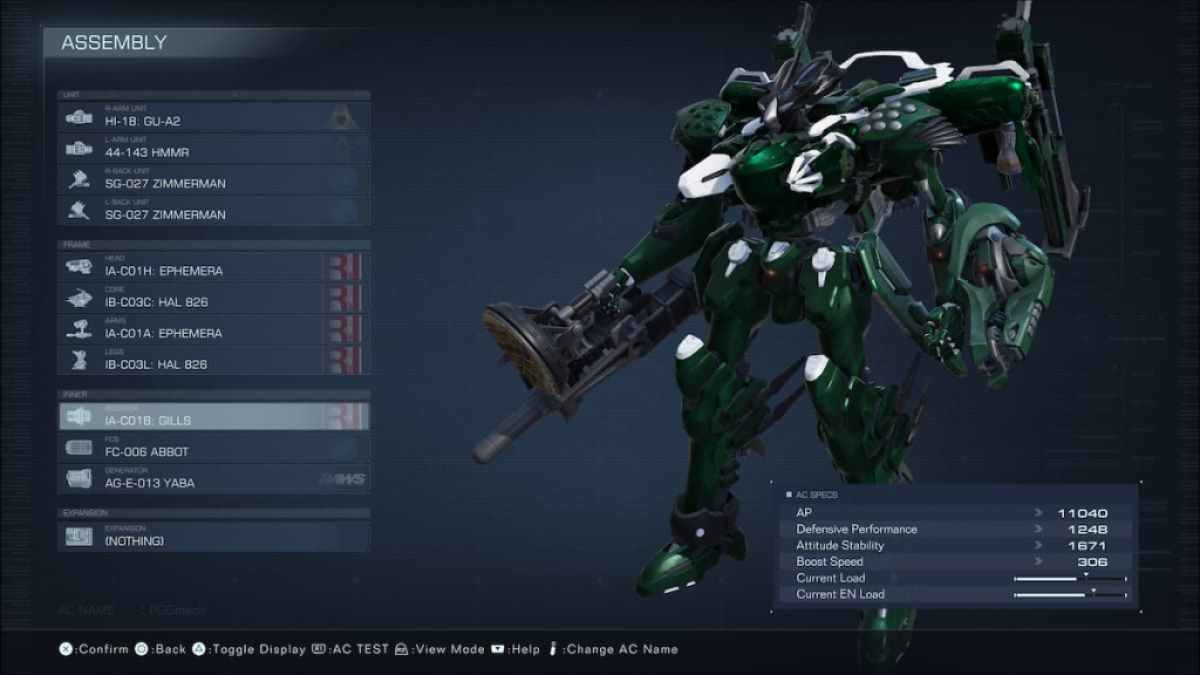 Ephemera Assassin Build is a superior lightweight endgame build in Armored Core 6. It has a pulse weapon to eliminate shields and a fantastic HMMR melee weapon. If that's not enough, two long-ranged SG-027 Zimmerman shotguns will pummel what's left of enemies. I highly recommend this build if you're into the New Game Plus experience.
Ephemera Assassin Build (PS5): WADNYCHKNP8V
For more information on Armored Core 6, check out Best Boss Builds in Armored Core 6 on Steam Game Guides.