New York Jets' quarterback Aaron Rodgers is forced to exit his Jets debut after an opening drive sack causes an apparent injury

New York Jets' quarterback Aaron Rodgers is forced to exit his Jets debut after an opening drive sack causes an apparent injury
The story wasn't supposed to go like this. And yet somehow it felt all too New York Jet-ish as a frenzied MetLife Stadium, fizzing with long-lost Super Bowl oomph, fell silent to the sight of Aaron Rodgers hitting the turf. Oh boy.
New York pulled out all the Broadway stops. Rodgers was introduced by rapper and actor Method Man, and serenaded by AC/DC's 'I'm kind of a big deal' track "Thunderstruck" with a spotlight stalking him and green lasers dotted around the crowd as he emerged from the tunnel to be greeted by high-fives from his adoring new teammates. The four-time MVP was here, and so too a new thriving era of Jets contention.
Not since the days of Joe Namath and the 1968 season have the Jets been to a Super Bowl, 37 quarterbacks having tried and failed to carry the mantle passed on by the Big Apple showman over five turbulent decades. Rodgers was deemed the man to finally break the curse.
Four minutes in, he was down. And ultimately out.
Leonard​​ Floyd had ripped beyond Duane Brown off the edge to haul down Rodgers for the sack, the former Green Bay Packers quarterback landing awkwardly on his left leg in the process and requiring help as he exited the field.
The cart pulled up beside the blue injury tent moments later before whisking Rodgers to the locker room and closing the curtain on his 2023 season, which the team later confirmed following an MRI on Tuesday.
Jets fans might have been tempted to reposition themselves in the in-dent of the sunken armchair cushion in which they have slumped for year after year of agony; a return to normal service, if you will. Hello, old friend.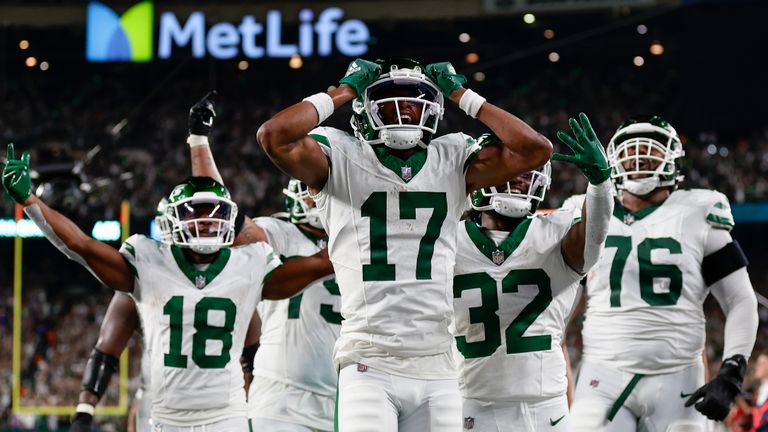 Highlights of the Buffalo Bills' clash with the New York Jets in Week 1 of the NFL
But the Jets, led by Zach Wilson at quarterback, overcame the loss of Rodgers to down the Bills 22-16 in overtime by way of rookie Xavier Gipson's walk-off punt return touchdown. What? And how?
And what now? Have the Jets plummeted back into quarterback purgatory? Have their Championship aspirations already faded?
Rodgers' long wait for second ring continues
Rodgers pitched up in New York to win a ring, to play for a team he deemed ready to win a ring. One will never quite feel enough for one of the greatest and most gifted passers in league history, whose sole Super Bowl triumph dates back to the end of the 2010 campaign.
His wait was their wait, the Jets having Sam Darnolded, Butt Fumbled and Zach Wilsoned their way through quarterback mediocrity, and witnessed a New England Patriots dynasty alongside the rise of the Bills, who have concerns of their own after Monday, and now a high-powered Miami Dolphins firmly in contention chatter. This can't be their story.
Beyond the matter of winning, there of course remains the hope that injury doesn't close the door on Rodgers' playing career altogether; he isn't one to go out in such a manner, but at 39 the question will always be asked.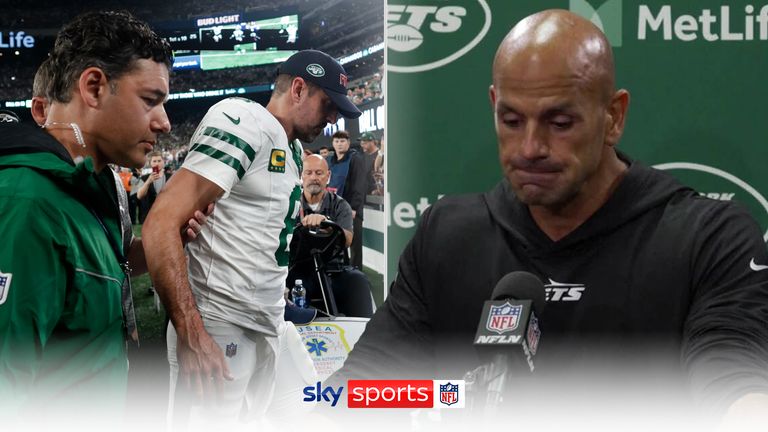 New York Jets head coach Robert Saleh reflects on the devastating news Aaron Rodgers may have torn his Achilles in their season opener against the Buffalo Bills
Rodgers agreed to a restructured contract back in July that includes $75m in fully guaranteed money over the 2023 and 2024 seasons. He previously played down the suggestion he might only play one year with the Jets, but that possibility is now again up for debate after his cruel injury.
As far as the Packers are concerned, the conditional first-round pick sent by the Jets to acquire Rodgers instead becomes a second-round pick, the condition having been that he must play 65 per cent of offensive snaps this season. They also received first, second and sixth-round picks as part of the trade earlier this year.
There came the viral Pat McAfee appearance in which Rodgers confirmed his Jets intentions, and the Twitterfied darkness retreat episode setting the tone for the biggest story of the offseason. This was a rejuvenated, revitalised Rodgers giddy-upping a talent-rich Jets organisation he felt was on course for Las Vegas. Instead, his quest for a Super Bowl return continues. But what about the Jets'?
A second chance?
Redemption for Zach Wilson? Let's start with restoration and reparation, for now, and see where we get. Wilson puffed his cheeks to exhale any (many) pent up nerves and signalled for the snap as he resumed his efforts to convince he can be a long-term starter in the NFL, far earlier than anticipated.
Before his veteran teammate's arrival this offseason, Wilson had promised to make "life hell" for whomever the Jets brought in to play ahead of him; this isn't exactly what he had in mind.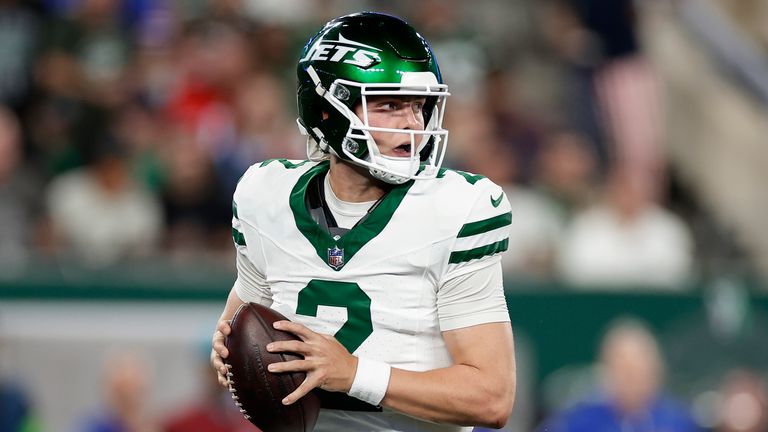 The former second overall pick finished the game 14 of 21 passing for 140 yards, one touchdown and one interception as the Jets leaned on running back Breece Hall and one of the league's most disruptive defenses. Here is the chance to start over.
"I thought he was awesome," Saleh said of Wilson after the game. "He had a couple of big third-down throws to extend drives and score points. Good command of the huddle, lots of gritty scrambles.
"He had an interception and bounced back and didn't let it snowball. We still have a lot of faith in him and proved it by keeping him here and continuing to invest in him.
"He still has a long way to go in terms of growth, but what I love is his mental makeup and the confidence he has in himself. Today was a good example of what we think of him and how he can play. He's going to be great."
Wilson endured a miserable first two seasons in the NFL after the Jets had bitten down hard on the funky arm angles and off-platform creativity showcased across a breakout year at BYU, where fierce competition had been in short supply and where he was protected by one of the top offensive lines in the country.
He shuddered in the NFL headlights, coupling erratic decision-making with blurred field diagnosis, major accuracy issues and debilitating turnovers to eventually fall behind Mike White and Joe Flacco last season. To put it into context, he recorded league-worsts in completion percentage (58.8), success rate (39.0) and EPA/play (-0.126) among starting quarterbacks across 2021 and 2022. Missing on him was the reason the Jets emptied their pockets for Rodgers.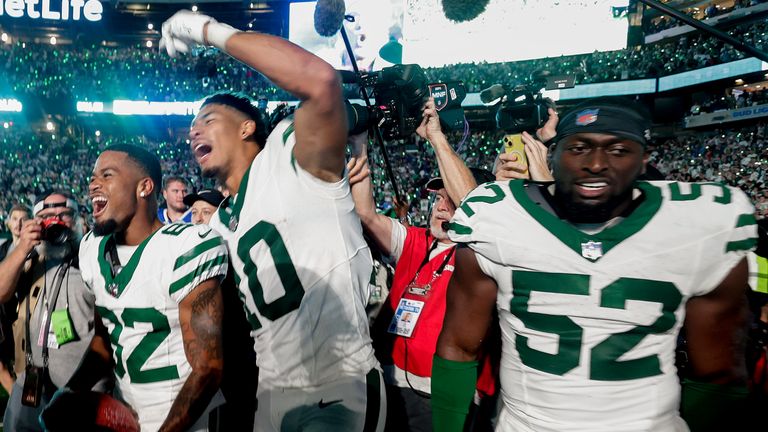 Xavier Gipson sends the MetLife Stadium into a frenzy with an overtime punt return to win the game for the New York Jets against the Buffalo Bills
Murmurs out of camp and selected clips in Hard Knocks suggest Wilson has won some teammates, coaches and fans back over during a summer that has seen him hit reset, they hope, while shadowing Rodgers. Even if the starting job wasn't on his mind, it had the feel of his most meaningful preparation period yet since entering the league.
Take the short stuff underneath, lean on your star names in the backfield, don't rush gimme interceptions to Bills linebacker Matt Milano… like you did on Monday.
"Wilson still plays there?!" uttered Peyton Manning on ManningCast. He sure does, now.
Anybody else?
*Don't mention Tom Brady. Don't mention Tom Brady. Don't mention Tom Brady.*
The seven-time Super Bowl champion is far too busy watching Birmingham City to make a second retirement U-turn. He was also just honoured by the New England Patriots ahead of their season opener, where Robert Kraft confirmed he would waive the four-year wait to induct Brady into the team's Hall of Fame; how quickly he might unwaive that were Brady to do the unthinkable. Be serious, people.
Saleh told reporters after the game that Wilson would be the starter moving forward across the rest of the season. We'll see. Elsewhere, the pool of available free agents is… uninspiring.
Tim Boyle is currently the only other quarterback on the practice squad having completed just 66 of 108 passes in 16 games across four years, while 38-year-old Joe Flacco is currently available as a free agent having spent the last three seasons with the Jets.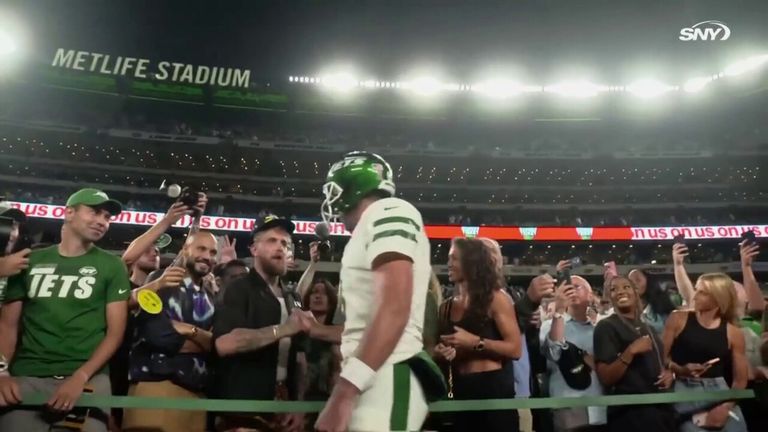 Star quarterback Aaron Rodgers was greeted by Jake Paul before he suffered a season-ending injury on his debut for the New York Jets
Carson Wentz looms as the leading free agent on the market following his release by the Washington Commanders, as much underlining the extent of a sharp decline for a one-time MVP contender. Matt Ryan has just made his broadcasting debut, and Chase Daniel, Mike Glennon and Colt McCoy are very much Chase Daniel, Mike Glennon and Colt McCoy.
Jameis Winston currently sits behind Derek Carr with the New Orleans Saints, Jacoby Brissett is second to Sam Howell in Washington, Teddy Bridgewater is over in Detroit and Marcus Mariota lies in reserve in Philadelphia, should the Jets want to go out and deal for some veteran experience. While we are in prime name-throwing territory, Cam Newton is probably due his latest 'come and get me' social media video.
Don't forget…
Saleh and Jeff Ulbrich have crafted a monster on defense.
The Jets pummelled Josh Allen on Monday night with five sacks and nine quarterback hits, while also intercepting him three times courtesy of Jordan Whitehead's treble. Among Rodgers' reasons for packing up and heading to the Jets was for the Championship-calibre defense primed to put the ball in his hand and capable of blunting the AFC's embarrassment of quarterback riches.
Saleh's side ranked fifth in DVOA and sixth in EPA/play last season, while recording the third-highest pressure rate in the league (25.4 per cent) and a league-high 13.7 quarterback knockdowns per pass attempt having only blitzed a league-lowest 14.9 per cent of the time in a chapter of the league when the most potent units need only rush four or five men.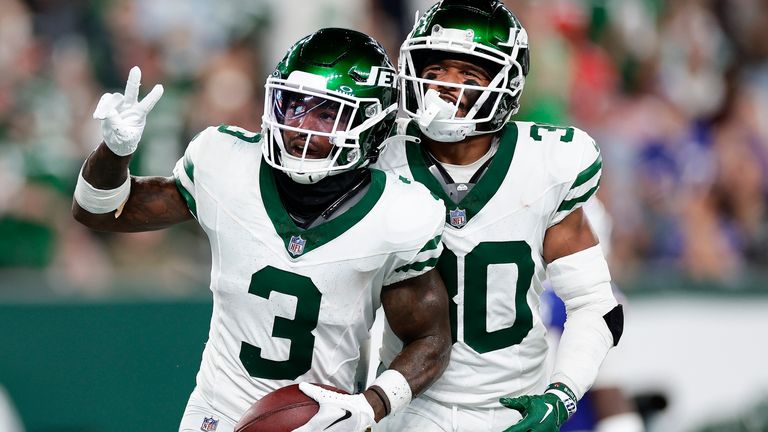 Check out Jordan Whitehead's three interceptions for the New York Jets in their opening game victory over the Buffalo Bills
Second-year cornerback Sauce Gardner has plugged one of football's toughest positions with all the instincts, ball skills, route awareness and explosiveness of a cornerstone in-the-making, while Quinnen Williams spearheads Jermaine Johnson II, John Franklin-Myers, Quinton Jefferson, Michael Clemons and Tasmanian Devil rookie Will McDonald IV as the wrecking ball to one of the league's most frightening defensive fronts.
Wilson, if it is Wilson, never has been short of talent around him, and the case stands today. Garrett Wilson is the returning Offensive Rookie of the Year amid his ascent towards the elite pass-catchers, while running back Hall, having only just returned from injury, has already reminder of why he had been on course for Rookie of the Year last season.
And that there will be the too-much-to-bear annoyance if this thing doesn't work out. The fact that Rodgers very much felt like the final piece to a ready-made contender.