Screenshot by Pro Game Guides
As if Frox weren't scary enough in The Legend of Zelda: Tears of the Kingdom, there's an even tougher variant with even more HP: Obsidian Frox. I thought I could take one down easily because I'd mastered their regular counterpart…Needless to say, I was surprised! If you need to find one for armor upgrades or simply just want the kill, here are all the Obsidian Frox locations in TotK.
All Obsidian Frox in Zelda Tears of the Kingdom – TotK Obsidian Frox exact map locations
Like regular Frox in Tears of the Kingdom, Obsidian Frox can only be found in the Depths. Which is a good thing because I think the citizens of Hyrule would never leave their houses again if these monstrosities were roaming around on the surface. I know I wouldn't.
I've found nine Obsidian Frox as I've explored the Depths. I have every Lightroot unlocked, so I'm certain these are all of them in Tears of the Kingdom. Check out their locations on the map below and their corresponding map coordinates: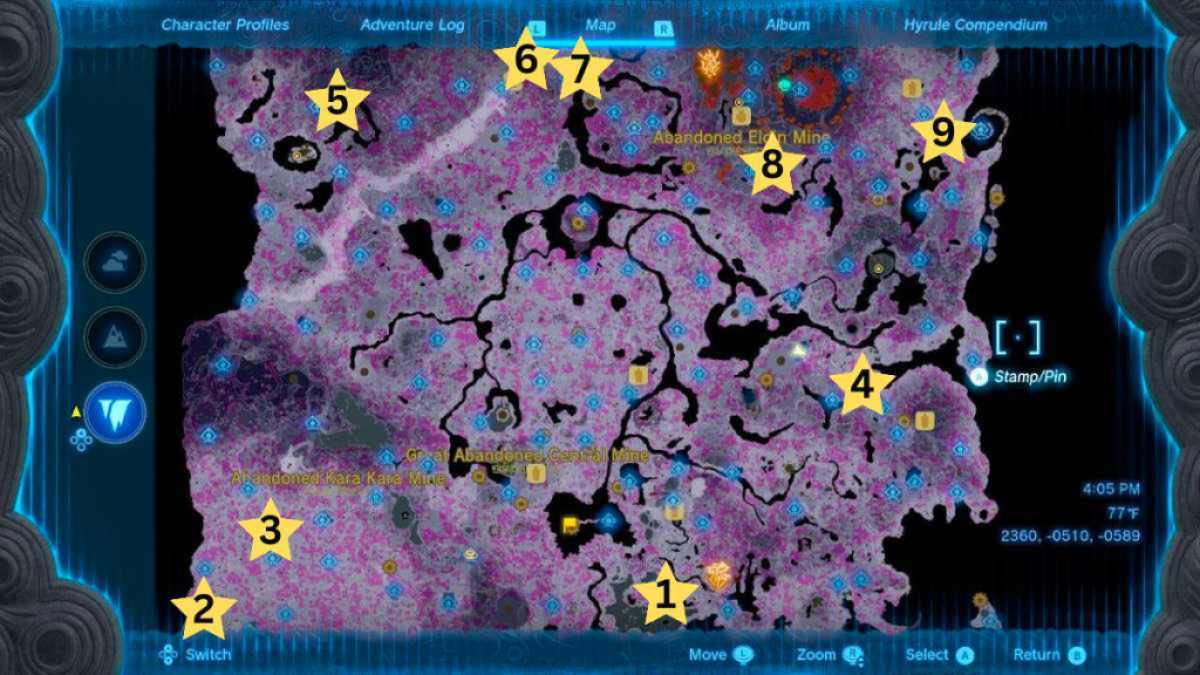 East of Kohsustu Lightroot—map coordinates 0807, -3376, -0475.
South of Gonatoyrim Lightroot—map coordinates -4684, -3482, -0467.
South of Rasinadul Lightroot—map coordinates -4070, -2594, -0491.
Northeast of Migo-o Lightroot—map coordinates 3003, -0792, -0513.
Northeast of Worihas Lightroot—map coordinates -3177, 2664, -0887.
Northeast of Yisuayam Lightroot—map coordinates -0944, 2829, -0618.
Northeast of Nikakik Lightroot—map coordinates -0175, 2900, -0616.
East of Katenim Lightroot—map coordinates 0550, 3456, -0591.
Southeast of Akinatanis Lightroot—map coordinates 4012, 2198, -0468.
All Frox Monster Part drops in TotK (Tears of the Kingdom)
These are all of the possible Monster Part drops that you can get from Obsidian Frox:
Obsidian Frox Fang
Frox Fang
Frox Fingernails
Frox Guts
Related: All Lynel Locations in TOTK (Zelda Tears of the Kingdom)
How to farm Obsidian Frox Fang in TotK (Zelda Tears of the Kingdom)
While you can obtain Frox Fangs from all Frox, Obsidian Frox Fangs only drop from Obsidian Frox. If you are looking to upgrade the Depths armor set in TotK, you'll need to farm these, especially if you want to upgrade the armor fully.
The best way of farming Obsidian Frox Fangs is to follow the route from one to nine on my map above. If you still need more after that, wait until the next Blood Moon for all of the defeated enemies to respawn, and then rinse and repeat.
For more on The Legend of Zelda: Tears of the Kingdom, check out All Blue Lynel Locations in TOTK (Zelda Tears of the Kingdom) on Pro Game Guides.