The Genshin Impact Glittering Elixirs web event runs from May 11, 2023, to May 20, 2023. During the event, you can obtain ingredients by completing tasks and interacting with guest characters, which can then be used to craft Potions in exchange for rewards. You'll get rewards for every unique Potion you create. As the event is time-limited, refer to this guide to ensure you complete all the Recipes!
Genshin Impact Glittering Elixirs web event guide – All Potion Recipes
Potion
Ingredients
Beautifying Oil: For Decoration
Crystal Chunk
Ajilenakh Nut
Oil
Calming Oil
Luminescent Spine
Zaytun Peach
Water
Cooling Potion
Luminescent Spine
Mint
Oil
Cyno's Wind-Resistant Sunscreen
Sand Grease Pupa
Mint
Oil
Dancing Butterflies Refreshment
Butterfly Wings
Zaytun Peach
Water
Energy Booster: Endorsed by the General Mahamatra
Luminescent Spine
Nilotpala Lotus
Oil
Fragrant Balm
Luminescent Spine
Ajilenakh Nut
Oil
Growth Potion: For Plants
White Iron Chunk
Starshroom
Oil
Invigorating Cool Mint Drink
Butterfly Wings
Mint
Water
Invigorating Summer Potion
White Iron Chunk
Mint
Water
Mira-Cure Potion
Butterfly Wings
Starshroom
Oil
Nahida's Cooling Waterproofer
White Iron Chunk
Henna Berry
Water
Nahida's Vivifying Forest Essence
Frog
Ajilenakh Nut
Water
Nutrients for Houseplants
Crystal Chunk
Starshroom
Oil
Sweet Bug Bait Potion
White Iron Chunk
Ajilenakh Nut
Water
Sweet Dreams Sleep Fragrance
Crystal Chunk
Zaytun Peach
Water
Related: Genshin Impact Version 3.7 Livestream schedule – Special Program date, time, and how to watch
How to get ingredients in the Genshin Impact Glittering Elixirs web event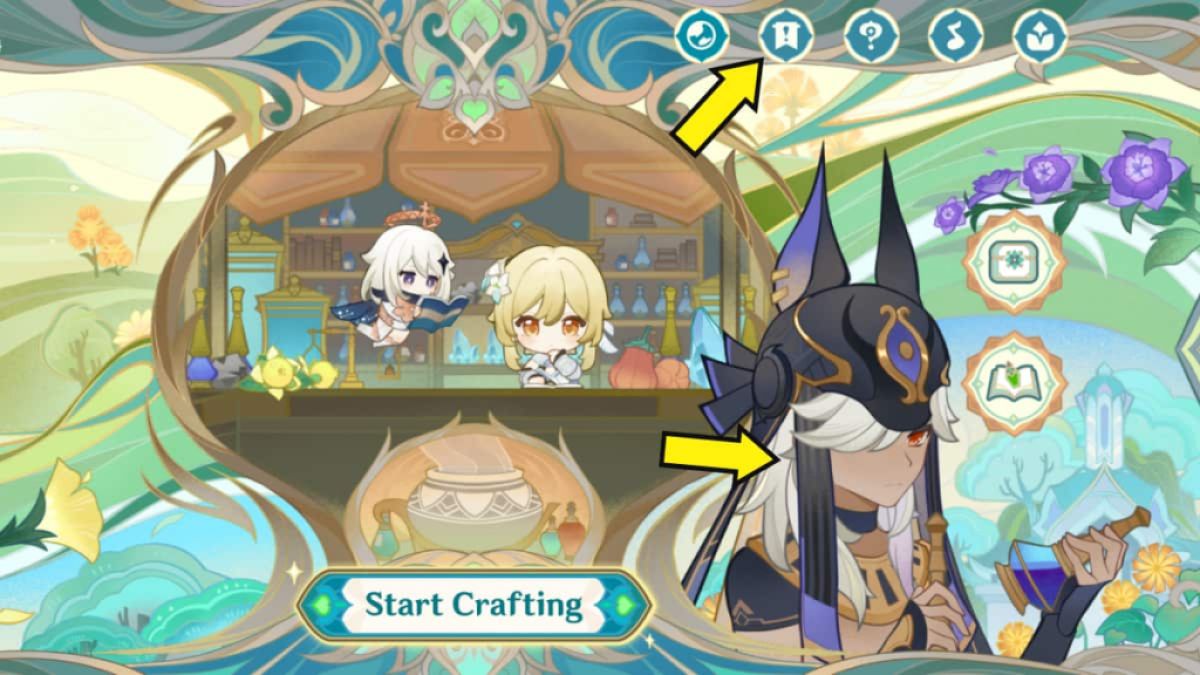 There are two ways you can get ingredients to craft Potions. First, a guest character will visit the event page every day. In the example above, Cyno came to visit. Click on the guest character to obtain ingredients from them once a day.
Second, you can click on the quest icon on the upper right of the screen to open the list of event tasks. Complete them to likewise obtain crafting ingredients.
The only exception is the two base ingredients: Oil and Water. You don't need to obtain them via the above means—simply choose either of the two on the left of the cauldron while crafting. The one on top is Water, and the one on the bottom is Oil.
For more Genshin event guides, check out All Project Connectivity puzzle solutions in Genshin Impact – A Parade of Providence here on Pro Game Guides.