Ranked Play was added to Call of Duty: Warzone 2 with the Season 3 Reloaded update. Just like MW2 Ranked Play, the competitive Battle Royale mode rewards players with exclusive cosmetics for completing challenges. In this guide, I have listed all the Warzone Ranked Play rewards available this season.
All Ranked Play Rewards in Warzone 2
Season Rewards: Unlockable only during the current season by getting wins.
Seasonal Division Rewards: Get these at the end of each season depending on your highest attained Skill Division in that season. 
Rank Rewards: Unlock these throughout your Ranked Play career by hitting rank milestones.
Season 3 Rewards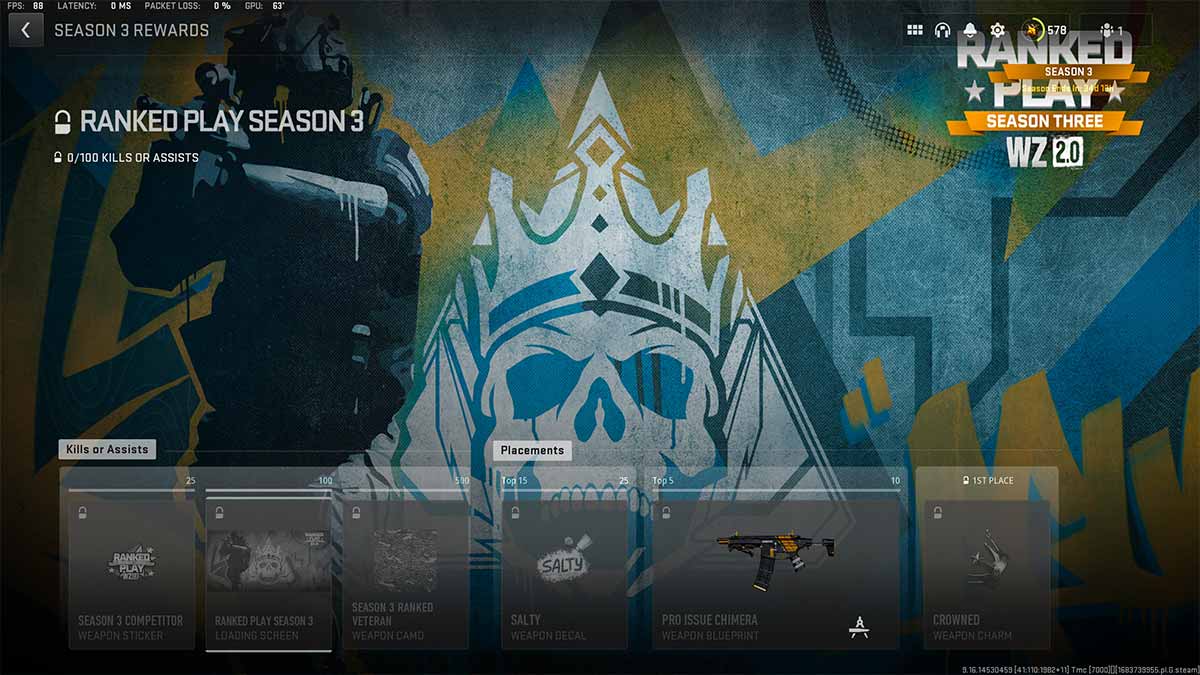 Get 25 kills or assists: 'Season 03 Competitor' Sticker
Get 100 kills or assists: 'Ranked Play Season 03' Loading Screen
Get 500 kills or assists: 'Season 03 Ranked Veteran' Camo
Finish 'Top 15' 25 times: 'Salty' Large Decal
Finish 'Top 5' 10 times: 'Pro Issue' Weapon Blueprint for the Chimera Assault Rifle
Finish 1st place: 'Crowned' Weapon Charm
Related: Best Warzone 2 Ranked Play Loadouts in Season 3
Seasonal Division Rewards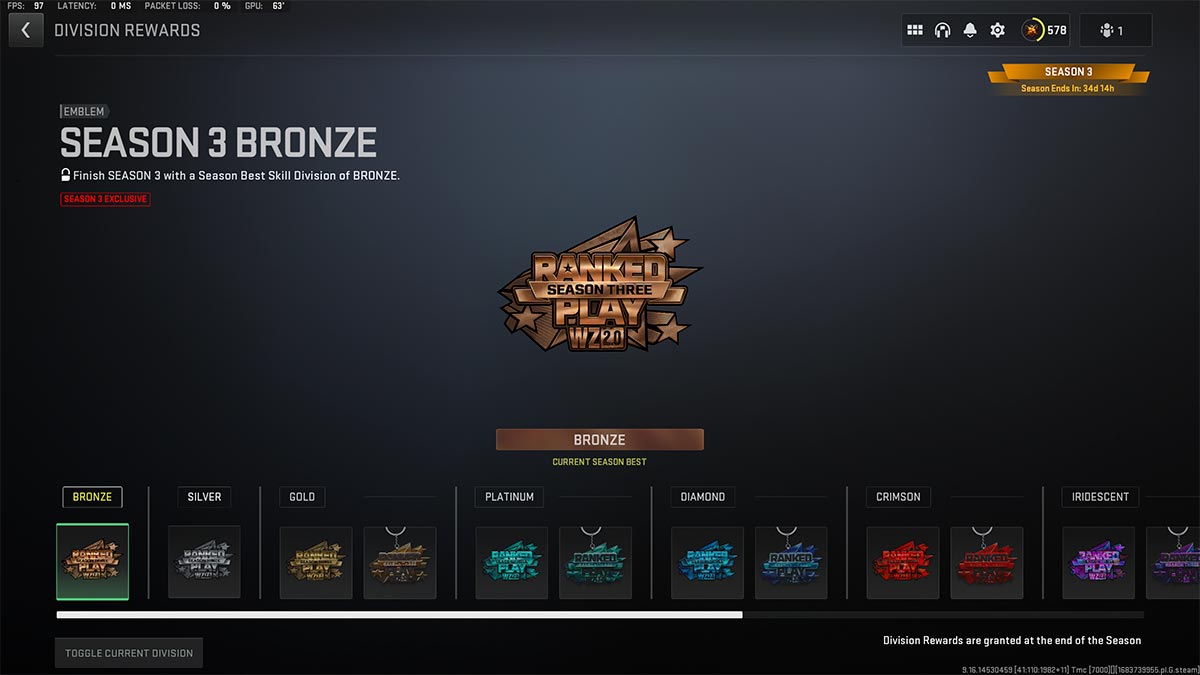 Top 250: 'Season 03 Top 250' Weapon Charm, Emblem, and Calling Card
Iridescent: 'Season 03 Iridescent' Weapon Charm, Emblem, and Calling Card
Crimson: 'Season 03 Crimson' Weapon Charm and Emblem
Diamond: 'Season 03 Diamond' Weapon Charm and Emblem
Platinum: 'Season 03 Platinum' Weapon Charm and Emblem
Gold: 'Season 03 Gold' Weapon Charm and Emblem
Silver: 'Season 03 Silver' Emblem
Bronze: 'Season 03 Bronze' Emblem
Rank Rewards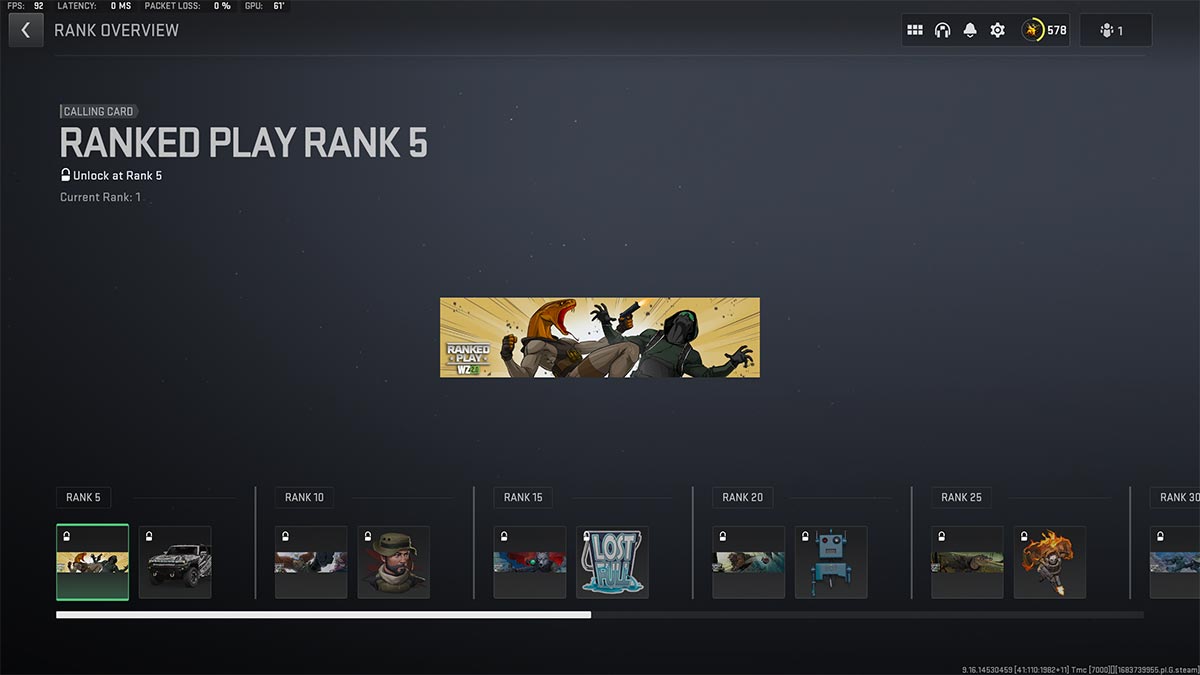 In addition to the rewards mentioned below, you'll also receive a unique Calling Card at each rank milestone.
Rank 5: 'Ranked and Reckless' Vehicle Skin for Hummer EV
Rank 10: 'Good Sweat' Emblem 
Rank 15: 'Lost Full' Sticker
Rank 20: 'Bot Collector' Weapon Charm
Rank 25: 'Hot Drop' Animated Emblem
Rank 30: 'Ranked Play Win Tracker' Gun Screen
Rank 35: 'Bot Patrol' Sticker 
Rank 40: 'Ranked Demon' Large Decal
Rank 45: 'Frying' Weapon Charm
Rank 50: 'Ranked Veteran' Operator Skin and Emblem
Stay tuned to Pro Game Guides for more Call of Duty: Modern Warfare 2 and Warzone 2 content. In the meantime, head to our Where to find the Koschei Complex in DMZ article.