Amazing Cultivation Simulator is a game about magic and mythology in which you devote your life to the sacred path of cultivation, set in the ancient Tiancang era with lots of resources to collect, skills to learn, and techniques to master. If you've ever thought about a way to make life easier, there is one, which I'll show you below.
How to use the command console in Amazing Cultivation Simulator
Using console commands in this game is slightly trickier than others, since they're all Lua commands, requiring you to know the internal names of aspects of the game you'd like to change.
You can activate the console by pressing CTRL + F8 in Settings and then using any of the following commands on the console:
Spawning Items
Map:DropItems("Item_name", nil, 500, Map.BornCenter)
This command spawns items in the center of the map if you enter the internal name of the item (e.g. Item_Lingstone).
Related: 12 Best Games like RimWorld
Supreme Law
SchoolMgr:UnLockGong("Name_of_Law")
Unlock Supreme Law by inputting its internal name Gong_10_Huo into the command console.
Listing resources and NPCs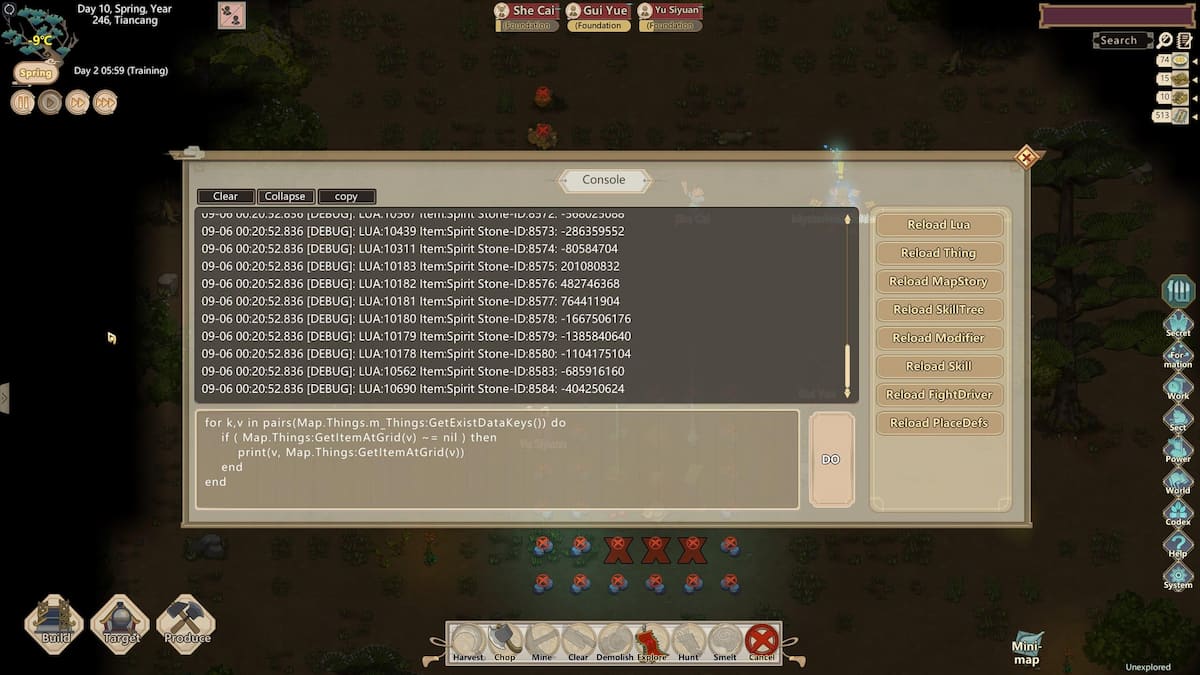 You can also use console commands to list various resources scattered around the map you've unlocked around you by using:
for k,v in pairs(Map.Things.m_Things:GetExistDataKeys()) do     if ( Map.Things:GetItemAtGrid(v) ~= nil ) then         print(v, Map.Things:GetItemAtGrid(v))     end end
Similarly, you can also list all the NPCs present around you on a map by using:
for k,v in pairs(Map.Things.m_lisNpcs) do     print(Map.Things.m_lisNpcs[k].Name, Map.Things.m_lisNpcs[k].ID) end
If this is all too complicated for you, just download Elysium or other useful mods from the Steam Workshop or from Nexus Mods and place them into your game's directory—they will allow you to do all of this and more.
If you like simulation games, be sure to check out How to buy land in Farming Simulator 22 and How to purchase, feed, and sell pigs in Farming Simulator 22 here on Steam Game Guides.