Manchester United manager Erik ten Hag lamented a hat-trick of decisions which went against his side during Sunday's pulsating 3-1 defeat to Arsenal at the Emirates Stadium.
Declan Rice and Gabriel Jesus fired the Gunners to a stunning stoppage-time victory as a thrill-a-minute clash came to an unforgettable conclusion.
Marcus Rashford brilliantly put Ten Hag's United ahead in the first half, only for Arsenal captain Martin Odegaard to impressively level 110 seconds later.
The match looked set to end in an absorbing draw after a penalty for a foul on Kai Havertz was overturned following a pitchside review, before the VAR ruled out substitute Alejandro Garnacho's late winner for narrowly straying offside.
Ten Hag blamed United's defeat on various refereeing decisions, saying "everything went against us."
The Dutchman told Sky Sports: "The performance was alright from us. I thought we played a very good game but everything went against us – then you don't win the game.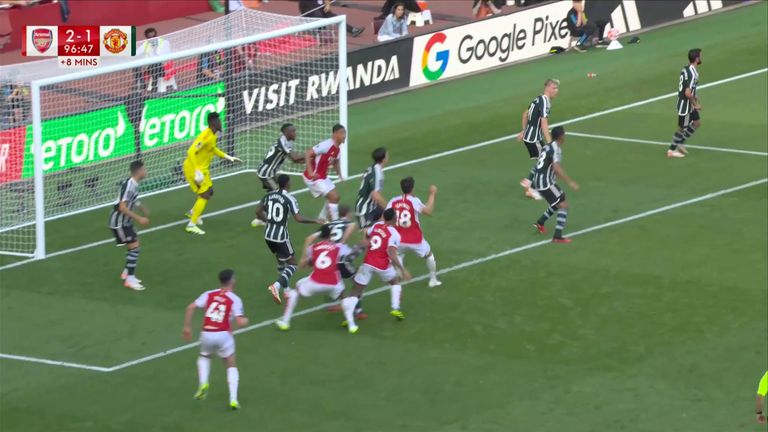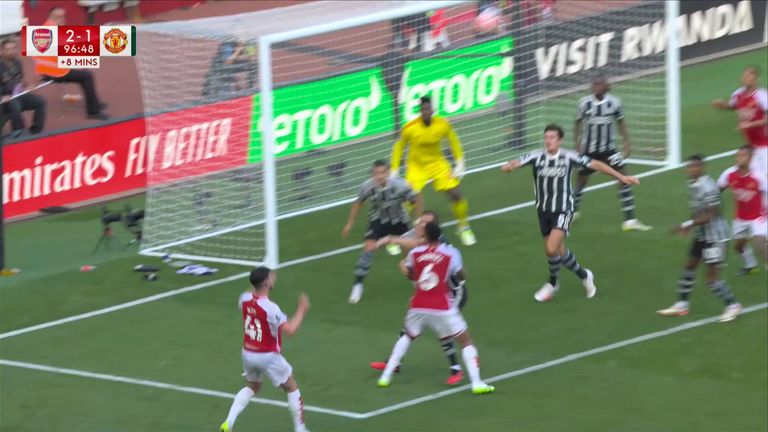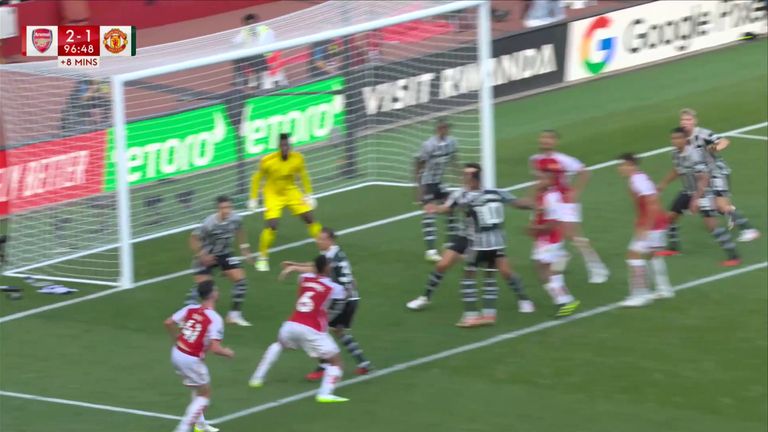 "We needed a little bit more luck to win the game. It was not offside [for Alejandro Garnacho goal]. It was the wrong angle.
"It was then a penalty on [Rasmus] Hojlund and then we concede a goal that's a foul on Jonny Evans. It's so clear and obvious.
"You can say you need to finish your chances and that you shouldn't concede a goal after going 1-0 up. This is all true, but I was happy with the performance."
In reference to the penalty incident involving Hojlund, former Premier League referee Mike Dean told Sky Sports: "I don't think that's a pen. I think it's just good strong defending.
"They're both tussling for it and his [Gabriel's] arms are there but if you look at another angle, Hojlund's got hold of his left arm so he's kind of pulling the defender down. I'd be more than happy with that decision."
Should Arsenal have been awarded a penalty?
After a penalty was initially given, the decision was overturned following an on-field check

Earlier in the contest, it was Arsenal's turn to feel aggrieved.
The hosts appeared to have the ideal chance to capitalise on that let-off when referee Anthony Taylor pointed to the spot five minutes later.
Havertz hit the deck as Aaron Wan-Bissaka and Casemiro closed in on him, but the decision was overturned after Taylor reviewed the pitchside monitor on the VAR's advice.
FREE TO WATCH: Highlights from Arsenal's win against Manchester United

Dean said on the Havertz penalty incident, said: "Watching up in the gantry it looked a stick-on penalty – as did everyone in the stadium.
"But the more you look at it from another angle the defender hasn't made a foul. I can see why the penalty was given but there is no foul. They've rightly come to the correct decision."
Dean: Garnacho's shoulder is offside
Garnacho scores disallowed goal as Manchester United are denied at Arsenal

It would be the decision to rule out Garnacho's strike that would prove a major turning point.
Casemiro's threaded ball put the Argentine in to coolly strike past Aaron Ramsdale and spark wild celebrations that eventually turned to nerves during a VAR review that ended up in an offside call.
Dean added: "It's obviously very, very tight. At first glance I thought it was offside. There's one or two angles where he looks on and then off.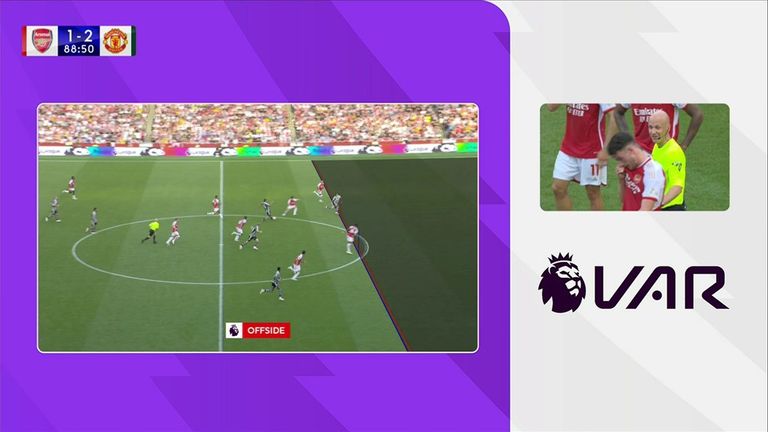 "When they put the lines up you can't fault the technology – they put the lines in the correct place, they wouldn't have put them in the wrong place. The angles are there to be used and they would have used crosshairs to make sure it's in the right direction.
"His shoulder's offside and that's what they've given. I understand where the manager's coming from because the angle there is not ideal but we've got the technology in the hub to put the lines in the correct position and it looked offside at normal speed.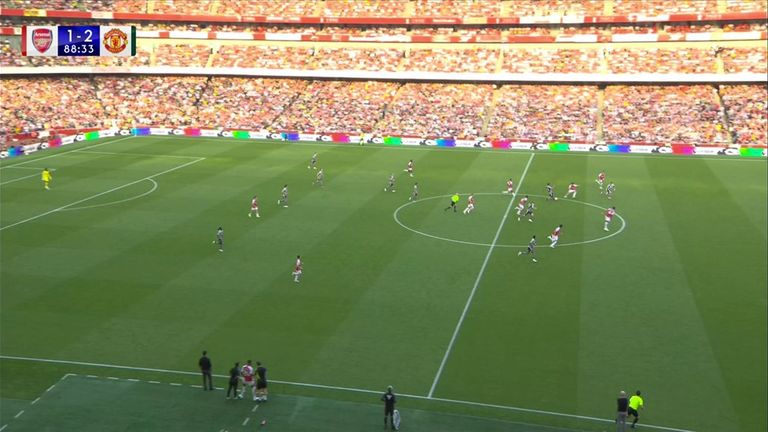 "Both angles would've been used because there'll be a camera for there and a camera also on the 18-yard line which they would've used.
"Obviously that one there, they've put the lines on and they've come to the correct decision. It did look offside when they freeze-framed it without the lines.
"I'm comfortable with the decision today."
Gary Neville responded: "If we go back to that first angle, it's in line whereas that one obviously has come back the way which means he's not in line."
It was a gut punch for a United side that would soon be left reeling from a knockout blow.
Rice: I knew what today meant and gave it my all
Declan Rice says he will put his goal on repeat after scoring late in Arsenal's win over Manchester United

Rice hailed his first Arsenal goal as a "special moment".
The England midfielder told Sky Sports: "Outside looking in, watching Man United-Arsenal over the years, you understand the heritage, you understand these games, the big players and what it means to the fans.
"I knew what today meant and I gave it my all.
"I think first time I controlled it with my chin and scored. But If you don't shoot, you don't score. It was just a special moment.
Gary Neville was full of praise for match-winner Declan Rice as his stoppage-time goal helped Arsenal to a 3-1 victory over rivals Manchester United

"It's fine margins that makes these results and in the end we came through with the result."
Arsenal manager Mikel Arteta praised match-winner Rice for his overall performance.
Arteta told Sky Sports: "He (Rice) was outstanding but the whole team as well. He imposed himself on many occasions and he gave us the momentum the team needed.
"It was beautiful to celebrate it at the end with our fans with the way it happened.
"At this level it is about small margins. I think we had to win the game but it could have gone the other way if they had scored for 1-2. That will to win is beautiful."
What's next?
Arsenal visit Everton in their first fixture following the international break on Sunday September 17, live on Sky Sports. Kick-off 4.30pm.
Manchester United return to Old Trafford the day before for the visit of Brighton. Kick-off 3pm.