"He is ambitious and hungry and wants to take his game to the next level," said Ange Postecoglou of Tottenham's new signing Brennan Johnson. The 22-year-old Wales international has demonstrated the ability to do that consistently in his short career.
As recently as 2021, he was on loan at Lincoln City in League One. The subsequent promotion with Nottingham Forest came in his first campaign at Championship level before going on to make a big impression in the Premier League last season.
This next step should not be a problem.
Former Arsenal midfielder Aaron Ramsey backs Brennan Johnson to be the next big star of the Wales squad but jokes that he would rather have not seen him move to Tottenham

Postecoglou was referring to Johnson's character when he said that "he is going to fit in really well with this group" but the sight of Spurs exposing Burnley's high line for the first and last goals in their 5-2 win on Saturday looked made for the new signing too.
Speaking to Michael Appleton, Johnson's manager during that breakthrough season with Lincoln, he pointed out that exposing this space when it is offered is the player's biggest strength. "He is devastating running in behind," Appleton told Sky Sports.
"He is not the kind of player you can leave one on one with 50 yards of pitch behind you. He tends to occupy two players. He has the ability to pick the ball up on the edge of his own box and within a few seconds leave the opposition defending for their lives in their half."
Johnson scored 13 goals for Lincoln that season, following it up with 19 in his first season as a Forest regular and 10 more last term. Those numbers are particularly impressive given that he was not playing as an out-and-out forward, often operating from out wide.
"He is different from what we have already got," said Postecoglou. Tottenham have wingers who prefer to cut inside like Dejan Kulusevski and Manor Solomon, players who rely on trickery to elude opponents. Johnson's profile is interesting given Spurs' shape.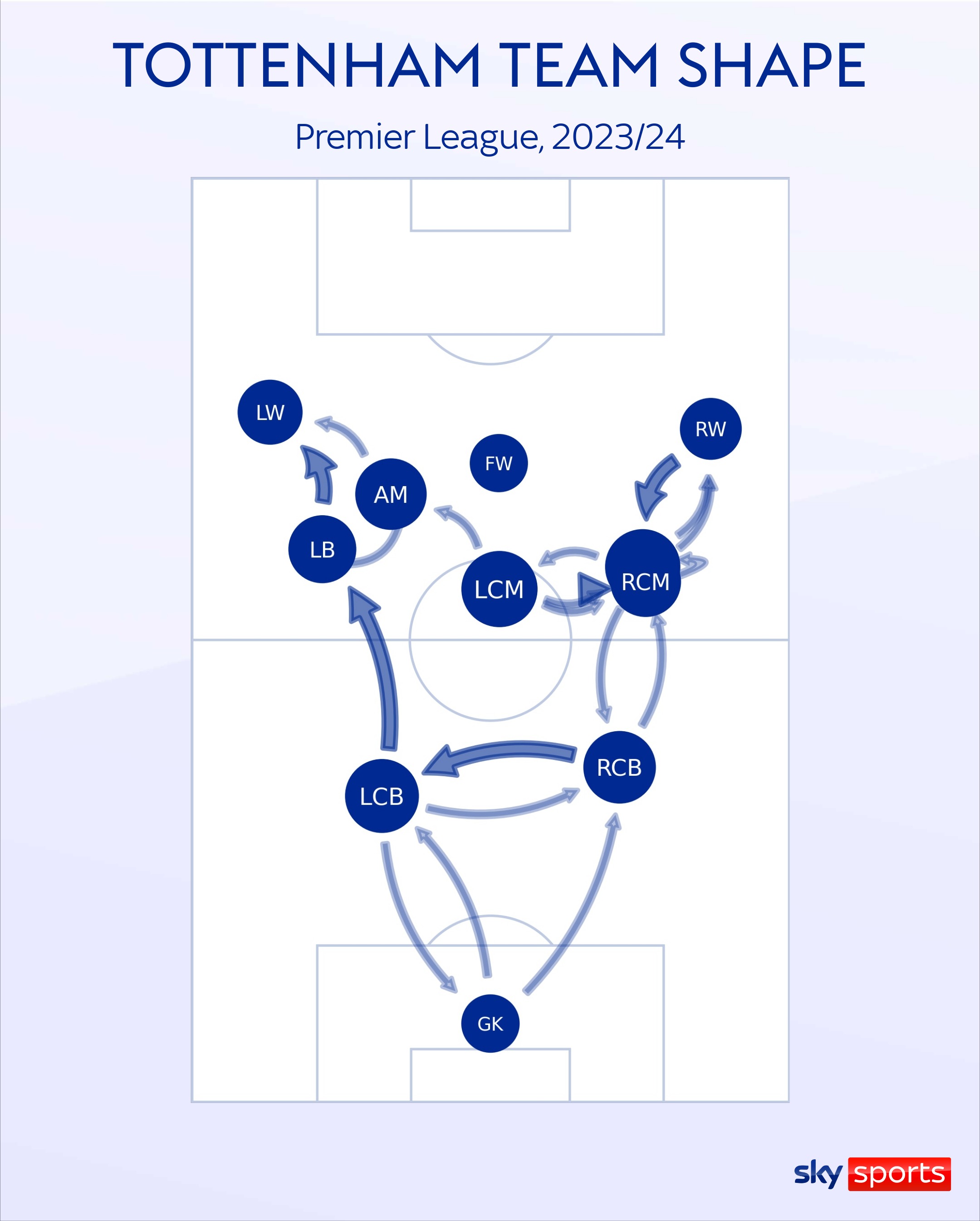 He tends to beat defenders on the outside, holding his position out wide. That could be important for Tottenham because Postecoglou is fond of inverting the full-backs. It puts responsibility on the wide forwards to provide the width – and still threaten the goal.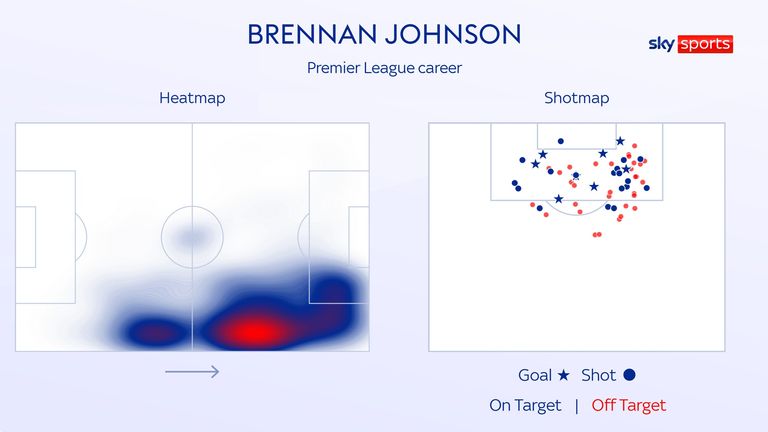 The contrast between his Premier League heatmap and his Premier League shot locations shows that while most of his touches of the ball come near the touchline, this has not prevented Johnson from getting opportunities in good areas. Pace takes him there.
The statistics show that only Marcus Rashford, among players with more than 150 carries, moved the ball further with the ball at their feet in the Premier League last season. Johnson was just ahead of those famed solo dribblers Adama Traore and Allan Saint-Maximin.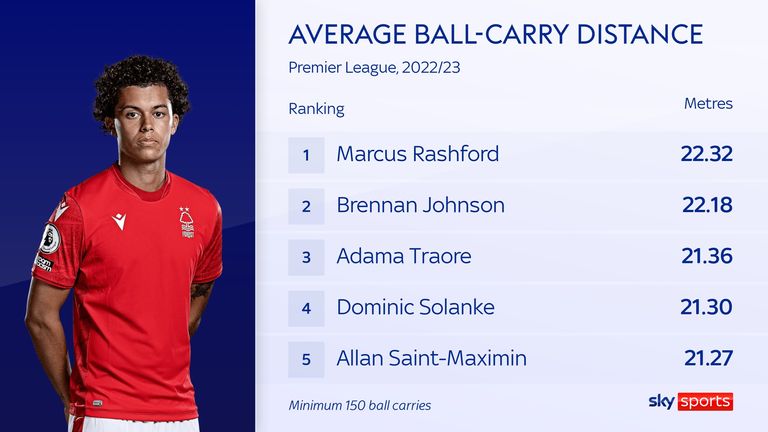 It was essential for Nottingham Forest's counter-attacking game. "Having those players who can play on the transition and get you 40 or 50 yards up the pitch by themselves rather than needing clever combination play with others is huge," explained Appleton.
"He is one of those who can get you up the pitch when under the cosh. It relieves pressure. I have worked with forwards who can get disinterested and disillusioned if they have not had the right service but Brennan has a fantastic attitude. He is always a willing runner."
There were times last season when Johnson had little choice but to try to do it alone. One of the problems with carrying the ball such a long way, at the speed that he was carrying it, was that by the time he looked up for options they were nowhere to be seen.
There is a statistic that highlights this issue.
Through tracking data, it is possible to calculate the number of passing options available to a player at the point at which they released the ball. Team-mates are considered passing options if the expected completion rate of that pass is at least 80 per cent.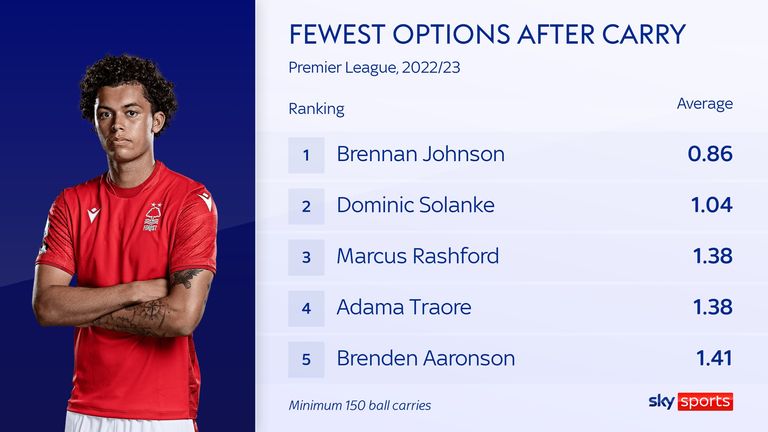 Johnson had by far the fewest options of any player. In fact, he was the only player to make 150 carries or more who had, on average, fewer than one passing option available to him. As a result, attacks risked fizzling out. With more support, it could have been different.
Putting these numbers to Steve Cooper in his office earlier this year, he told Sky Sports: "It is an evolution that we want to make as a team." With Heung-Min Son and others for company, Johnson now finds himself in a side that has already made that evolution.
FREE TO WATCH: Highlights of Tottenham's emphatic 5-2 win over Burnley

It is perhaps the most intriguing aspect of this £47.5m signing.
On the one hand, there are likely to be fewer chances to counter-attack at Tottenham. He is leaving the team with the lowest possession in the Premier League this season – 32 per cent – for one that averages 59 per cent of the ball. It will test different skills.
On the other hand, there are likely to be more chances with the ball at his feet. The exquisite passing of James Maddison, the numbers in the box, the movement around him, could all help Johnson become an even more dangerous proposition for opponents.
His new boss is already convinced. "The technical and the physical attributes he has, he should fit in really well," said Postecoglou. The history of Johnson's career to date suggests that when a new challenge is put in front of him, he soon makes the step up.