Aaron Rodgers was assisted by coaches four minutes into his competitive debut in New York after suffering an injury while being sacked by Leonard Floyd; "It's not good," coach Robert Saleh admitted afterward, after seeing his team beat the Buffalo Bills in overtime.
Last updated: 09/12/23 at 6:16 AM
Aaron Rodgers suffered a game-tying and possibly season-ending Achilles injury after just four games in his debut before his New York Jets went on to upset the Buffalo Bills 22-16 in overtime after rookie kicker Xavier Gibson's 65-yard field goal put the game-winning goal back. Monday night.
Rodgers, who arrived this season via a trade from the Green Bay Packers, fell awkwardly on his left leg after a sack of Leonard Floyd four minutes later, requiring assistance on the sideline as Zach Wilson stepped in at fullback for the rest of the game.
"It's not good," Jets coach Robert Saleh admitted after the game, while confirming that Rodgers will undergo an MRI on Tuesday.
The Jets forced four turnovers from Bills quarterback Josh Allen during a sloppy season opener for Sean McDermott's team, Jordan Whitehead coming off with three interceptions.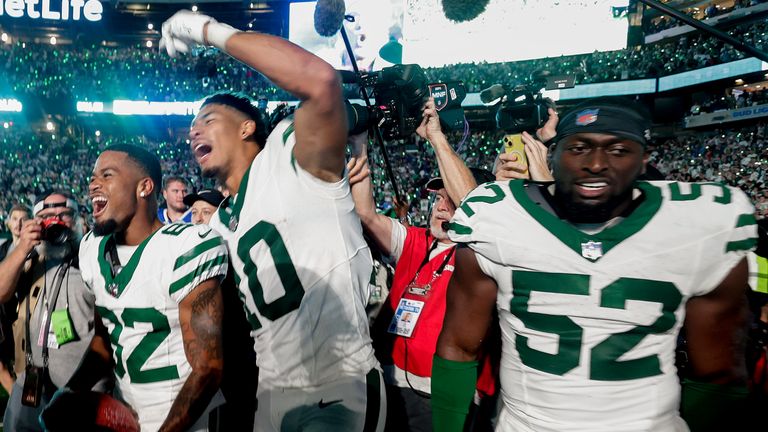 Xavier Gipson sends MetLife Stadium into a frenzy with his overtime penalty kick return to win the New York Jets' game against the Buffalo Bills.
With the game tied, Michael Clemons forced a fumble by Allen that was recovered by Quinnen Williams, setting up Greg Zuerlein's third field goal – a 30-yarder – with 1:48 remaining to put the Jets ahead for the first time.
But Allen and the Bills had enough time to get back into scoring position again, as Tyler Bass' 50-yard kick hit the left upright before going over the crossbar to tie it at 16 — all with two seconds left.
Buffalo would go three-and-out to start overtime, as Gibson sent Sam Martin's ensuing punt 42 yards and found the green turf down the left sideline to kick away the game-winning touchdown to spark wild celebrations from his teammates on the sideline.
Stats Leaders:
Buffalo Bills
Scrolling: Josh Allen, 29/41, 236 yards, 1 TD, 3 INT
haste: James Cook, 12 carries, 46 yards
Receive: Stefon Diggs, 10 catches, 102 yards, 1 TD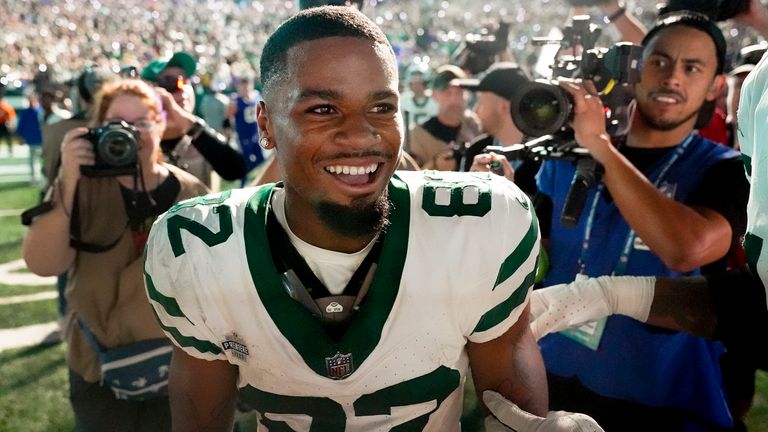 New York Jets
Scrolling: Zach Wilson, 14/21, 140 yards, 1 TD, 1 INT
Aaron Rodgers, 0/1
haste: Bryce Hall, 10 carries, 127 yards
Receive: Allen Lazard, 2 catches, 46 yards
Garrett Wilson, 5 catches, 34 yards, 1 TD
Saleh was there to bash Gibson, an undrafted rookie from Stephen F. Austin who made the team out of training camp.
Meanwhile, Allen set a career-high with his four turnovers and fell to 0-5 in overtime, including playoff games.
The Jets had tied the game at 13 with 4:55 remaining on an acrobatic catch by Garrett Wilson, who fed Wilson a pass to himself with his right hand — and Tre'Davious White completely covered the ball — and corralled the ball as he fell to his right hand. Back in the end zone.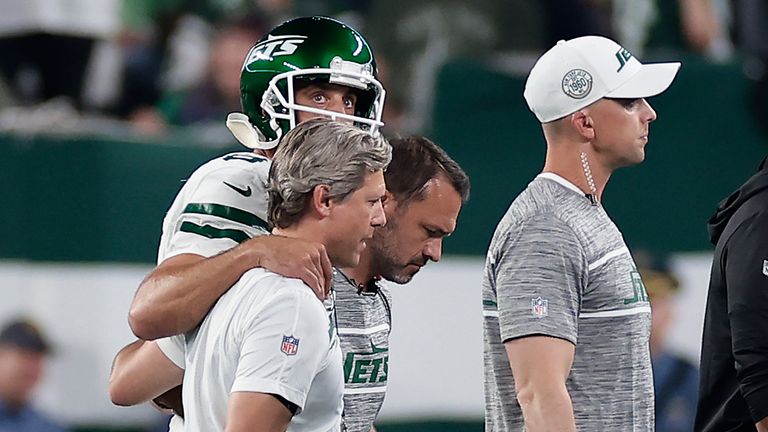 Rodgers entered the night as a new hope for a Jets franchise seeking its first Super Bowl since the Joe Namath-led team in 1968.
The four-time MVP quarterback was trying to avoid a Floyd rush when a Bills defender spun him around and pulled him to the ground, with Rodgers reaching for his leg as coaches watched.
The injury silenced a crowd that had been rowdy just minutes before Rodgers' Big Apple debut.
Rodgers ran onto the field during the players' introduction with an American flag in hand on the 22nd anniversary of the September 11 attacks and received his first official ovation from Jets fans. He was greeted by the sound of hip-hop artist and actor Method Man announcing his name amidst a laser light show to huge applause from the adoring crowd.
The Jets acquired Rodgers along with the 15th overall pick and a fifth-rounder in this year's draft for the 13th overall pick, a second-rounder, a sixth-rounder and a conditional 2024 second-round pick with the Packers, where the 39-year-old has spent his first 18 seasons of his professional life.
Summary of grades
Summary of grades
| | |
| --- | --- |
| First Quarter | |
| Invoices 3-0 planes | Tyler Bass 40-yard field goal |
| Second Quarter | |
| Invoices 3-3 planes | Greg Zuerlein 26-yard field goal |
| Invoices 10-3 planes | Josh Allen 5-yard pass to Stefon Diggs (extra point) |
| Invoices 13-3 planes | Tyler Bass 34-yard field goal |
| Third quarter | |
| Invoices 13-6 planes | Greg Zuerlein 43-yard field goal |
| The fourth quarter | |
| Invoices 13-13 aircraft | Zach Wilson 3-yard pass to Garrett Wilson (extra point) |
| Invoices 13-16 aircraft | Greg Zuerlein 30-yard field goal |
| Invoices 16-16 aircraft | Tyler Bass 50-yard field goal |
| over time | |
| Invoices 16-22 aircraft | Xavier Gipson 65 yard punt return TD |
What did they say?
New York Jets coach Robert Saleh: "Personally, I'm not hurting for me, and I'm not hurting for our locker room. I'm hurting for Aaron and the amount of money he's invested in all of this. I'll say a prayer. And I'm still going." To carry hope. But my heart is with Aaron now, no one else.
New York Jets wide receiver Allen Lazard: "Obviously just seeing how he responded to getting up and everything and limping off the field, it wasn't a good thing. But honestly, it's almost comical just how he's played this entire season for him to lose the first game without even completing the pass and everything."
What then?
Next up for the Bills is a showdown with the Las Vegas Raiders in their home opener of the season next Sunday, while the Jets head on the road to take on the Dallas Cowboys.