Screenshot by Steam Game Guides
Destiny 2's Season of the Witch comes with a whole new pass and various activities you can do to unlock newer gear. Ritual Violence is one such activity. A seasonal weekly challenge, many players have been confused as to why the activity isn't progressing and how to even do it. I've broken it down for you below.
Destiny 2 Ritual Violence weekly challenge fix
This challenge involves rapidly defeating targets in the Season of the Witch, which then increases the completion percentage the more enemies you've defeated. Players like you and I have been trying to complete this in Season of the Witch activities, but to no avail, as the bar doesn't change.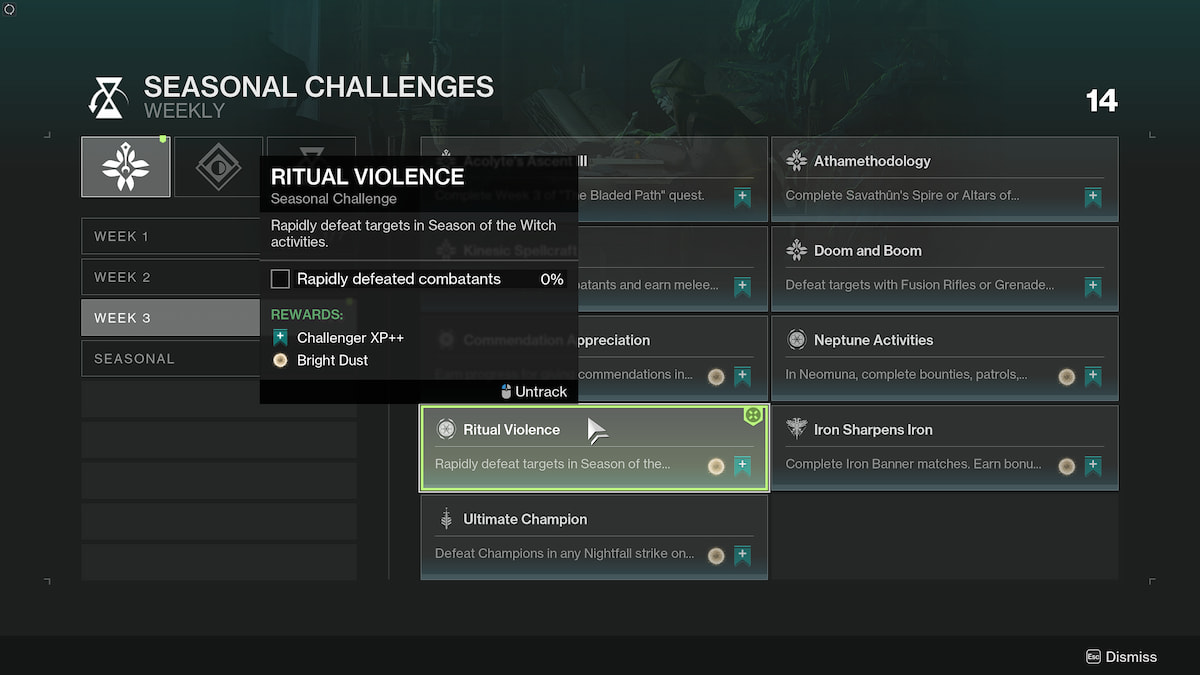 The bar doesn't change because the quest actually needs to be played in the Ritual Playlist, which includes Crucible, Gambit, Iron Banner, or Vanguard missions instead of the Season of the Witch activities as the description implies. You can simply progress with Iron Banner while also completing this weekly challenge, or do a quick Vanguard mission to do it very easily.
Related: What is Cabbage Error in Destiny 2, and how do you fix it?
Completing this weekly challenge will get you Bright Dust and plenty of XP to move on with your season. There are also plenty of other seasonal challenges you can do on top of this one to unlock hefty rewards.
For more on Destiny 2's Season of the Witch, be sure to check out Destiny 2 Season of the Witch Deck of Whispers, explained and How to Prepare for Crota's End Raid in Destiny 2 here on Steam Game Guides.