England wicketkeeper-batsman Amy Jones said she is ready to "move on" for Sri Lanka during their second ODI in Northampton.
The 30-year-old created history by becoming the first women's wicketkeeper-batsman to pick up five wickets in an ODI to lead England to a seven-wicket win over Sri Lanka at Chester-le-Street on Saturday.
This came after England suffered a shock defeat in the T20 series against Sri Lanka last week which left question marks over the ability of Heather Knight's side to play with spin.
However, Jones feels the hosts have learned from that series loss and are ready to "impose their authority" on Sri Lanka.
"We will do our best in Sri Lanka and hope to get more of the same from Durham," she said. "When I'm in the England squad, I want to take every opportunity I get. Being there with such a young bowling attack, the chances they created and being able to take them was a great feeling."
England fast bowler Mahika Gaur picked up three wickets on her England ODI debut, including a massive scalp of Chamari Athapathu.

England are determined to remain positive ahead of the second ODI of the three-match series at Northampton on Tuesday, which is broadcast live on Sky Sports Cricket from 12pm.
"The first match was huge, and we really wanted to assert our dominance after a really disappointing loss in the T20 series.
"Going into any series as favourites, you want to get the job done and we talked about putting it to bed. Two bad days doesn't make you a bad side and in cricket things change rather quickly.
"We addressed that we did not play the way we wanted to and it was rare that we faced a team where there was only one seamer and there was a lot of spin to play which is different for the top order.
Tuesday, September 12 at 12 noon

"Individually people worked on things but as a team it was about staying positive knowing that things can change very quickly in cricket.
"If you start fast in 50-over cricket, you can put pressure on the batsmen early and get momentum through the innings."
Jones also praised new England one-day internationals Mahika Gaur, Lauren Filer and Maya Boshier for their performances.
English fast bowler Lauren Filer took three wickets on her one-day international debut, including two in as many deliveries.

"Gore is fantastic. When she came into this series, I had never committed to her before and she came out of nowhere. It feels like a really quick rise to England and everyone is so impressed with the skill she has."
"She brings something different, left-armed and long. She's a great asset and has a long future ahead of her."
"She is very keen to learn and ask questions and shows a lot of promise, not only the skills she has acquired but her attitude and commitment to training are fantastic and she is really consistent for a young player as well.
"Weiler brings an extra bit of speed and always keeps me on my toes, you always feel with her that there is a catch coming with every ball.
"Maya has been consistent and had a great summer and proved she is a real match winner with the racket. We all saw the talent she had a few years ago, so she can get those performances over the summer and get that extra talent. Confidence is important."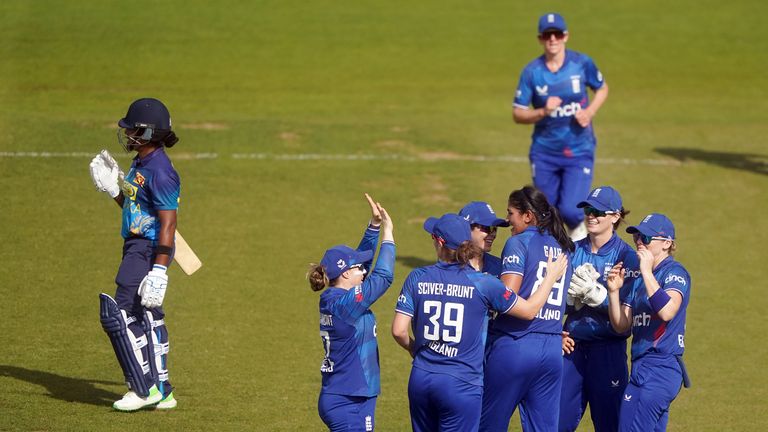 in August, The England and Wales Cricket Board announced The women will receive the same match fees as the men's team, a change that was recommended in the Independent Cricket Equality Commission (ICEC) report, and which Jones welcomed.
"It's great news, it shows where the women's game is going and the support we're getting from the ECB. It's good timing and we're delighted to receive it," Jones said.
England's bowling attack has lacked pace following the retirement of Katherine Scheffer-Brent, but new arrivals Gower and Feller have shown great promise.
"The guys bring energy and we've seen that with the girls coming in. They really pick up on the people around them," Jones said.
"Seeing a lot of competition for places in the team is only good. I think English cricket is in a great place."
The final two matches of the Women's ODI series between England and Sri Lanka will take place in Northampton on Tuesday (12:30pm) and then Leicester on Thursday (12:30pm), with both matches to be played live. Sky Sports Cricket.