Carlos Sainz and Charles Leclerc had an epic battle at Monza for P3

Carlos Sainz and Charles Leclerc had an epic battle at Monza for P3
Team-mates Carlos Sainz and Charles Leclerc agreed that their thrilling Italian Grand Prix battle was "on the limit" as Ferrari boss Frederic Vasseur promised a review.
Pole-sitter Sainz spent much of the race valiantly attempting to hold off the Red Bulls of Max Verstappen and Sergio Perez, leaving him on worn tyres and exposed to Leclerc when he lost second place with almost six full laps remaining.
Leclerc, who had put less stress on his tyres during the second stint, appeared likely to cruelly deny his team-mate a deserved podium, before a battle for the ages played out as the pair almost took each other out of the race on several occasions.
Sainz somehow held on to secure a first home podium in his Ferrari career as Verstappen led a Red Bull one-two, but admitted the frantic finale had been as stressful as it was enjoyable.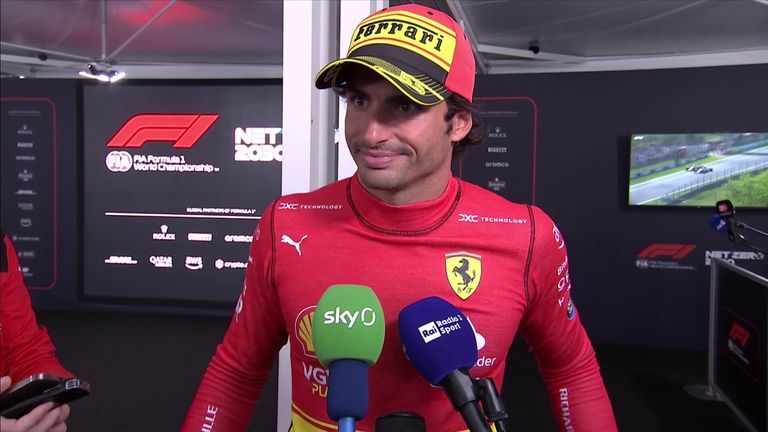 Carlos Sainz said it was 'really tough' but it was a day to 'try and give my absolute everything to try and win' in his battles with Max Verstappen and team-mate Charles Leclerc
"Honestly, I'm not sure if the word is good fun, but it was a very tough fight and I gave absolutely everything, probably by giving it so much, especially at the beginning of both stints, I was paying my price with tyre degradation and always being very vulnerable at the end of stints," the Spaniard told Sky Sports F1.
"But I had to try. It was a day to try, to give my absolute everything to try to win and to stay ahead of the Red Bulls. In the end I got the podium and I managed to hold them off for quite long.
"I feel a bit sorry for Fred (Vasseur) and the team because they must have had it really tough on the pit wall with those battles. But I think it was on the limit, respected battle between team-mates, and I think we did everything we could to not have any contact, and in the end we finished P3 and P4."
Leclerc: The tifosi would have been very angry
Leclerc, who finished second at Monza last season and won the Italian Grand Prix in 2019, shared his team-mates' assessment that neither driver had gone too far.
"This is what racing should be all the time in my opinion," Leclerc told Sky Sports F1. "This reminds me of the karting days when we were all on the limits.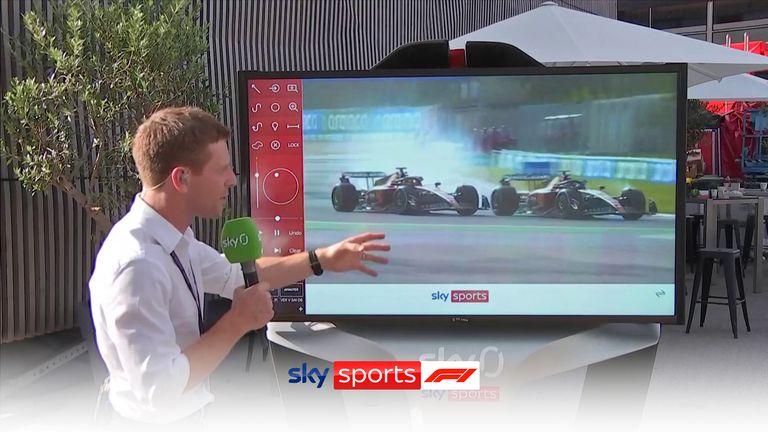 Sky F1's Anthony Davidson was at the SkyPad to analyse Carlos Sainz and Charles Leclerc's epic battle for the final podium spot in Italy!
"With Max we have had these battles in the past, with Checo we have had these battles in the past and with Carlos today, it was really on the limit.
"I personally really enjoyed it. It was close many, many times. There were so many moments where it was very tricky.
"We were both moving a bit too much under-braking, but at the end, I don't complain, this is what I love about racing. The adrenaline you feel fighting each other, it was really fun.
"It was on the limit from Carlos on the defending side, it was on the limit from me on the attacking side.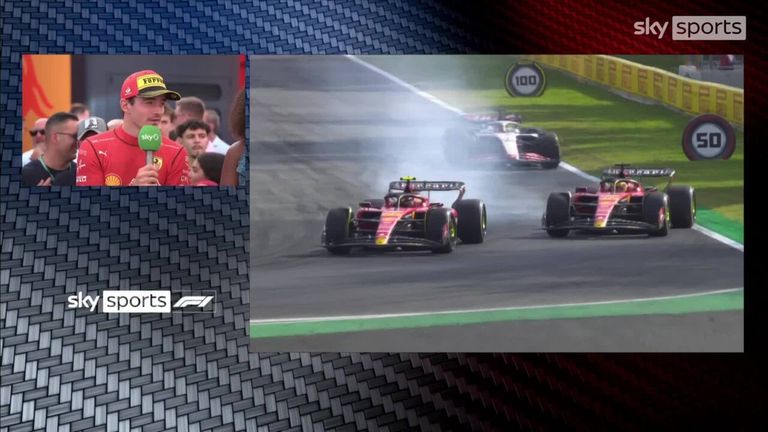 Charles Leclerc discusses his battle for the final podium spot with team-mate Carlos Sainz at the Italian Grand Prix
"It means so much to us both to be on the podium here in Monza, so we gave it our all, obviously 110 per cent from my side and Carlos'."
Leclerc admitted that the battle risked leaving Ferrari's fanbase "very angry" following a weekend of passionate support in Monza.
"At the same time, we also had the responsibility of having a red car on the podium," he added. "Otherwise the tifosi would have been very angry with us tonight.
"Yes it was on the limit, but I've always said this is how I love racing. I loved today. We will sit down with Fred."
Vasseur: It was a strange feeling
Ferrari's decision to let their drivers race so freely in the closing stages with a podium at stake was a surprise to many, but Vasseur reaffirmed his believe in avoiding team orders.
"For sure it's a bit of a strange feeling, but as you know, I'm a big fan of letting them race," he said.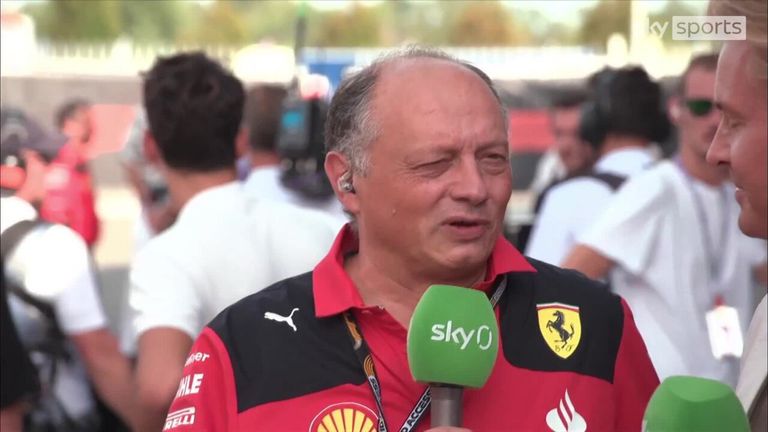 Frederic Vasseur says Ferrari did their best with a third, fourth finish at the Italian GP but jokes that he doesn't want to re-watch the close battle between his drivers
"It was a great feeling. I told them no risk. The notion of no risk is always relative, but I really appreciated the last couple of laps and I hope that the fans did.
"As you can imagine, we'll have the discussion after the race, but perhaps not tonight – tomorrow they are in the factory.
As to whether team orders were necessary, Sainz admitted that he would have liked to have been protected by the pit wall, but accepted why it didn't happen.
"I would have understood it both ways," Sainz said. "If they would have given team orders, I would have understood, but if I would have been Charles trying to get a podium, obviously I wouldn't have liked the team orders.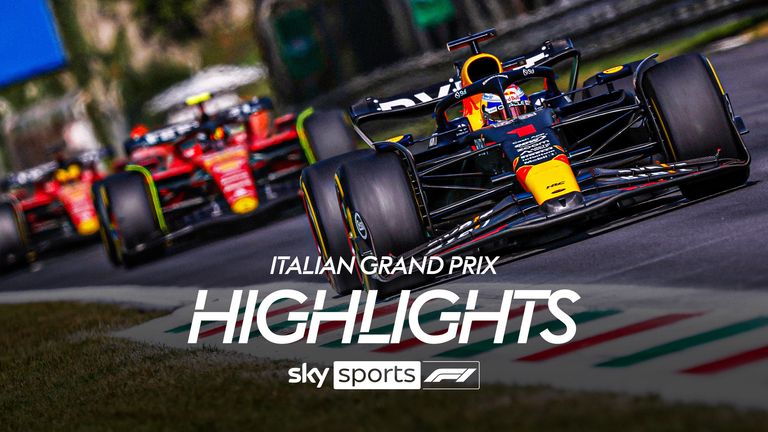 Highlights of the Italian Grand Prix from Monza
"So it completely depends on the position that you are in. I'm not going to lie, it's very depending on a very subjective position or feeling.
"I think it was on the limit, but it was a nice team-mate, hard F1 battle, which in the end is also I guess what you guys want to see."
Next up for the F1 circus are the stunning streets of Singapore under the lights. All sessions from the Singapore GP will be live on Sky Sports F1 from September 15-17. Stream F1 on Sky Sports with NOW for just £26 a month for 12 months. Cancel anytime