Screenshot by Steam Game Guides
There are lots of easy-to-gather common resources like Argon in Starfield. But rare resources, like Vanadium, may be a bit harder to come by. That's why we've outlined all of the tips you need to get the most Vanadium as quickly as possible!
How to Farm Vanadium Quickly in Starfield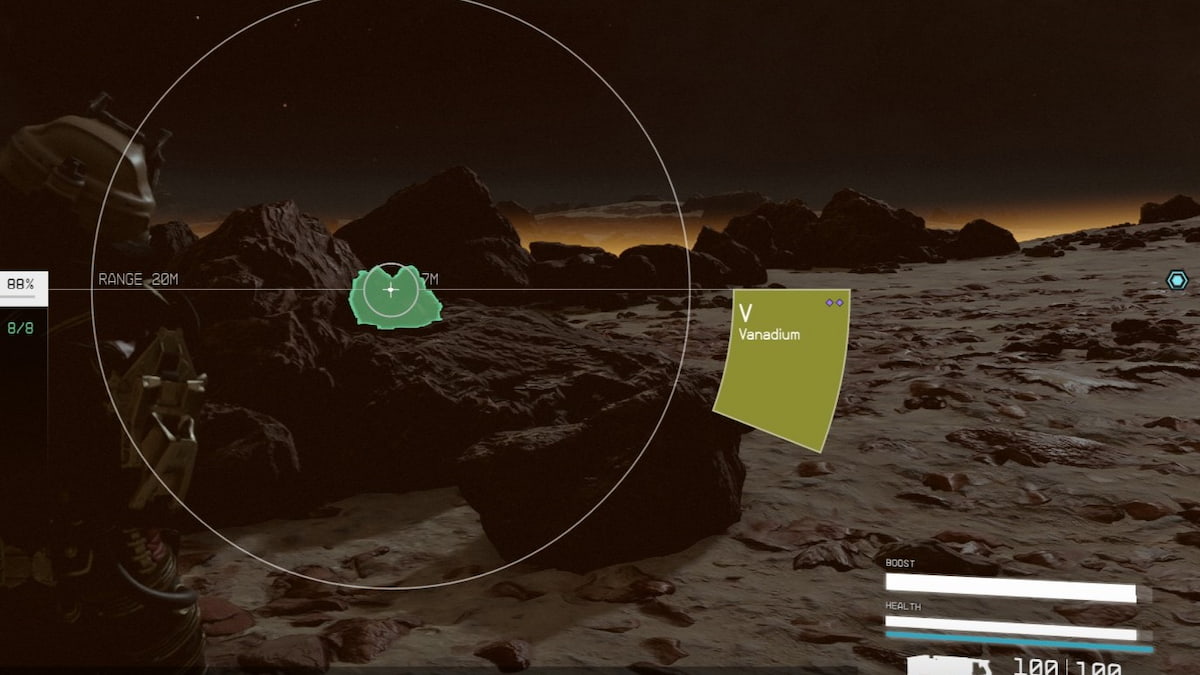 Scan for Resources
This may sound obvious to some players, but it never hurts to mention this essential tip. Try scanning the planet or moon you're landing on beforehand to get a preview of the resources available. Once on that planet, use your scanner to find the Vanadium nearby.
Level Up in Geology
If you want to find more rare resources, you'll need to up your ranking in the Geology skill. Since Vanadium is a rare resource, getting to at least Rank 2 in Geology will help you immensely. Rank 2 or higher will greatly increase the spawn rates of Vanadium.
Set Up an Extractor
As long as you have an outpost with Vanadium in its proximity, you can set up an extractor for the resource. This will allow you to passively farm tons of Vanadium over time. If you want to farm Vanadium super quick, this is the best way to do so.
Related: Where to get Polymer in Starfield?
What Planets have Vanadium in Starfield?
If you're hoping to find Vanadium, I've found the most luck with frozen planets and moons. This is not an exhaustive list of all planets that feature Vanadium (Starfield is far too large for that), but I did outline ones I've come across in multiple galaxies:
Ampere (Faraday, Delta Pavonis)
Belwah (Navalah, Cheyenne)
Guniibuu III (Guniibuu)
Grimsey (Deepala, Narion)
Ourea (Olympus)
Polvo (Valo)
Voss (Olivas, Alpha Centauri)
Zamka (Olivas, Alpha Centauri)
Want to read more about Starfield? If so, check out Starfield Neon location, map, and points of interest on Steam Game Guides.