Screenshot by Steam Game Guides
In Starfield, you can find and use various types of weapons in the game, and add modifications to improve their quality. I like to experiment with guns in the game by adding lasers, optics, barrels, grips, and more. Naturally, you need to know how to add modifications to your weapon along with different types of attachments. Here's how to attach weapon attachments to guns in Starfield.
How to unlock weapon mods in Starfield (Research Projects)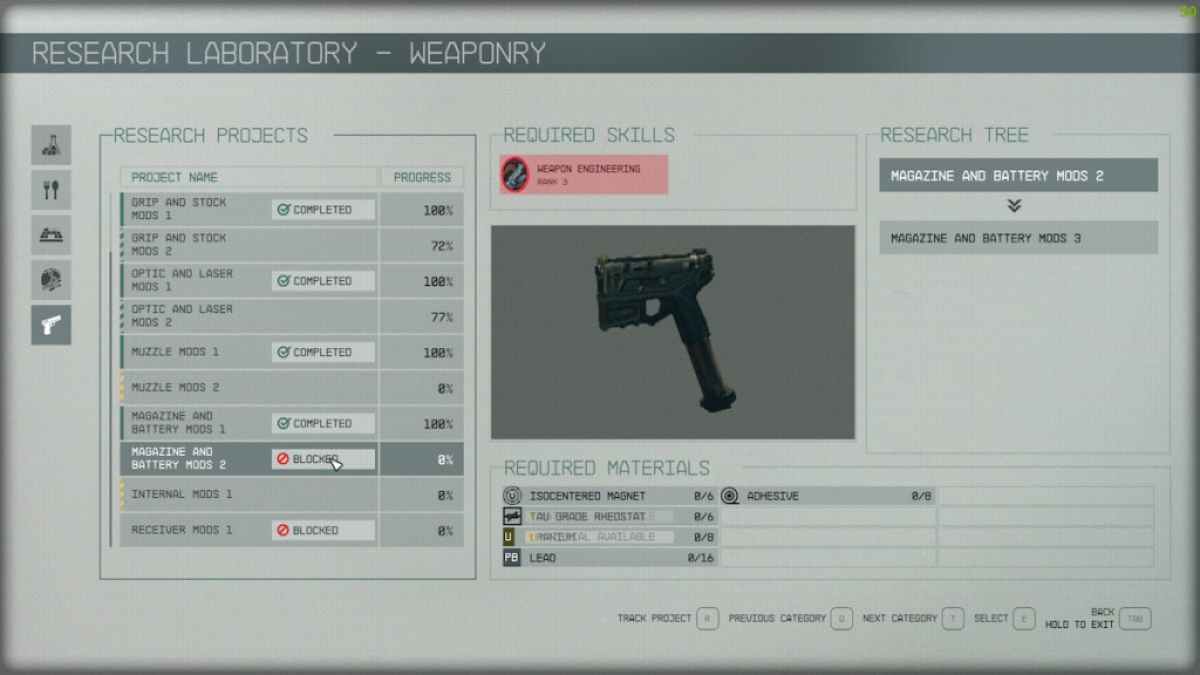 To unlock weapon modifications for guns, start by visiting the Research Laboratory. Scroll down to the Weaponry section, and start completing all the projects. While some of the projects will be available from the start, you'll need to unlock the Weapon Engineering skill to access the rest. Weapon Engineering is a required skill for gun modifications and it can be unlocked after you spend a considerable number of skill points in the Science section of the skill tree.
After getting Rank 1 for Weapon Engineering, different Research Projects will be available for you to complete. For instance, Barrel Mods 2, Grip and Stock Mods 2, Optic and Laser Mods 2, and Muzzle Mods 1 are unlocked when you get Rank 1 Weapon Engineering. Likewise, unlocking Rank 2 and Rank 3 for Weapon Engineering unlocks more weapon modification projects under the Weaponry section in the Research Laboratory.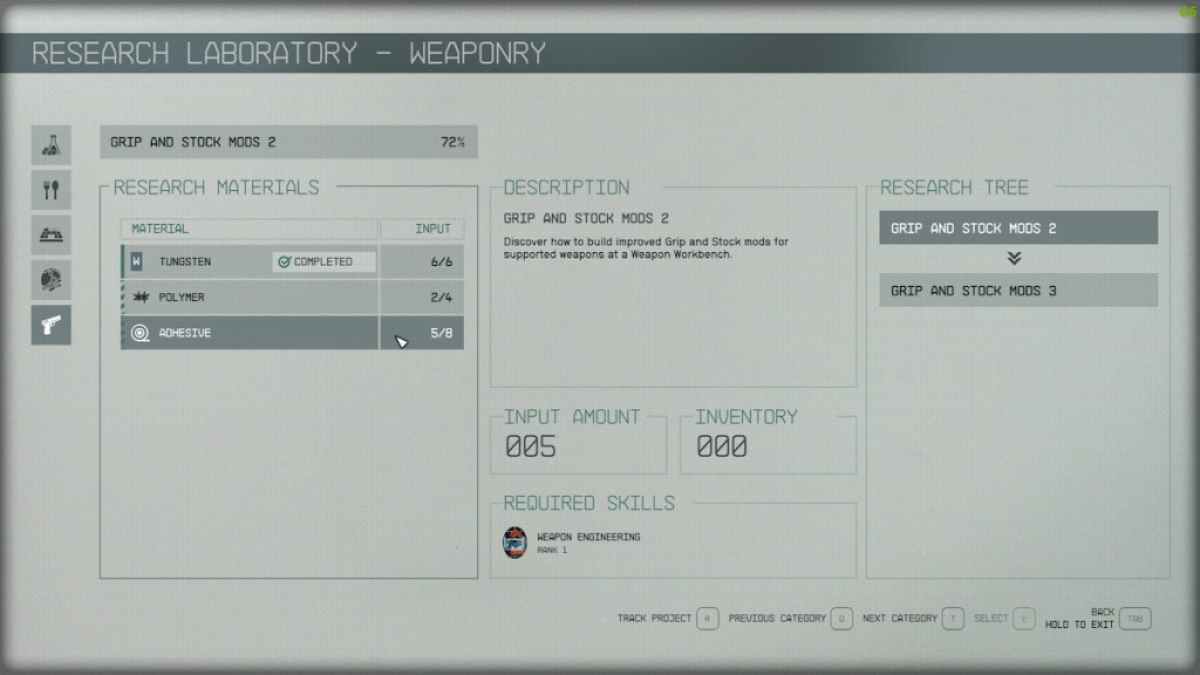 These Research Projects are essential, and you'll need the exact materials in the correct amount to complete them. I suggest gathering all the different materials, elements, and resources before starting a project. Once you have these ingredients, head over to a Research Laboratory to input the correct amount of resources for completing a project. Completing these projects is the first thing you want to do for upgrading your guns in Starfield.
Related: How to mine Chlorine in Starfield
How to add weapon attachments in Starfield
After completing these Research Projects, head over to a Weapon Workbench anywhere across the galaxy. You'll find them in major cities and planets, and there is a workbench available for use in the underground section of The Lodge building (on planet Jemison). Interact with the Weapon Workbench to add different attachments to your guns. All the guns in your inventory will be available for these upgrades (shown in the image above).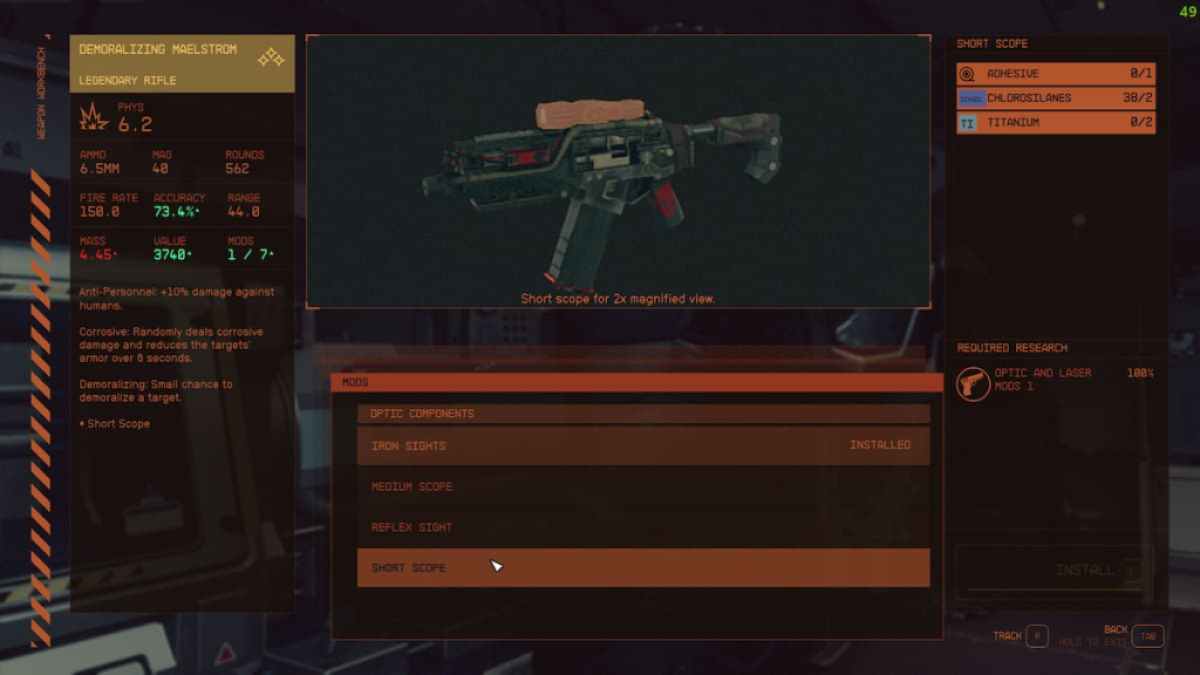 Select a specific gun, and start by adding a piece of attachment to your weapon. I found a Demoralizing Maelstrom (Legendary) and attached Optics, Muzzle, and Grip modifications to this gun. To add these attachments to your weapons, you'll need certain materials, and the required ingredients are shown on the top right-hand side of the screen (check the image above). Once you have the required resources, start improving your weapons by adding different types of modifications.
Want to read more about Starfield? If so, check out Where to get Polymer in Starfield? on Steam Game Guides.