Screenshot by Pro Game Guides
Ophidian Aspect is a set of Warlock Arms in Destiny 2, and is a popular choice because of its Exotic Perk that affects reload speed, handling, airborne effectiveness, and more. Here's how to get Ophidian Aspect in Destiny 2.
Where to get Ophidian Aspect in Destiny 2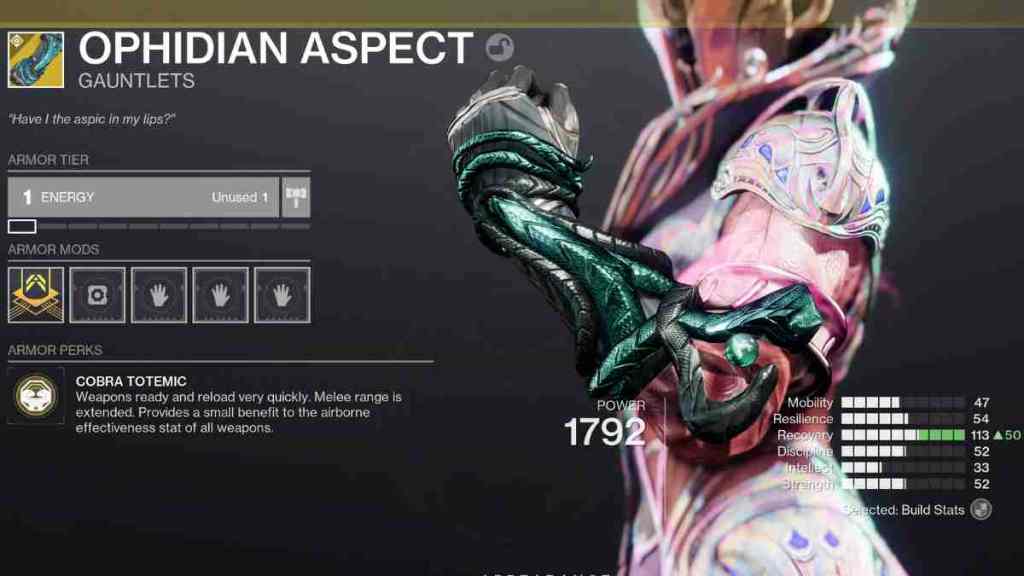 There are three methods of getting your hands on Ophidian Aspect. The most common way, yet still incredibly rare, is through Exotic Engrams. It has a random chance of dropping from one, though the Exotic loot pool is so large, there's no guarantee you'll get it in one or even within 100. It's pure luck.
A similar way of obtaining the Warlock Arms is as a world drop, but this is arguably even rarer than the first method, as Exotic world drops are extremely infrequent. For example, I've wracked up over 400 hours in Destiny 2, and I've only ever had one Exotic world drop, and it wasn't even something I wanted. So this isn't the recommended path to obtain the Ophidian Aspect, or any other specific Exotic for that matter.
Related: How to get The Bombardiers in Destiny 2
Finally, if you're lucky, Xur, Agent of the Nine may add the Ophidian Aspect to his weekly stock rotation for you to buy with Legendary Shards in Destiny 2. The last time he did was on April 21—25, 2023, for 23 Legendary Shards.
Is Ophidian Aspect worth getting in Destiny 2?
Ophidian Aspect is definitely worth trying to obtain for Warlocks in Destiny 2 as a day-to-day piece, especially for PvP. This is because of its Exotic Perk, Cobra Totemic, which adds +35 reload speed and handling, longer Melee Lunge distance, and +10 airborne effectiveness.
Ophidian Aspect base stats in Destiny 2
Mobility—11
Resilience—6
Recovery—7
Discipline—6
Intellect—6
Strength—12
For more information on Destiny 2, check out How to get An Insurmountable Skullfort in Destiny 2 on Pro Game Guides.