Screenshot by Pro Game Guides
Phoenix Protocol is a piece of Exotic Warlock chest armor in Destiny 2 that's popular amongst Solar Warlocks who use Well of Radiance because of its Exotic Perk that synergizes with it. If you are yet to find the rare armor, here's how to get Phoenix Protocol in Destiny 2.
Where to get Phoenix Protocol in Destiny 2
There are three ways of getting your hands on Phoenix Protocol. The most common method is through Exotic Engrams, though when I say "common," I don't mean it's easy to obtain. Because the chest piece is part of the general loot pool, you could open 200 Exotic Engrams and never see it. Just have to hope RNG is on your side!
Alternatively, you may get lucky and get Phoenix Protocol as a random world drop, but this is extremely rare—even rarer than through an Exotic Engram. I've put 450 hours into Destiny 2 and only found two Exotic world drops, both of which were equipment I didn't care for, so I wouldn't recommend this as your primary way of farming for it.
Related: All Warlock Exotics in Destiny 2
The final way of finding Phoenix Protocol is through Xur, Agent of the Nine. The mysterious merchant rotates his stock each week with a new set of Exotics, and if you wait patiently, you may find the Warlock armor there to buy with Legendary Shards.
Xur last sold Phoenix Protocol on May 5—8, 2023, for 23 Legendary Shards.
Is Phoenix Protocol worth getting in Destiny 2?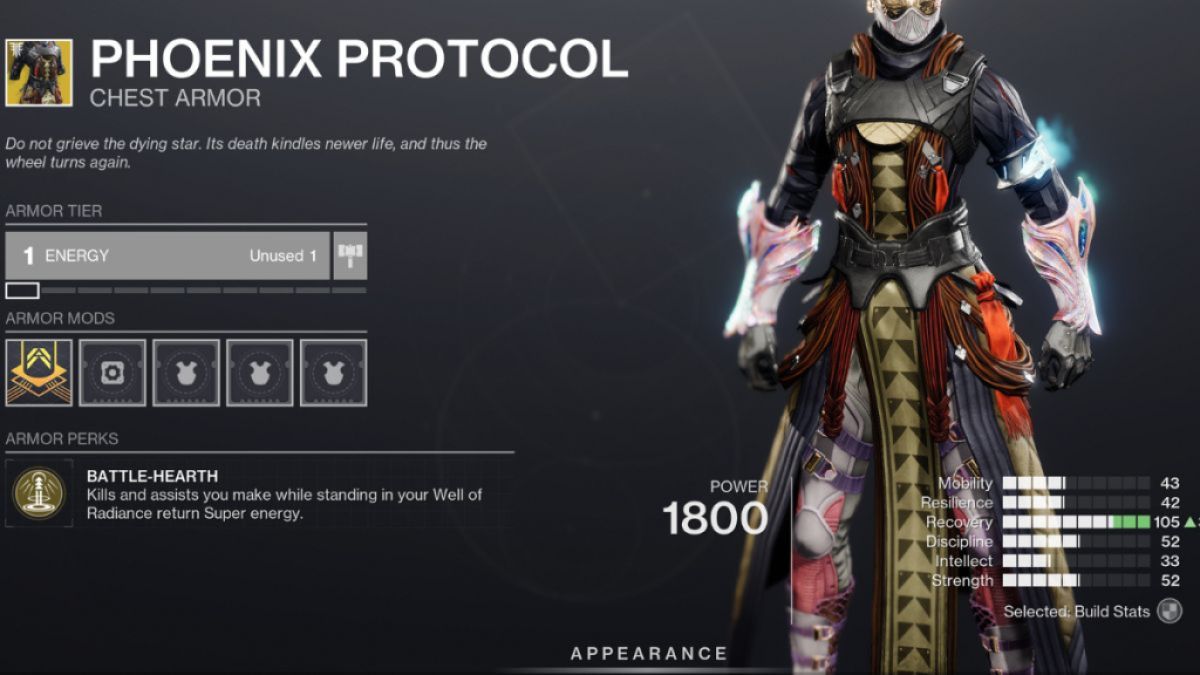 I'd only recommend going for Phoenix Protocol if, one, you're a Solar Warlock, and two, you don't already own Starfire Protocol in Destiny 2 because that's the infinitely better option due to its grenade boosts. If you're a diehard Well of Radiance fan, though, it's a solid pick, as any kills or assists made while standing in it causes the Battle-Hearth Exotic Perk to generate bonus Super energy.
For more information on Destiny 2, check out How to get Ophidian Aspect in Destiny 2 on Pro Game Guides.