One of the new units to debut inside ASTD in the New World Reset update is the seven-star Lucci(Heaven). It is a unit inspired by the Enrico Pucci character from the popular anime Jojo's Bizzare Adventure. Being a 7-star unit, Lucci(Heaven) has a Blessing called XYZ, which is effective during challenging raids. To obtain a Lucci 7-star in All-Star Tower Defense, summon the basic Lucci(5-star) from the special summon banner section and evolve it to a 6-star Lucci(Moon), followed by another evolution to get a 7-star Lucci(Heaven).
How to get Lucci in All Star Tower Defense
You can get a 5-star Lucci by rolling for the character from the special banner. After hopping inside the game, head to the summon section and click on the special summon banner. Each roll will cost around 5 Stardust. Keep rolling for the character till you obtain Lucci. I highly recommend using the multi-summon button to increase your chances of acquiring the Lucci unit. 
How to evolve Lucci(5-star) in to Lucci(Moon)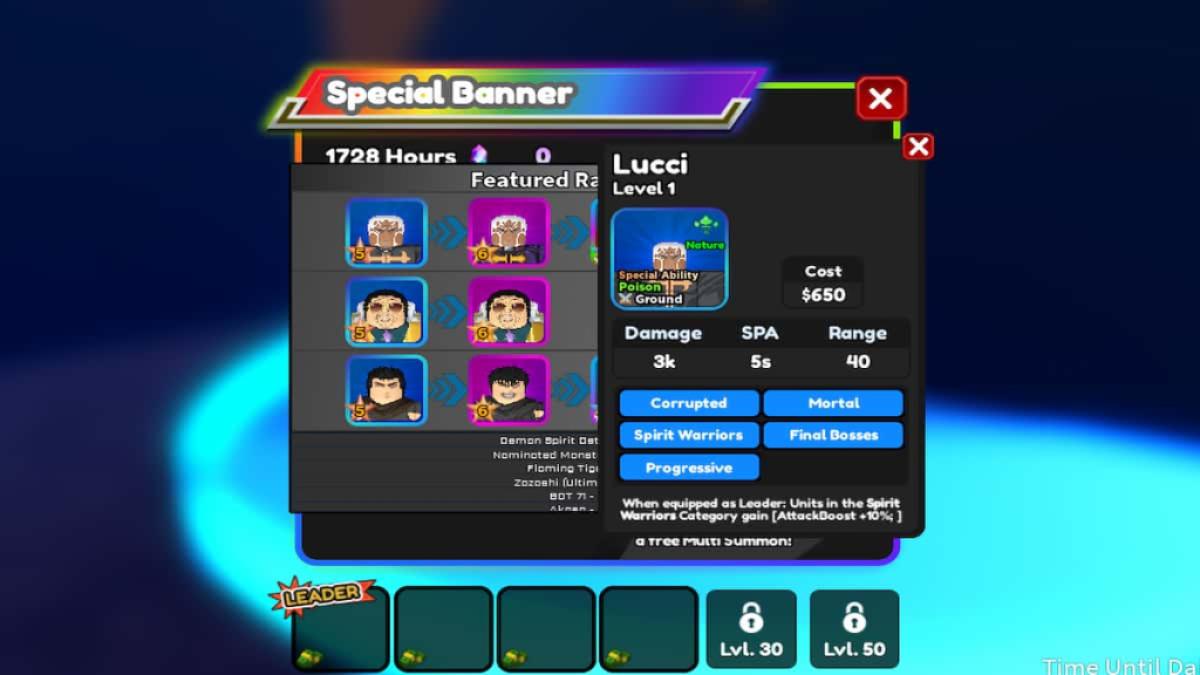 To make this evolution possible, you need the following materials.
x4 Disc – You can obtain Disc as a drop reward by finishing the newly added Bizzare Prison raid.
x1 Jokato Koju IV – Obtain the 6-star unit by rolling in the summon banner.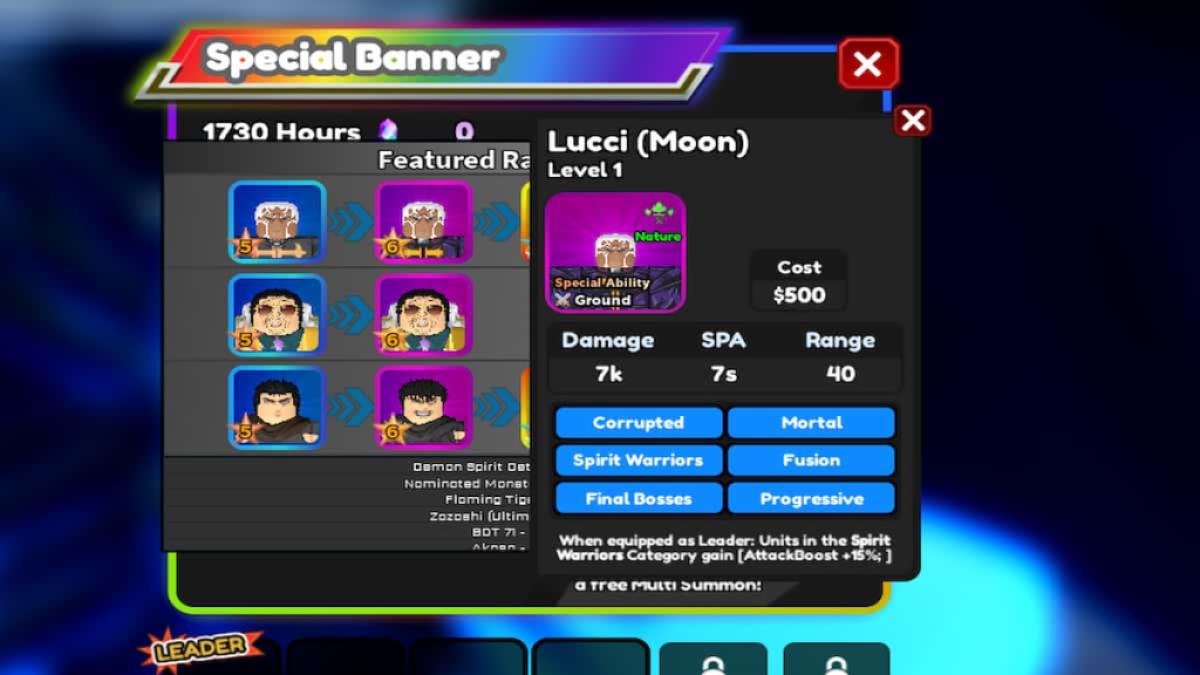 After obtaining all the above items, level up your Lucci(5-star) to 175(max level) by feeding fodder/weak units. Once it's at max level, click the evolve button adjacent to its name in inventory to transform it into Lucci(Moon).
How to get Lucci(Heaven) in All Star Tower Defense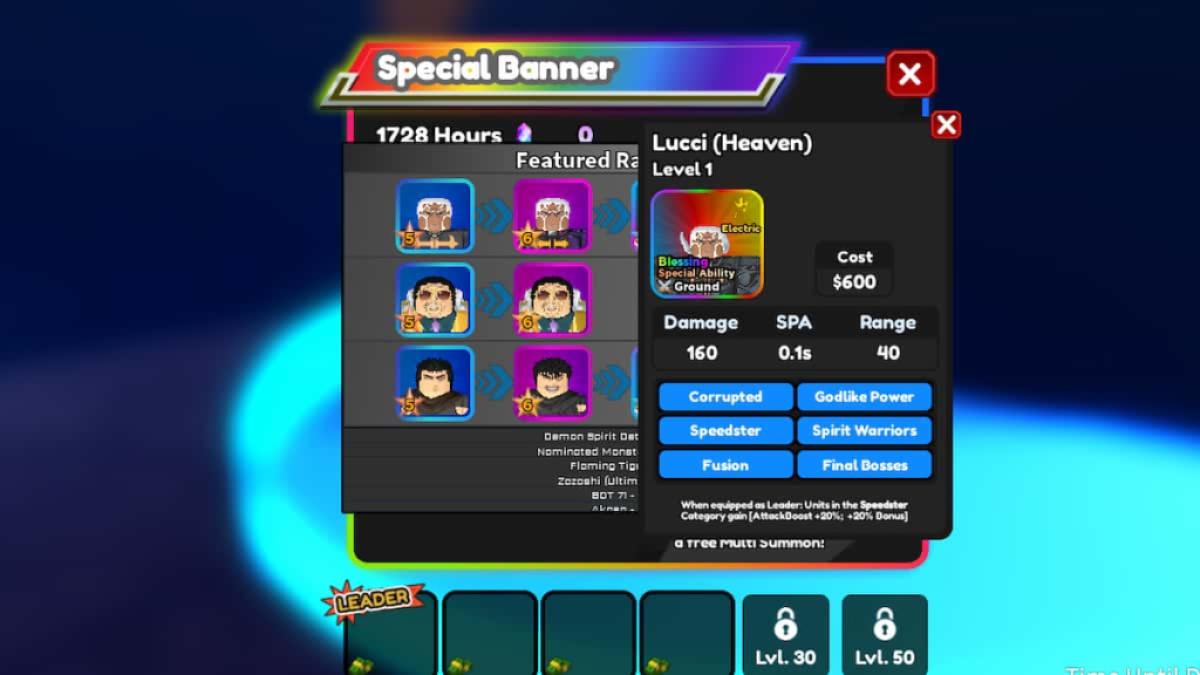 As mentioned above, you need one more evolution from its 6-Star Lucci(Moon) version to get the Lucci(Heaven). For this, obtain certain items and fulfill the following requirements.
Get 1750 Kills: Eliminate 1750 kills using your Lucci(Moon) in any game mode.
x6 Disc: Acquire Disc as in-game rewards by finishing the Bizzare Prison raid.
Like the previous evolution, level your character to level 175 and hit the Evolve button to get Lucci(Heaven) in ASTD.
What is the Blessing of Lucci(Heaven) in ASTD
Unlike other units, Lucci(Heaven) has two different abilities in ASTD.
Time Acceleration: Increases the effect duration on any enemies
Universe Reset: Sends all the enemies back to the spawn point.
For more on Roblox, check out ASTD Demon of Emotion – Abilities, How To Get, & How To Upgrade, or How to get Boo (Kid) in ASTD – Roblox on Steam Game Guides.