Image via Roblox Super NFL Tycoon
The second installment of the popular NFL Tycoon has arrived—meet Super NFL Tycoon! This experience, similar to its predecessor, allows players to build their own stadium, manage their dream team, and grow their franchise dynasty. To many players' delight, this experience also offers a handful of NFL-themed avatar items that can be claimed for free, including the one we'll be discussing in this brief guide, the NFL Draft Cap. Continue reading below for a closer look at how to obtain this item.
How to earn the NFL Draft Cap in Super NFL Tycoon
To earn the NFL Draft Cap item, players must complete the following limited-time Intuit TurboTax quest:
In classic tycoon fashion, this quest requires you to expand your stadium a designated amount. If you don't already have your stadium finished, or at least decently built out, you may need to grind for quite a while to unlock this item, as you earn money faster the more you have done.
If you've never played Super NFL Tycoon before, check out our section below that will help you get started. If you don't need the extra help, feel free to skip past this section.
How to expand your tycoon
Upon spawning into Super NFL Tycoon, you should notice a green circle on the ground that says Start your Tycoon!—stepping onto this circle will place the first piece of your tycoon.
As more circles appear, continue stepping on them to expand your tycoon. If you run out of money and need more to purchase new circles, simply locate the ATM pictured below, walk up to it, and press E. Doing so will automatically collect all the money your tycoon has passively earned while you were building.
Continue this process until you've unlocked the ability to purchase the Draft Grounds, then, continue reading below.
Related: Roblox Promo Codes (April 2023) – Free items and current Roblox events!
How to complete the Draft Stage in Super NFL Tycoon
When you find the Draft Grounds button, step on it to begin building your NFL Draft-themed area.
Then, simply continue expanding this area by purchasing buttons, claiming money, and repeating this process. After a while, you should see the Draft Stage button.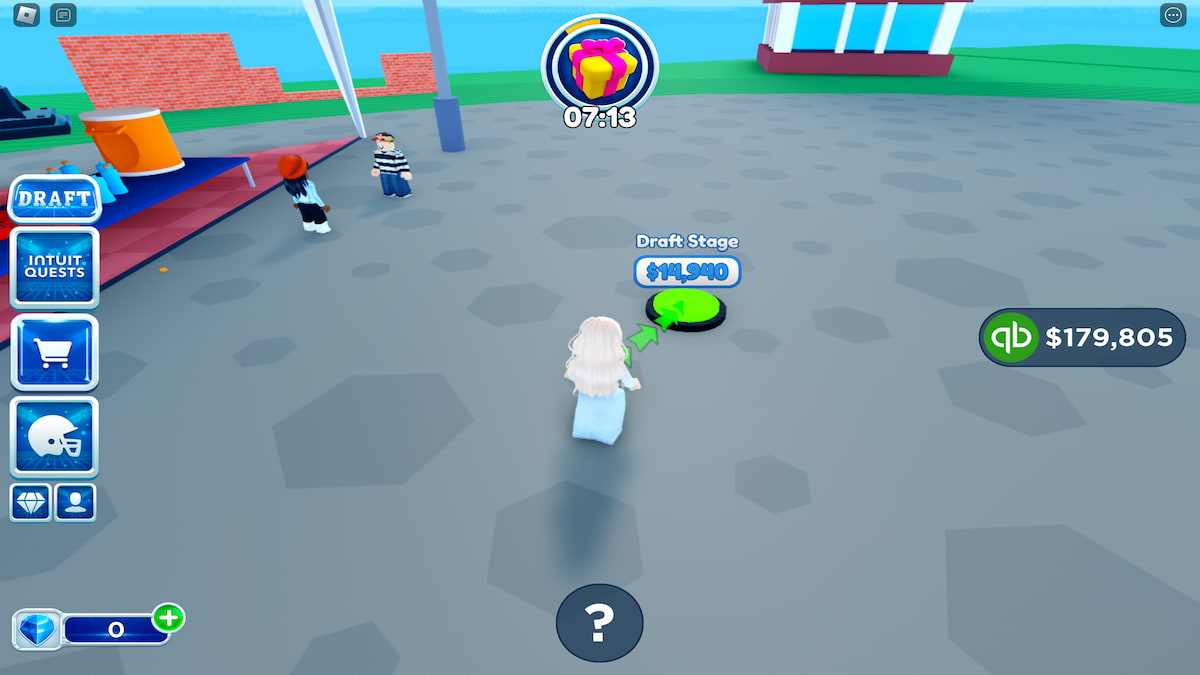 Purchase this button, and all the buttons that appear around it, until you receive the corresponding NFL Draft Cap Badge. That's all there is to it, you've earned the item!
End
That's it for our guide on how to unlock the NFL Draft Cap item in Super NFL Tycoon! Luckily, unlike some of the other free avatar items we've written guides on, this item doesn't require a ton of grinding, so it shouldn't be too hard to obtain.
Looking for more easy-to-obtain free items? Check out our other guides on How to get the Vans Black White Checkerboard Umbrella in Roblox Vans World or How to get all free items in TWICE Square – Roblox here on Pro Game Guides!