Recruit a Friend is a new referral program that was introduced to Call of Duty: Warzone 2 with the Season 3 update. This feature rewards you for inviting other new players to the Battle Royale game. Here's a guide showing how to take advantage of this program and the rewards associated with it.
How to Recruit a Friend in CoD Warzone 2
You can access the Recruit a Friend feature in-game from the Challenges tab of the launcher menu as shown in the images above. Scanning the QR code on your screen will take you to this portal. Alternatively, you can simply visit the Call of Duty Recruit a Friend website on your browser.
After opening the link, select the Get Started option and click on the Confirm button to join the Recruit a Friend program. Login by entering your Activision ID details that you use to play Warzone 2. On the next screen, click on the Authorize tab to finally link your Activision account to the Recruit a Friend account.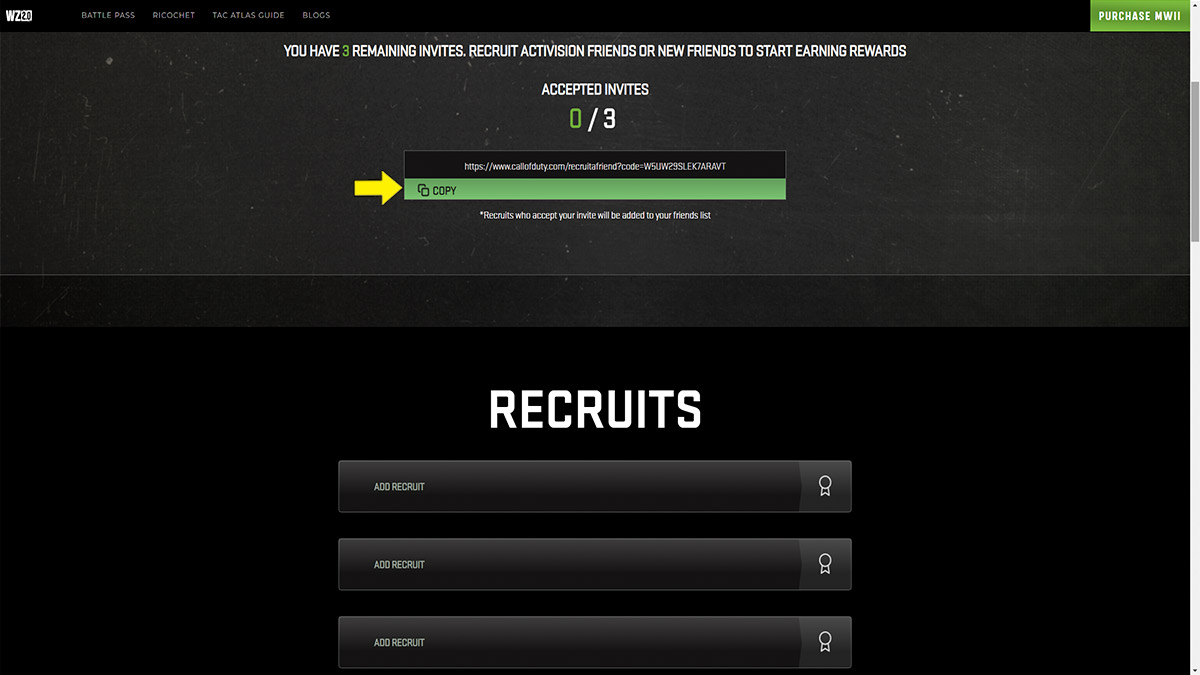 Now the Recruit a Friend portal will show you how many Recruits you have invited to play Warzone 2 being a Recruiter. To invite someone, simply copy your unique referral link from the dialogue box that appears under the Invite section and share it with the person you'd like to recruit. Any person who joins with your link will be added to your Recruits and in-game friends lists.
Here are some important guidelines for the Recruit a Friend program in Warzone 2:
Eligible Recruiters must have at least 3 hours played of Warzone 2 and an Activision account more than 60 days old.
Eligible Recruits must have Activision accounts less than 7 days old or have not played Warzone 2 in over 60 days.
Each Recruiter can have up to 3 Recruits.
The Recruit a Friend offer isn't available in the following countries: Austria, Argentina, Belgium, Czech Republic, Denmark, Ireland, New Zealand, Norway, Peru, Philippines, and Poland.
Check more details about this program on the Recruit a Friend FAQ webpage.
Related: What Playlists are in Warzone 2 today? (Updated Weekly)
Warzone 2 Recruit a Friend Rewards
As a Recruiter, you can play some games of Warzone 2 with your Recruits and complete various in-game challenges to unlock exclusive cosmetic rewards. There are up to 9 rewards that can be unlocked by completing the following three challenges with each of the three Recruits:
Play 1 game with your Recruit/Recruiter in the squad.
Complete 7 Warzone 2 Contracts with your Recruit/Recruiter in the squad.
Get 20 AI kills in DMZ or Warzone 2 with your Recruit/Recruiter in the squad.
Complete these challenges with the first person to get the Tier 1 rewards:
Moon Dust Weapon Blueprint for the FSS Hurricane SMG
8-Bit Aggressor Emblem
Let's Rock Sticker
A Double Weapon XP Token and a Double Battle Pass XP Token are also awarded once to each player as a sign-up bonus. As a Recruiter, you can unlock Tier 2 and Tier 3 rewards by completing the same challenges with the second and third Recruits, which include:
8-Bit Aggressor Calling Card
Point Attacker Loading Screen
Shiroi Inazuma Weapon Blueprint for the X12 Handgun
More 2XP Tokens
Stay tuned to Pro Game Guides for more Call of Duty: Modern Warfare 2 and Warzone 2 content. In the meantime, head over to our Excavation DMZ Mission Guide article.