Manchester United have completed the signing of Atletico Madrid midfielder Irene Guerrero in one of three deals expected for the club on transfer deadline day in the Women's Super League.
Guerrero (26 years old) was part of the Spain squad that won the Women's World Cup last month, where the midfielder participated in three matches as a substitute with the world champions in the tournament.
Also at Atletico Madrid, Guerrero had spells at Real Betis and Levante, but is now heading to the Women's Super League, which starts on October 1, live. Sky Sports.
The Women's Super League summer transfer deadline is Thursday at 11pm.
Manchester United in talks over Everton's George
Latest news from Manchester United It is shaping up to be a busy day for the club at the WSL deadline.

Everton defender Gabby George is in talks over a move to Manchester United after they agreed to meet the 26-year-old's release clause of around £150,000.
United have been searching for a full-back all summer following the departure of Ona Batley to Barcelona on a free transfer.
George has been with Everton for more than nine years after leaving United's academy as a teenager and is the cousin of former United winger Jesse Lingard.
What have Manchester United actually done in this window?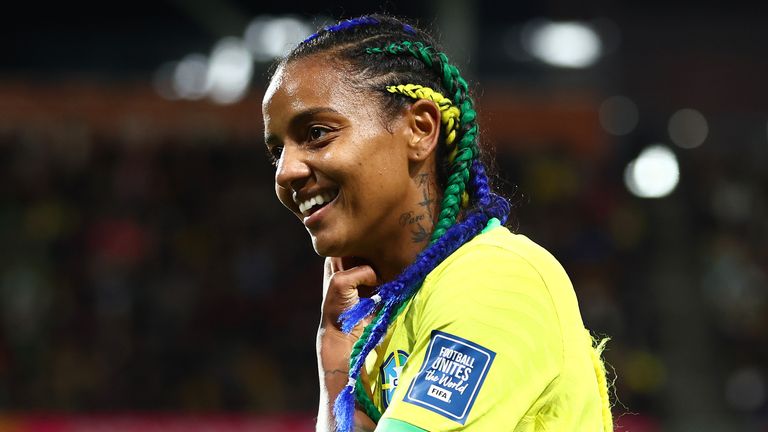 Sky Sports News correspondent Anton Toloy:
"Possible late addition for the Everton defender George explains how Manchester United are progressing significantly in this window.
"Everton are reluctant to sell the player however Sky Sports News She understands that United have met her release clause of around £150,000.
"Sign too Goose – Fresh off the back of winning the Champions League with Barcelona – for a club record fee and a World Cup Golden Boot winner Hinata Miyazawa It means Mark Skinner's side have exciting options up front.
"But replacing Rousseau and Battle is no easy feat, especially as Manchester United prepare for their first challenge in the Champions League.
"Nobody knows what to expect from this team this season."
The WSL returns to Sky in October
Jill Scott gives her predictions on late transfers, teams to watch, and who she thinks will win the WSL title at the end of the season.

The WSL begins on Sunday 1 October with six matches, including defending champions Chelsea v Tottenham live on Sky Sports at 5.30pm.
Some WSL teams have already begun their pre-season training, and England players are expected to return to their squads in the next two weeks, before regrouping for the UEFA Nations League.
After the Lionesses won the European Championship last year, ticket sales broke records across the WSL, with many hoping this summer's World Cup campaign, in which they reached the final, will draw more eyes to the league.