Ferrari's Carlos Sainz starts on pole in Monza, with team-mate Charles Leclerc third on the grid; Max Verstappen starts from second in search of historic victory; watch the Italian Grand Prix on Sunday live from 2pm, with build-up beginning at 12:30pm on Sky Sports F1
Last Updated: 02/09/23 8:24pm
An 'optimistic and positive' Carlos Sainz says he will attempt to keep the Red Bulls at bay after claiming pole at Monza

An 'optimistic and positive' Carlos Sainz says he will attempt to keep the Red Bulls at bay after claiming pole at Monza
Ferrari duo Carlos Sainz and Charles Leclerc say they will need to work together to have a chance of denying Red Bull's Max Verstappen a record 10th successive victory in Sunday's Italian Grand Prix.
Sainz edged out Verstappen and Leclerc in a thrilling finale to qualifying on Saturday, with the tifosi delighting in Ferrari taking first and third at the team's home race.
While topping Verstappen over one lap was an admirable achievement in a season that Red Bull have completely dominated, denying them victory on a Sunday for the first time in 2023 is a significantly greater challenge.
The RB19, at least in the hands of Verstappen, has been in a different league to the rest of the field in race trim, enabling him to level Sebastian Vettel's record of nine consecutive Grand Prix wins.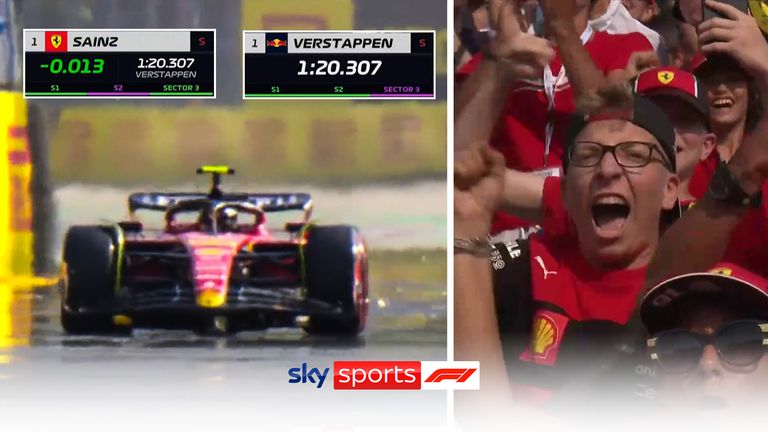 Carlos Sainz takes a sensational pole for the Italian Grand Prix as he beats Max Verstappen by the smallest of margins
Asked about his chances of converting pole to victory, Sainz said: "I don't know – this is my honest answer is that at the moment my logic and logical mind tells me that Red Bull should be very quick tomorrow and very difficult to beat in the race, but I've been optimistic all weekend, I've been positive and it's worked for me so far, so I'm going to keep being optimistic and positive about tomorrow.
"We'll need to work as a team and give it our best shot.
"It's a good opportunity tomorrow, but being realistic, Red Bull should be quicker. We're just going to try to make their life as complicated as possible and take the win."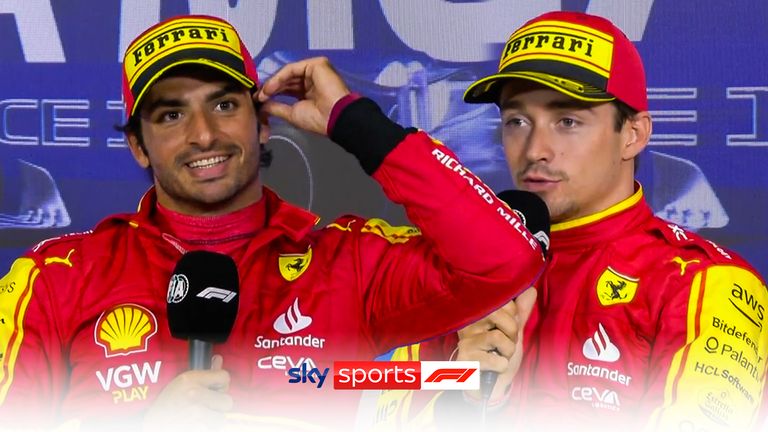 Ferrari drivers Charles Leclerc and Carlos Sainz say they feel the 'responsibility' to perform at Monza after they qualified P1 and P3 respectively at the Italian GP
Leclerc is hopeful that he can leapfrog Verstappen at the start to help Ferrari pull off what would be a famous victory.
"We've had some very good starts, so I hope at the start we can pass them and then we can push with Carlos in order to go away and finish first and second – that would be amazing," the Monegasque said.
"But realistically, they still look really strong in the race, the Red Bulls.
"We'll have quite a bit of pressure, but if there's an opportunity we'll take it."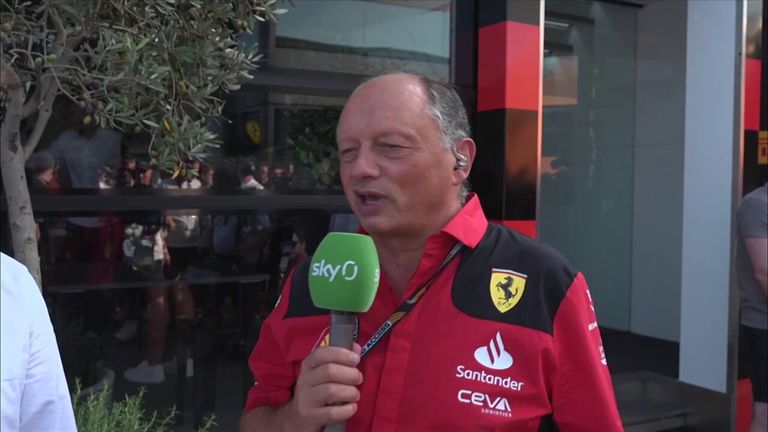 Frederic Vasseur says Carlos Sainz's pole is a 'good step' for Ferrari
With Verstappen's Red Bull team-mate Sergio Perez starting in fifth behind Mercedes' George Russell, Ferrari are likely to have a strategic advantage at the front.
Having claimed pole in his first home race as Ferrari team principal, Frederic Vasseur said: "It's always an advantage to have two cars in the top three for the strategy, you can play a little bit.
"I think it will be much more a matter of pace than pure strategy, but strategy looks quite key."
Verstappen: I'm only here to win
As has been the case on the increasingly rare occasions he's missed out on pole this season, Verstappen appeared unflustered and confident.
"They've been quick over one lap, but I don't know how quick they're going to be in the race, but for sure we need to pass.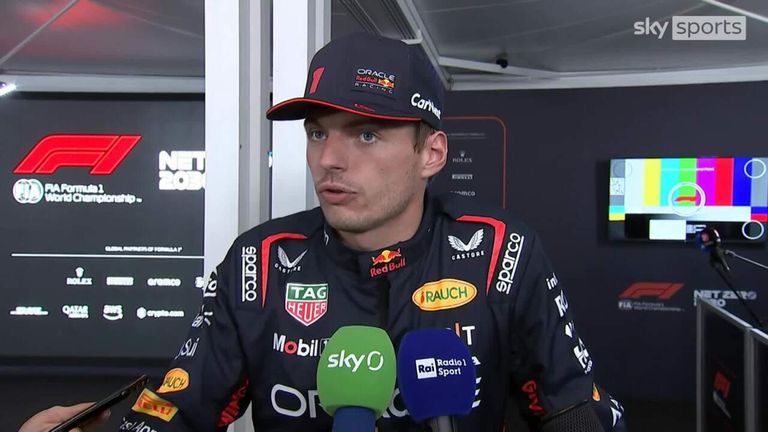 Max Verstappen believes his Red Bull will have good race pace ahead of the Italian GP despite being narrowly beaten to pole by Carlos Sainz
"With their top speed, it's of course going to be a little bit harder to pass, but at the end, if we look after our tyres, that shouldn't be a problem.
When Verstappen won his home race in front of his hugely passionate Dutch fans last weekend, it was said, with good humour, that any driver who dared beat him may have trouble leaving Zandvoort.
Asked if he faced a similar issue by potentially beating Ferrari on home soil this Sunday, the world championship leader offered a telling response.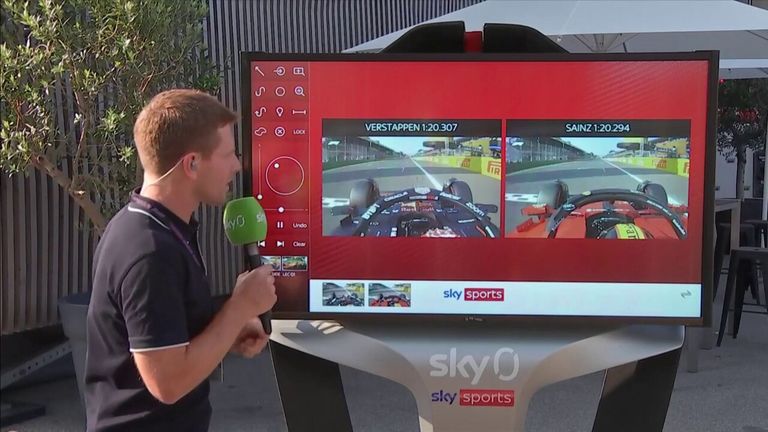 Anthony Davidson was at the SkyPad to compare the laps of Ferrari's Carlos Sainz and Max Verstappen with the Spaniard emerging victorious over the Red Bull driver to claim pole
"No, I don't think like that," he said. "I'm only here to win, then we'll figure out what happens leaving the track.
"The fans, they of course support Ferrari and want to see a red car win, but they are also sensible here, they are not hooligans."
Sky Sports F1's live Italian GP schedule
Sunday September 3
7.10am: F3 Feature Race
8.15am: F2 Feature Race
12.30pm: Grand Prix Sunday: Italian GP build-up
2pm: THE ITALIAN GRAND PRIX
4pm: Chequered Flag: Italian GP reaction
5pm: Ted's Notebook
All sessions from the Italian GP will be live on Sky Sports F1 throughout the weekend. Stream F1 on Sky Sports with NOW for just £26 a month for 12 months. Cancel anytime