Liverpool boss Jurgen Klopp says he has no doubts over Mohamed Salah's future amid interest from Saudi Arabia after the forward scored in their 3-0 home win over Aston Villa.
Salah shrugged off transfer speculation to hit Liverpool's third in the victory as Al Ittihad consider whether to make an improved offer for the 31-year-old after having had a £150m bid rejected by the Reds on Friday.
The Saudi transfer window closes on Thursday but Klopp is confident Salah will remain at the club despite one source telling Sky Sports News that Al Ittihad are prepared to go to £200m to sign the Egyptian.
Highlights from Liverpool's match against Aston Villa in the Premier League

Klopp told Sky Sports after the Villa victory: "He played a top game. Mo had to work super hard and he did.
"I've never had, and I don't have now, doubts about his future, his commitment to this club.
"Believe me, you can't imagine how much fuss the whole world makes and how calm we are with it.
"He's our player, he wants to play here and that's it."
Liverpool boss Jurgen Klopp was very pleased with his team's display as they defeated Aston Villa 3-0

While Klopp and Liverpool remain adamant Salah is not for sale, Sky Sports News understands the Saudi club are getting encouragement in "certain quarters" a deal can still be done.
While Al Ittihad feel they have that encouragement, they will try again.
Klopp added in his post-match press conference: "I didn't realise a little bit of a distraction in the whole week, besides answering questions about it – not from people inside (the club) but people outside.
"I have no clue, nobody came to me and told me something could happen or whatever. I'm pretty sure I would have got a call but I didn't.
"And Mo didn't look for a second like he thought about anything else other than about Aston Villa, being involved in all the goals.
"He has unbelievable numbers but it's not a surprise that he has the numbers. And he had chances on top of that and (is) involved in creating and setting up and all these kind of things.
"He's a world-class player, no doubt about that and I'm really pleased he is in my team."
Szoboszlai: Salah wants to stay
Liverpool new boy Dominik Szoboszlai, who scored his first Reds goal with a fine third-minute opener against Villa, said in his post-match interview that Salah wanted to stay.
"You know it is football, everyone is talking. We are really happy that he has stayed," said the Hungary captain.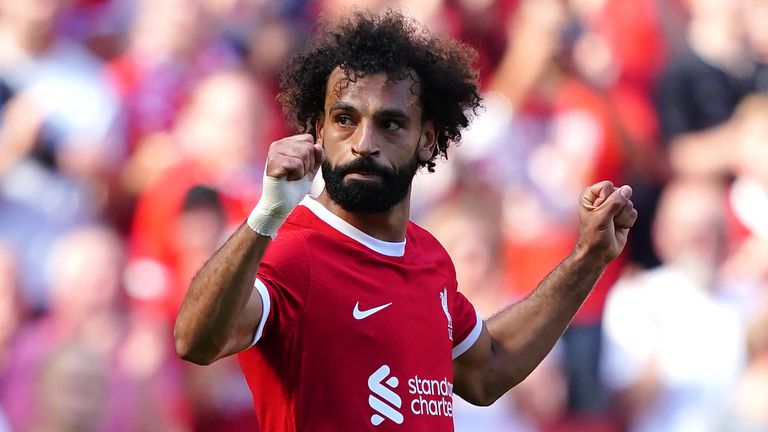 "We are of course speaking between each other but he wants to stay, he wants to be here and be with us. We are really happy – we need people in the team like him."
Klopp was asked whether Salah had conveyed that message to him.
"No. He didn't tell me, but he didn't have to. He speaks with his training and performances and behaviour," he added.
"We had meetings this week and the meetings were not about what we did in the past, it was about what we will do in the future.
"Mo was with the players' (leadership) committee and had his moments where he was talking and it was nothing like 'by the way, this is only until next week or whatever.
"He is completely here and if Dom said that, fine. Mo doesn't have to come into my office and tell me 'by the way, boss… (I'm not going)'.
"For me it wasn't a subject for one second, to be honest, besides the questions (from the media)."
Trent suffers hamstring injury in win over Villa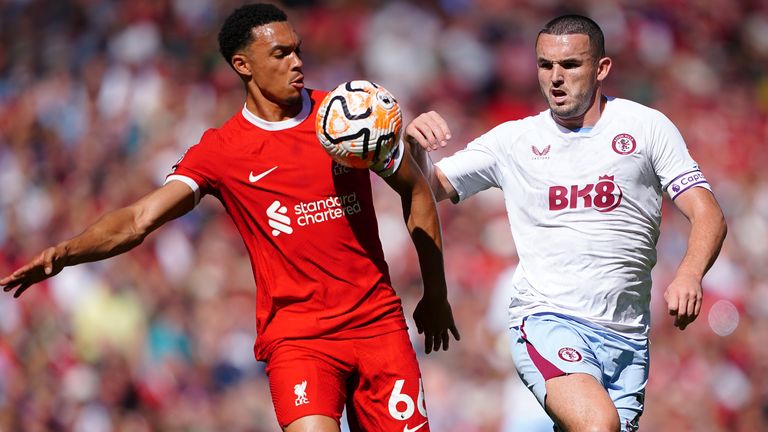 Salah combined superbly with Trent Alexander-Arnold throughout the win over Villa with the defender captaining the side in Virgil van Dijk's absence as he put in a player-of-the-match performance.
But the 24-year-old was forced off with injury in the 71st minute as he hobbled off with what has been confirmed as a hamstring injury by Klopp.
The injury puts Alexander-Arnold's place in England's squad for their upcoming games against Ukraine and Scotland in major doubt.
Asked about Alexander-Arnold's injury, Klopp said: "Not great. It's a hamstring. That's where he felt it and we have to wait for further assessment.
"He thought it's not massive but he's not experienced in that, he doesn't have a lot of hamstring [injuries] so that means we'll have to wait."
Playmaking masterclass from Trent
Opposition players are usually reluctant to press centre-backs in possession and prefer to block off potential passes. Aston Villa had that plan at Anfield. The problem was, in possession, Liverpool's clever tactical tweak of pushing Trent Alexander-Arnold into the central defensive role meant he had the freedom of Anfield to get his head up and pick passes for fun over Villa's high line.
He was the quarterback with Salah, Darwin Nunez and Luis Diaz the wide receivers. He peppered balls into that space and Liverpool ran riot, especially in the first half. Twenty of his 69 successful passes were hit over Villa's backline with eight of those finding a teammate who went onto creating a goalscoring situation in the Villa box.
Alexander-Arnold created five chances before the break, grabbing an assist for Szoboszlai's goal. It was also his long ball that sent Salah clear who in turn found Nunez and his shot off the post led to Matty Cash's own goal.
Jurgen Klopp – and Gareth Southgate for that matter – will be hoping the hamstring injury suffered that triggered his substitution isn't too serious.
Lewis Jones