Olympic gold medallist Lauren Price and former super-feather world titlist Mikaela Mayer were both victorious on the Liam Smith vs Chris Eubank Jr 2 undercard in Manchester.
No professional opponent, as yet, has been able to take a round off Olympic gold medallist Lauren Price.
Lolita Muzeya was no exception, even though the former middleweight world title challenger tried to make her size advantage tell as she bore down on Price and launched heavy rights at her welterweight rival.
Lauren Price called out Natasha Jonas after her victory over Lolita Muzeya but the two-weight world champion was not convinced.

Price though found her measure and beat the Zambian to the punch. As Muzeya charged in, the Welsh woman rattled hooks off her chin, before escaping from a wild left.
As the rounds progressed Price began to dig her shots in. A straight one-two connected on the chin as Muzeya lunged at her tormentor.
Price was getting to her opponent. In the fifth round Muzeya slumped to a knee after a cuffing right hook. That wasn't ruled a knockdown but later that round a stern lead right, driven into the jaw saw Muzeya list forward, clash heads and fall to canvas.
That was given as a knockdown but Muzeya was badly cut. The sixth round began but Muzeya wasn't permitted to carry on much longer.
The bout was stopped due to an accidental clash of heads and Price was a 60-53 winner on a technical decision.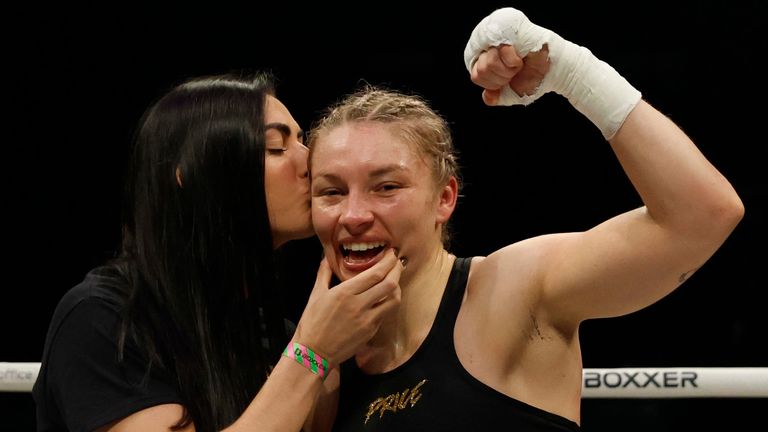 Afterwards Price said: "I respect both girls [Mikaela Mayer and Natasha Jonas], what they've done for women's boxing, but for myself, Tash. She's got the belt. I respect her 100 per cent, but I want to be chasing world titles. We're both British and it'd be an honour to share the ring with her."
America's Mikaela Mayer, a former unified champion at super-feather, came to Manchester to move up in weight, beat Silvia Bortot and call out IBF welter champion Natasha Jonas.
She followed that plan, engineering a shutout 10-round points win over the former European and telling Jonas, who was commentating ringside: "I don't want easy fights, I've got some big fights ahead of me, one of them is sitting right there!"
"I'm ready for that fight," Mayer said. "I'm preparing my body for that fight, it's a big jump going from 130lbs to 147lbs. I'm prepared to go to 147lbs and take on Tasha Jonas straight away.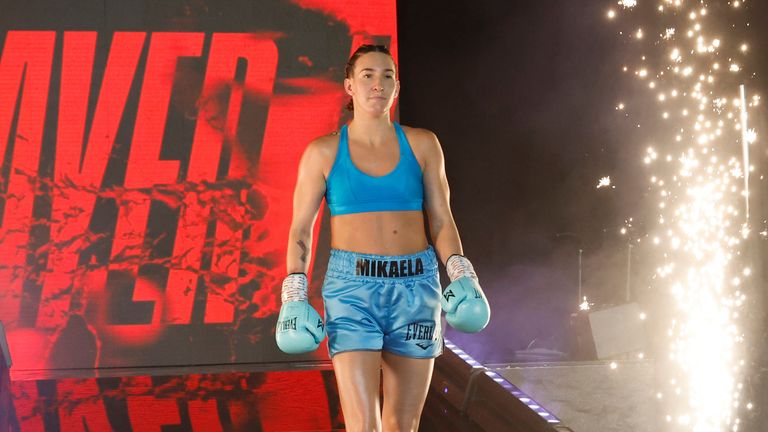 "That's the one I want next! And she sounds like she's game."
Bortot had been determined throughout the fight, trying to close the distance between them and catch Mayer with hooks and combinations of punches.
But Mayer examined her opponent and probed Bortot's defences with jabs.
She upped her work rate and landed an excellent arching right cross in the third round.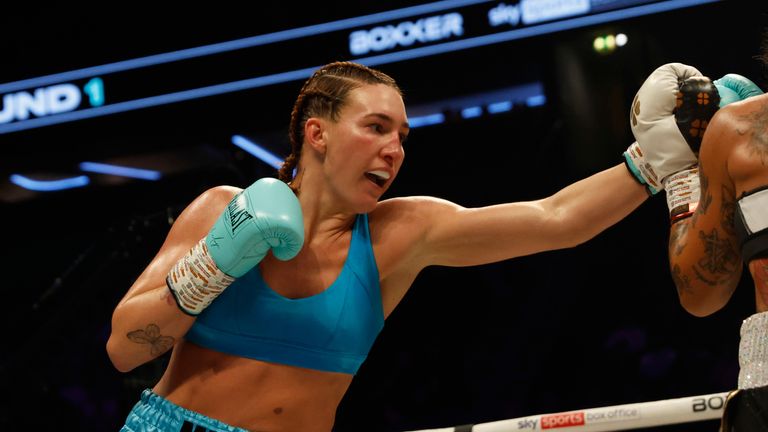 The American kept up a diligent attack to the body, banging her right over to dig a left hook to the body.
She picked moments to stand on the inside and work Bortot over.
She was more aggressive still in the 10th and last round, moving to pop the Italian with jabs before exchanging blows with gusto.
Bortot's efforts ultimately could not disrupt Mayer and the American took a 100-90 points win for referee Steve Gray.
Florian Marku says he wants a huge fight next after demolishing Dylan Moran in the first round.

Florian Marku blasted Dylan Moran away in the first minute of the first round of their contest. The two southpaws began boxing steadily behind jabs.
But Marku exploded into action with a countering left cross. He saw Moran was staggered and tore into him. Switching orthodox he slammed a straight right in that stunned the Irishman.
With Moran dazed on the ropes, Marku hit him with flush hooks and the referee stepped in to end it.
Frankie Stringer outscored Engel Gomez 60-54 after six rounds in the opening contest.
Liam Smith vs Chris Eubank Jr 2 is live on Sky Sports Box Office tonight. Book it now