The Spanish football federation (RFEF) has apologised for the "enormous damage" caused by the actions of its suspended president Luis Rubiales.
The 46-year-old has been provisionally barred from all football activity for an initial 90 days by FIFA while it investigates his conduct at last month's Women's World Cup final in Sydney.
Rubiales kissed Spain midfielder Jenni Hermoso on the lips during the trophy presentation, something Hermoso has said she did not consent to. However, Rubiales has refused to resign over the matter.
Now, the acting president of the Spanish federation, Pedro Rocha, has written a letter distancing the organisation from Rubiales' actions, saying he is "ashamed" by them.
"The damage caused to Spanish football, to Spanish sport, to Spanish society and the values of football and sport as a whole have been enormous," Rocha's letter said.
"Mr Rubiales' actions do not represent the values defended by the Spanish federation, nor the values of Spanish society as a whole.
"His actions must be attributed solely and exclusively to him, since he is the one solely responsible for those actions before society, before the sports governing bodies and, if applicable, before justice.
"To be clear, this position was that of Mr Rubiales, not that of the RFEF. We feel especially sorry and ashamed for the pain and additional distress this has caused."
Spain captain Morata condemns Rubiales' "unacceptable behaviour"
Spain men's team captain Alvaro Morata has criticised Rubiales for his "unacceptable behaviour" following Spain's victory in the Women's World Cup 16 days ago.
Protestors gathered in Madrid to show their support for Jenni Hermoso after the World Cup winner was kissed by Spanish FA president Luis Rubiales

On Monday, the Spanish men's team called an impromptu press conference where Morata read a statement on behalf of the squad alongside fellow senior captains Marco Asensio, Cesar Azpilicueta and Rodri which was also released on the Spanish Football Federation website.
It read: "We want to reject what we consider to be unacceptable behaviour from Mr Rubiales, who has not lived up to the institution he represents.
"We firmly and unequivocally stand on the side of the values that this sport represents.
England midfielder Ella Toone explains the decision from the Lionesses to publicly back Spain's Jenni Hermoso and calls for the 'right thing to be done' with regards to Luis Rubiales and his position as Spanish FA President

"Spanish football must be a driving force for respect, inspiration, inclusion, and diversity and must set an example with its behaviour both on and off the field."
Morata also expressed solidarity "with the players whose success has been tarnished".
Spain's Sport Administrative Tribunal (TAD) on Friday opened a case against Rubiales for "serious misconduct."
Hermoso, along with her 22 team-mates, has said she will not play for the national team until Rubiales quits.
Rubiales denies 'any aggression'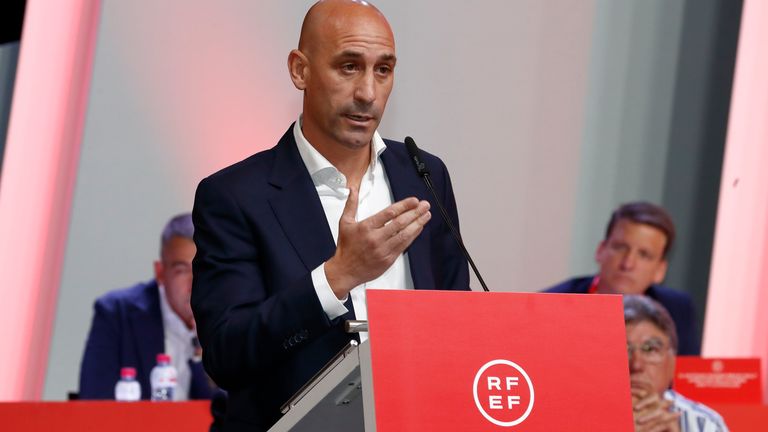 Last Friday, Rubiales issued a fresh defence of his actions at the Women's World Cup final medal ceremony.
Rubiales' statement came as the Spanish football federation called for him to step down.
In his statement, he said: "The spontaneity and happiness of the historic moment led us to carry out a mutual and consented act, the product of great enthusiasm.
"At no time was there any aggression, indeed, there was not even the slightest discomfort, but an overflowing joy in both.
"I repeat: with the consent of both parties, both in the affectionate hugs, as well as in the peak and subsequent farewell full of affectionate mutual gestures, that occurred on the medals delivery stage.
"I have also felt the growing support of people on the street and on social media."