In an exclusive interview with Sky Sports, former Manchester United assistant manager Mike Phelan has lifted the lid on the standards set by Sir Alex Ferguson, and looks at the work still to be done by Erik ten Hag.
Phelan was a long-standing figure on the Manchester United bench as assistant manager to Sir Alex, before re-joining Old Trafford to work under Ole Gunnar Solskjaer and Ralf Rangnick.
In a lengthy interview with Sky Sports, Phelan also speaks about working with Harry Maguire, Cristiano Ronaldo and Gary Neville.
The 60-year-old gave insight into the dressing room environment during Sir Alex's trophy-laden reign at the club – and how players such as Wayne Rooney and Rio Ferdinand settled into the group after joining from other clubs.
"The beauty at United was there was a high standard there," he says. "And that standard was high.
"It wasn't just the standards that the manager put in place, or the coaching staff, but the ones that the players put in place. It was a case of: if you want to be here you accept this and you keep the standard high. And you take that on and you challenge it a lot more.
"As coaches, we were there to improve the players. Yes, they are top, top players. But you're not looking for massive improvement, you're looking at a bit of improvement. And if you get it from them all, then that's a huge improvement.
"So when you challenge with Ronaldo and Rooney, they are pretty decent individuals in their own right. Yes, they have egos – but ultimately they want to succeed and they want the legacy.
"You have to be there for them, and that was easy for me. It's about relaying those messages to them: keep your head down, do your work, you're a good player – that's why you're there – and it will all come together."
Another key factor in the standards across Phelan's two spells at Manchester United was the impact of Ronaldo, with the former assistant revealing that, during the Portuguese forward's return to Old Trafford, he lost some players due to the standards he asked for in training.
"The second time round, he came in a lot older and a lot more opinionated, strong-willed," Phelan added. "He still had massively high standards and was terrific to work with. But I'd probably say a tougher mindset. He had been at Man Utd, he had been Portugal's ever-present, he had been at Madrid.
"I liked it because he didn't want his standards to drop, he wanted other people's standards to come up. And sometimes you lose a few people along the way when that happens. I remember certain times when he pushed and pushed hard, and he didn't get much reaction or much response. And there was frustration.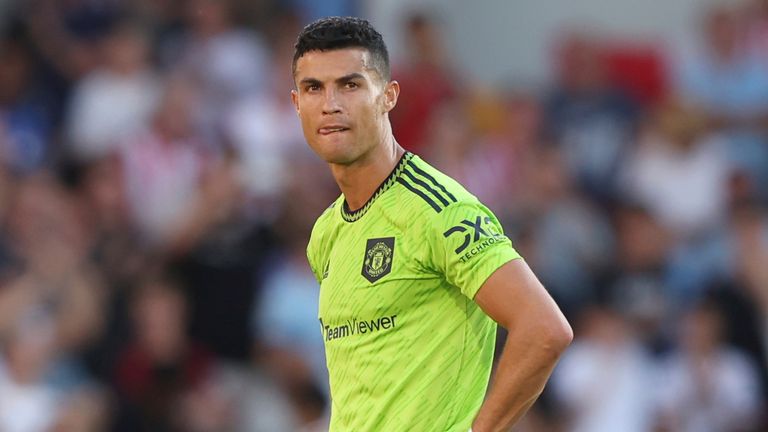 "When you deal with top, top people, it's about them and where they can finish and where they can get to. They want to look back and go 'wow, that was successful'. And he probably realised, and I don't know as I never had that conversation with him, that he couldn't do it at Manchester United. So his challenges were elsewhere.
"He's still playing international football, yes he's in Saudi Arabia, but he's still playing and scoring goals. He is doing all the things we knew he could do at Manchester United.
"But a really good personality, hard-working and challenging. He challenged me as a coach, Carlos Queiroz as a coach and Sir Alex as a manager. But that's good because it takes you to another level."
Phelan on… Ronaldo's first spell at Man Utd
Look back to 20 years ago when Cristiano Ronaldo made his Manchester United debut against Bolton in a 4-0 win

"The first time, the challenging part was that Cristiano came to Manchester United knowing in his own mind that he was going to be the best in the world. He had one ball under his hand and the team had another.
"And this was a young kid, one who came from Portugal and was made there, and made that sacrifice to come away from that, where he was comfortable, to a club like Manchester United and learn everything from an English and British perspective.
"He had all the skillset, the mentality – but what we tried to do with [former assistant manager] Carlos Queiroz was we tried to integrate him into the team and he responded brilliantly. His work ethic and practice was fantastic and it rubbed off on the players. They knew there was someone special there.
"In that environment, with the standards so high, the players knew this guy could take them where they needed to go and to go again. He did that brilliantly."
Phelan on… returning to Man Utd with Solskjaer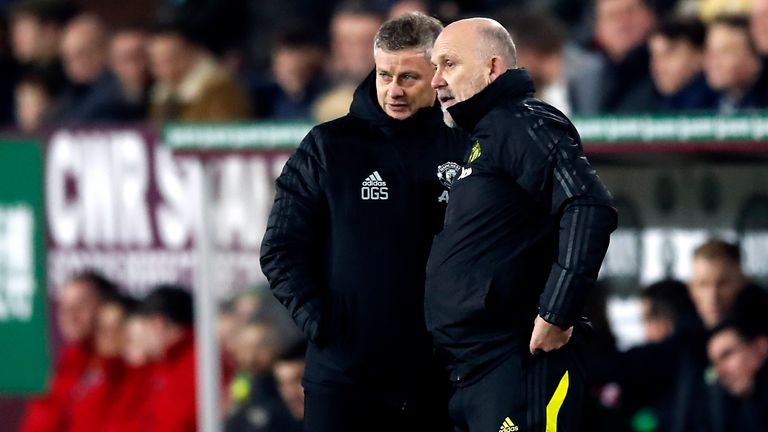 "I knew things weren't going too well at United and that Jose Mourinho was under a bit of scrutiny but I had no idea it would lead to what it led to.
"I got to my car, turned on my phone and I must have had 150 messages, lots of them repeated ones such as: 'Where are you? Get in touch!' These were from Ole, Sir Alex, from the news people. I'm thinking: 'I will take this a bit later'.
"I heard Jose had lost his job and I got a call and Ole spoke to me saying, 'I might be offered the job, would you be interested in going in again?' As I had been there, seen it and done it and it would have been a help for him. There were no second thoughts.
"The club was different from the first time round. From the inside, working with Ole, it was refreshing. He had a different way of doing things, a different mentality but the same standards as when he was a player. He worked very hard to try to achieve what he could achieve. There was turmoil there, but there was turmoil in all different areas of the club. But he was the manager and we had a job to do.
"We hit the ground running, we changed the atmosphere, the standards. We changed a lot of small things that made it feel like a Manchester United that I and Ole knew. The players responded really well and we got off to a flyer. I think we had 10 wins out of 12 and we were starting to think: 'this is crazy'.
"We tried to push it on and to Ole's credit, he was a good thinker. He allowed people to work – he was similar in his ideas to Sir Alex. It was quite refreshing.
"There were issues going on in that time that weren't going on the first time round. There was a lot more attention to things in the background, within the club and the atmosphere. You were dealing with these things a lot more than the bits you wanted to focus on which was the football. But when you're the manager of a massive club, the results get you."
Phelan on… working with Rangnick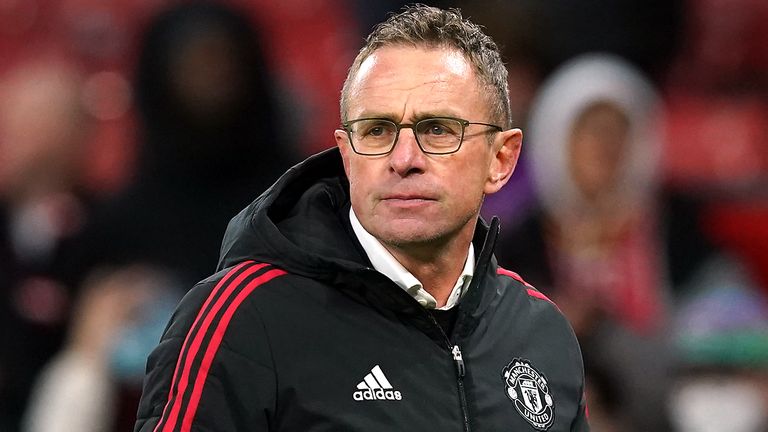 "I thought it was difficult. Not difficult from the point of Ralf being the manager, but the circumstances of him being the manager. It wasn't easy with it because Manchester United – does it need a caretaker manager?
"It needs a proper manager – and I'm not saying Ralf wasn't a proper manager, but he came in under this caretaker role having been one at a smaller club. I always thought it would be difficult for him to establish momentum, to sort out the players in a short space of time.
"I don't know what conversations he had to get the role but he tried really hard. It didn't work out in the interest of both parties.
"He was fantastic as a guy in the environment he was in before becoming manager – he does that director of football role really well, he was successful at that. Coming in as a manager, he had done that role before, but he was stepping into something turbulent.
"I have a lot of respect for Ralf, it was a difficult position to take on. But he really did try and worked immensely hard. He had his frustrations along the way, as a lot of us did. But he's back in the international game and he seems to be doing really well. And I'm pleased."
Phelan on… Erik ten Hag's Man Utd
Erik ten Hag was not pleased with a number of refereeing decisions he felt went against his Manchester Utd side in their 3-1 defeat to Arsenal

"Him and his coaching staff have made a difference, from what was left. They are changing lot of things and changing them quickly. There is a definite difference in standards, you can see that.
"There has been great success, or relatively great success in one year and I'm sure he wants to push on. It's been a little bit up and down at the start of the season but that happens. I think they can progress and make bigger strides.
"They have spent a lot of money in the windows but he needs time, everyone needs time to put their mark on things. People forget that, but you have to win football matches.
"It's Manchester United – you lose one game, you can call it a blip. You lose two or three in a row? It's probably a crisis.
"Having lived it, I understand what he's going through. There is a story about Manchester United every day, all different mediums now to find a story. There's a lot of work to do but he's trying, he's finding ways to find his feet still. But they need results."
Phelan on… Harry Maguire
Erik ten Hag says he's 'very happy' that Harry Maguire is still at the club after his proposed move to West Ham fell through

"I had him at Hull. Harry came to the club from Sheffield United and he played a bit as a sitting defensive midfield player there. At Hull, he was building up to the player we thought he would be.
"He came into the team, and when I became manager he was injured. He was playing tennis and broke his ankle, something like that. It didn't do me any favours as I had him down as a starting guy.
"We always knew he had strengths and weaknesses, most players do. Then the United thing came along and at that time, Harry was a top player. Nobody could say he wasn't a top player in that position having played at Leicester. Yes, the fee was a lot. But you're not in control of that.
"Having come to United, he did really well. He had composure on the ball, what he didn't have was a settled environment of who played in front of him, who sat alongside him. He jumped in at the deep end a little bit.
"But I have a lot of respect for Harry as I listen now to what he is going through and what he has gone through, he's handled it unbelievably professionally and that is not easy. Because the spotlight is on him when he does or doesn't play. And he knows that because he's a professional.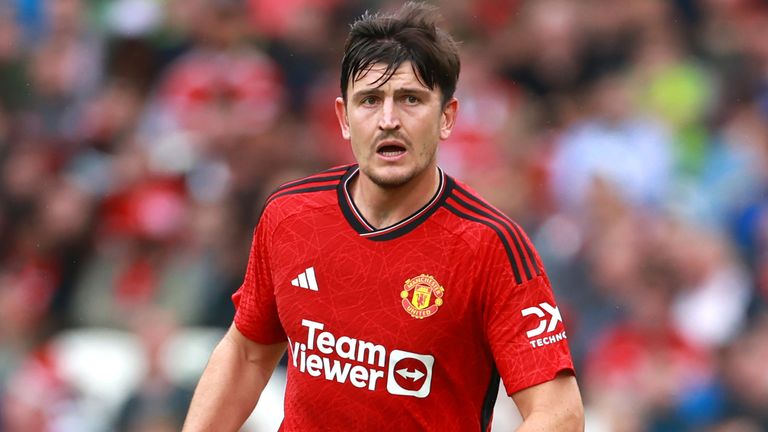 "The new manager comes in and wants to change captaincy, these things happens and he knows that. It's not nice at times when you don't know the role you're supposed to do. He's kept himself available, extremely professional, fit.
"Yes, there has been talk about a move, it hasn't happened. It might still happen. I know he will give everything for Manchester United until the moment he doesn't have that shirt on.
"He's a good footballer. Yes there are weaknesses in his game. But they were there in his days at Hull. Some say you should improve your weaknesses, but I'm a believer in keeping on playing to strengths. His ability on the ball, he can read the game, he can definitely score a goal, and he's a good guy. He's one of the good guys in football.
"He plays for England, and hopefully will do for a long time, and he turns up – he doesn't shirk his responsibilities. So credit to Harry."
Phelan on… Gary Neville
Gary Neville and Roy Keane discuss the declining performances over the past few years at Manchester United and what impact the instability around the club's sale is having on the team

"He's the mayor of Manchester now really! Gary was always opinionated, but it was a thoughtful opinion. Even when he was a kid, he was the union rep at United. He always had that quality in him to argue and solve problems.
"It wasn't a surprise to see him go into punditry but now he's part of Sky furniture. He does everything! But he's also a successful businessman, he's got Salford City gig going now which is progressing really well. Now and again I go and watch them. He's an interesting character now Gary, as he's the flavour at the moment!"