Antoine Hastoy (11), Beto Mufaka (55), Luis Bel-Biller (73) score for France in a below-par World Cup Group A win over Uruguay in Lille; TMO Ben Whitehouse controversially ruled Romain Taofifenua's yellow card not to be upgraded to red, despite direct intervention, without a roll
Last updated: 09/14/23 at 11:59 PM
France eventually overcame a plucky Uruguay to win 27-12 in the Rugby World Cup at Stade Pierre Mauroy in Lille, with Romain Taofifenua controversially avoiding a red card.
Anthony Jelonch returned from a long layoff due to an anterior cruciate ligament injury to captain the side as part of 12 changes to the starting XI that opened the tournament with an impressive victory over three-time world champions New Zealand in Paris.
France took the lead from an early Melvin Jaminet penalty after Uruguay collapsed.
But the home fans were left in stunned silence when Jaminet failed to deliver a deep cross kick on the touchline. Nicolas Freitas picked up the loose ball to race down the left and score into the corner.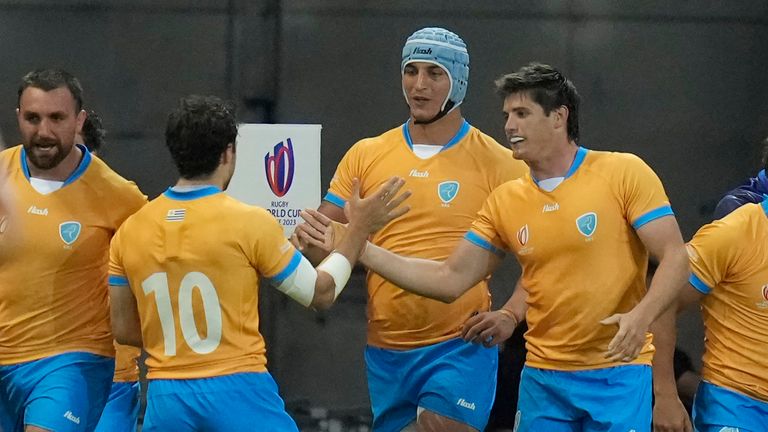 France responded with a try in the 11th minute when Antoine Hastoy ran clear, Jaminet converted and then extended the lead with another penalty kick.
Taofifenua was sent to the foul box after the French lock caught Santiago Arata high with his shoulder going into a tackle – which remained a yellow card after review by the TMO, Welshman Ben Whitehouse, when on another night it would have been deemed a red foul.
Uruguay, playing its first match in Group A, had an attempt canceled out in the 35th minute when Felipe Echeverri fell over the crossbar, and Thomas Inciarte was penalized for obstruction while building the attack, leaving France leading at halftime 13-5.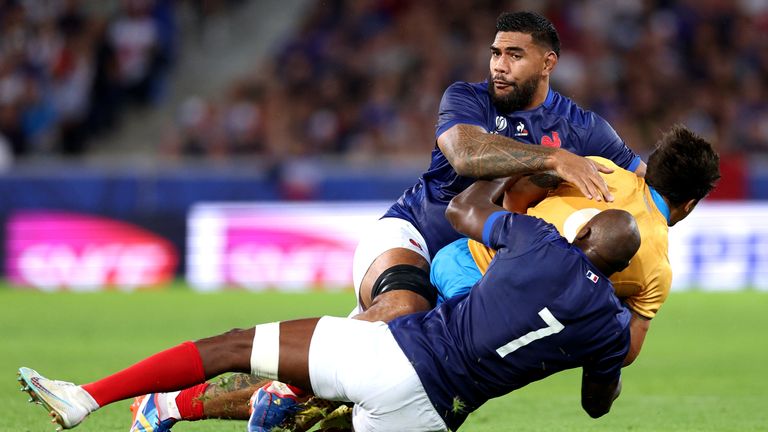 France thought they had scored a try early in the second half when Gabin Villiers collected a loose ball to run into, but it inadvertently struck Gilonche's shoulder.
Uruguay then reduced the deficit to 13-12 after Baltazar Amaya converted a corner kick and Echeverri converted.
But France hit back when Beto Mufaka got under the posts after a successful rebound from Echeverry's clearance to calm the home fans' nerves once again.
Any hopes of a Los Terros comeback finally ended after Luis Biel-Billary headed past a corner kick before Sekou Makalu's 80-metre breakaway attempt was ruled out by TMO for kicking into the net.
What then?
Hosts France will take on Namibia on Thursday 21 September, in their third Rugby World Cup Group A match, at the Stade Velodrome in Marseille (8pm GMT).
Uruguay will next play against Italy on Wednesday 20 September, in their third Rugby World Cup Group A match, at Stade Nice (4.45pm GMT).
Ibanez: France will learn from facing Uruguay Villaseca: Just the beginning for us
Rafael Ibañez, France's national team manager, said after the match:
"It was a tough battle, but it is our second win in this competition, and it is the most important," Ibanez said, quoted by the Rugby World Cup website.
"We made some mistakes when we had the ball in our hands and it was difficult for us to play with good structure.
"We didn't get the points at the end of the first half. It's a World Cup match, and we'll learn from that."
Uruguay captain Andreas Villaseca said after the match:
"I'm very proud of my team. I couldn't ask for a better team to lead the team," he said.
"We were fighting against France, one of the best teams in the world, and we played on their soil, and this is just the beginning for us."