Nat Sciver-Brunt hit a historic 120 (74) for Leicester, recording the fastest century in women's one-day international cricket off 66 balls as England beat Sri Lanka by 161 runs to seal a series win 2-0.
Sciver-Brunt beat Charlotte Edwards' 11-year-old record after taking over as captain for Heather Knight, who missed the tournament through illness.
"She is the best in the world like this and she showed why today," England coach John Lewis said.
"She played great. That partnership with Maya (Boschier) was great. They didn't take any risks, it was well calculated and Seaver Brent hit all the balls on the ground and Maya followed suit."
The England all-rounder was making her 100th ODI appearance and received her cap from Lauren Winfield-Hill, for whom she made her debut in 2013.
Sciver-Brunt reached the crease as England fell to 18-2 after losing Tammy Beaumont (2) and Alice Kapsi (6) in the Powerplay to Sri Lanka bowler Achini Kulasuriya and seamer Udeshika Prabodhani respectively.
But even before Sciver-Brunt achieved her historic record, she reached her half-century after hitting Inoka Ranaweera for three successive overs, the first guided through deep mid-wicket and then two shots hitting the ground to the long-on boundary.
"After the T20 series, someone asked me what we will miss about Nat Sciver-Brunt which is her calmness in the middle, something the other players feed off of, and her reassurance around the team, she's a great cricketer," Lewis added.
John Lewis described Nat Sciver-Brunt as a great cricketer and character after her record-breaking century in the ODI against Sri Lanka.

"She communicates great on and off the field and talks about the game really well. She's a quiet, down-to-earth person and talks to all the girls about how they play.
Sciver-Brunt hit 18 fours and a six before she was eventually caught out by Harshitha Madavi as the Uptonsteel County Ground stood to applaud her majestic innings.
Sky Sports commentator Winfield-Hill said: "It was a fantastic game, she scored all over the floor and looked in complete control."
"Every time she wanted to go to the boundary she got it. She scored on the front foot and on the back foot. She has the ability to hit the ball hard on the ground and was showing innovation.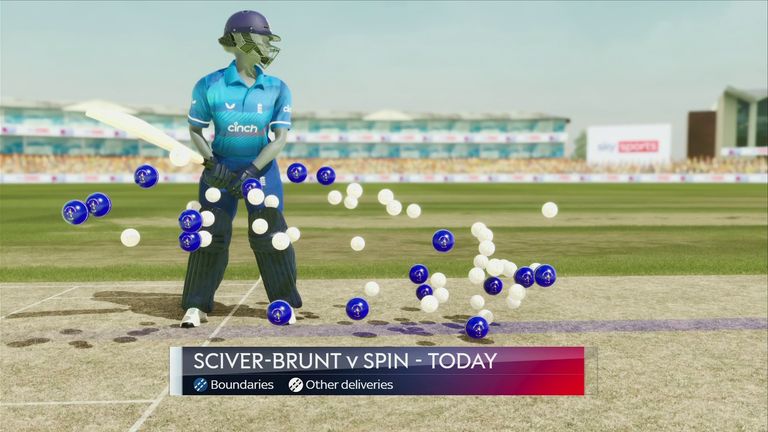 "She is a great player and has been for many years. Today is a very special day, as she is a leader and decisive in her footwork.
"In the women's game, a lot of players come across the wicket and not a lot of players can hit the ball as hard as they can."
Winfield-Hill added: "She hits off the back foot and using the depth of the crease gives herself more time.
"There's a lot that she does back to the bowler, she does it to all of them, the spinners and the seamers, and it's difficult to bowl to a bowler like that."
Unsurprisingly Sciver-Brunt was named man of the match and in the post-match interview she praised her team's performance.
Nat Sciver-Brunt discusses her record-breaking fastest century for England and the frustration of not being able to bowl recently due to injury.

"I'm really happy to play the way I did and continue what I was doing against Australia as well," Skiver-Brandt said.
"Trophy hats usually weren't very good, so I changed the sorcery surrounding them.
"The decision not to bowl post-Ashes was to give the body a bit of a break. I got through training without having to rush and do everything all the time. It was very nice.
"I'm looking forward to picking up the ball again. When you play, you want to influence all parts of the game, and that's the best part of being an all-rounder."
England's bowlers helped round off their stand-in captain's performance after Sri Lanka were bowled out for 112, with Charlie Dean taking a five-wicket haul, Lauren Feller finishing with 3-30 and Mahika Gaur taking 1-29.
Stream the best cricket and more of the best sports with NOW.