Image via Roblox One Punch Fighters
Become an S-Class hero in One Punch Fighters! Start your adventure as Saitama in this click-fighting game as you battle through familiar enemies and locations from the anime One Punch Man. You will not be able to defeat these enemies with one punch at the start of the game, but you can level your character up and eventually master The Serious Punch. 
Claiming codes in One Punch Fighters will give you different Boosts that will serve you well at the start of your game because you will be underpowered. Use these boosts to collect resources and defeat enemies easier at the beginning of the game.
There are many experiences in Roblox that Saitama inspires. If you want to play as your favorite class hero or villain, claim these codes to help you rank up faster in Roblox One Punch Simulator Codes, Roblox One Punch Reborn Codes, Roblox Ro-Punch Man Codes, Hero's World Codes, and Anime Digging Simulator Codes. 
All One Punch Fighters Codes List
Updated June 1, 2023

Checked for new codes!
One Punch Fighters Codes (Working)
UPDATE102—Redeem for All Boosts (New)
UPDATE10—Redeem for All Boosts
ONEMILLION—Redeem for All Boosts
DEFENSE—Redeem for All Boosts
PUMPKIN—Redeem for 5 Pumpkins
UPDATE9BUGFIX—Redeem for All Boosts
UPDATE9—Redeem for All Boosts
UPDATE8—Redeem for All Boosts
UPDATE7—Redeem for All Boosts
FridayCode—Redeem for All Boosts
UpdateDay—Redeem for All Boosts
ThxForSuport—Redeem for All Boosts
OPF—Redeem for Luck and Damage Boosts
OnePunch—Redeem for Elixirs and All Boosts
SIXPART2—Redeem for All Boosts
FREE_EXP—Redeem for 5 EXP Elixirs
UPDATE6—Redeem for Damage, and Luck Boost
Thx15mVisits—Redeem for All Boosts
Thx50kSubsTwitter—Redeem for All Boosts
Thx75kFavorites—Redeem for All Boosts
50KLIKES—Redeem for All Boosts
UPDATE6BUGFIX—Redeem for All Boosts
FREE_LUCK—Redeem for 5 Luck Boost and 5 Elixir
FREE_STR—Redeem for 5 Strength Elixir
45KLIKES—Redeem for all Boosts
UPDATE5—Redeem for all Boosts
UPDATE5BUGFIX—Redeem for 3 Elixir Boosts
FREE_LEVEL—Redeem for 25 Fruit Elixir
UPDATE4—Redeem for 1 Elixir and all Boosts
FREE_PAITAMA—Redeem for an Awakened Paitama hero
FREE_BOROS—Redeem for an Awakened Boros hero
BOOST—Redeem for Damage, Luck, Coin, and Strength Boosts
UPDATE3—Redeem for Damage, Luck, Coin, and Strength Boosts
Thx5Mvisits—Redeem for an Elixir
ShutdownForCorrection—Claim code for 1 Damage Boost and 1 Strength Boost
20KLIKES—Claim code for Gem Boost
UPDATE2—Claim code for 4 Luck Boosts
thx11kplayers—Claim code for 4 Gem Boost and 4 Luck Boost
Thx6KLikes—Claim code for 1 Gem Boost and 1 Damage Boost
thx1Mvisits—Claim code for 1 Gem Boost and all other Boosts
quiz—Claim code for 2 Strength Boost
Thx7KFollows—Claim code for 1 Gem Boost and all other Boosts
Thx3KLikes—Claim code for 1 Gem Boost and all other Boosts
thx4kplayers—Claim code for 1 Gem Boost and all other Boosts
ThxYoutubers—Claim code for 2 Damage Boosts and all other Boosts
thx1kplayers—Claim code for 1 Damage Boosts and all other Boosts
Welcome—Claim code for 2 Damage Boosts and all other Boosts
thx100likes—Claim code for 1 Damage Boost and 1 Luck Boost
One Punch Fighters Codes (Expired)
ThxTesters—Claim code for Boosts
launchEve—Claim code for Boosts
shutdown—Claim code for Boosts
strengthRating—Claim code for Boosts
Thx1500kLikes—Claim code for Boosts
10KLIKES—Claim code for Boosts
One Punch Fighters FAQ, Answered
Follow our guides for all your questions on One Punch Fighters.
How to Redeem One Punch Fighters codes
It's easy to redeem codes for free rewards in One Punch Fighters. To do so, follow the instructions below.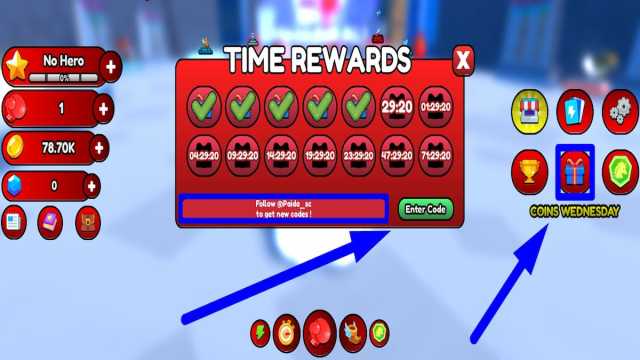 Launch One Punch Fighters on Roblox.
Click on the Gift Icon on the right-hand side of the screen.
Enter the code into the text box at the bottom of the window.
Click on Enter Code to redeem your reward.
How to get more One Punch Fighters codes
To get the latest codes for One Punch Fighters, follow the developer CL_GameStudio on Twitter @Paida_sc and join their One Punch Fighters Discord Server. Here at Pro Game Guides, we have you covered with all the latest code drops by the developer, so make sure to bookmark this page and often visit us to redeem the codes on our list. 
Why aren't my One Punch Fighters codes working?
There might be a few reasons why your One Punch Fighters codes are currently not working. These codes may be expired; if a code says expired or invalid when you try to claim the code, let us know in the comments below so that we can update our list. These codes could be misspelled or have missing punctuation when you type them out in the text box, copy and paste the codes from our list to avoid making these mistakes.
How to use the Auto-Clicker in One Punch Fighters?
To access the Auto-Clicker feature in One Punch Fighters, you must join the developers' Roblox group Lord of Animes. Once you have joined the game, register this, and you can relaunch the game. At the bottom of the screen, you will see a green lightning bolt icon; click on it. This should automatically allow you to now turn the auto-clicker feature on and off. The auto-clicking feature is used to gather strength while fighting against enemies. 
What is a One Punch Fighters game?
A One Punch Fighters game is a click fighting game where you play as the lead character Saitama from the widely popular anime One Punch Man. You will need to build up strength and coin to level your character and get him to a new rank. Once you have built up enough of these resources, you can unlock new levels until you can start defeating enemies with one punch. 
If you're looking for codes for other games, we have a ton of them in our Roblox Game Codes post! You can also get a bunch of free stuff via our Roblox Promo Codes page.