Image via Roblox Burger Tycoon
Creating and building your favorite Burger while trying to expand into a franchise is what you are going to try and do in Roblox Burger Tycoon. Opening up a burger joint on a corner in a new neighborhood will need a special kind of Burger to stand out from the rest. Get the locals to love your Burger and start growing your burger empire to the size of those familiar Golden Arches.
Our Roblox Burger Tycoon Codes has the most up-to-date list of codes that you can redeem for new Gems and Cash. These items will let you level up and be able to buy new items to build on your burger empire!
Suppose you enjoy managing restaurants and cooking your favorite foods for customers. In that case, we have a list of Roblox games with their codes that you can use to make your restauranteering journey easier, especially at the beginning of the game. Restaurant Tycoon 2 Codes, Roblox My Restaurant Codes, Roblox Sizzling Simulator Codes, Roblox Cook Burgers Codes, and Roblox Bacon Burger Codes. 
All Roblox Burger Tycoon Codes List
Updated April 24, 2023

Updated our list!
Roblox Burger Tycoon Codes (Working)
grillcook—Redeem for 100 Gems and 250 Cash
Burger2021—Redeem for 100 Gems and 250 Cash
summertime—Redeem for 100 Gems and 250 Cash
thankslikes—Redeem for 100 Gems and 250 Cash
likegoal—Redeem for 100 Gems and 250 Cash
epicgoal—Redeem for 100 Gems and 250 Cash
Roblox Burger Tycoon Codes (Expired)
There are no expired codes.
Roblox Burger Tycoon Frequently asked questions
Here's everything you need to know regarding Roblox Burger Tycoon codes.
How to Redeem Roblox Burger Tycoon Codes
It's easy to redeem codes for free rewards in Roblox Burger Tycoon. Follow our guide below.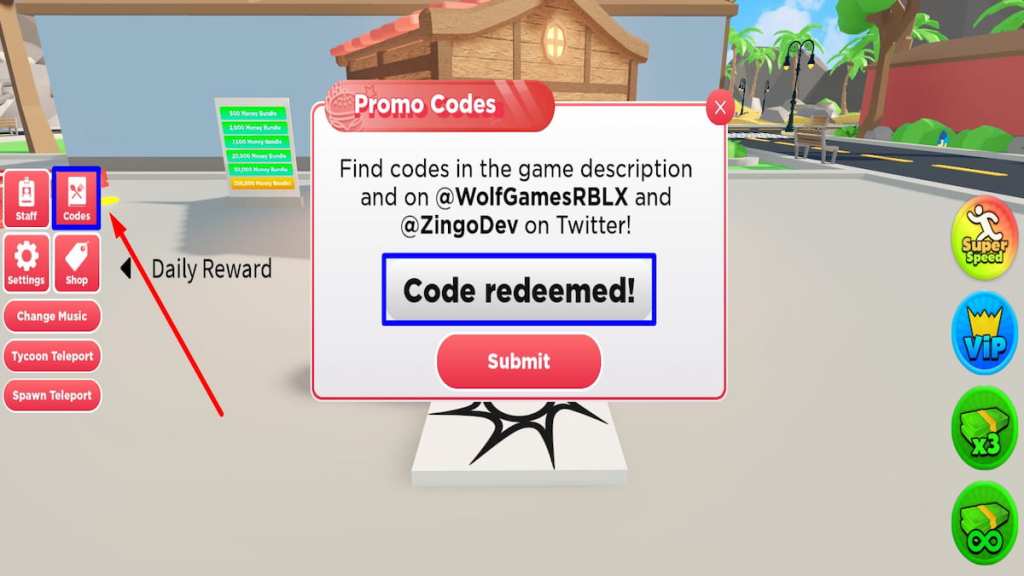 Just launch the game.
Press the Codes button with the menu icon on the left side of the screen.
A new window will appear where you can enter each working code into the text box.
Press confirm to receive your free reward.
How can you get more Burger Tycoon codes
The latest codes for Roblox Burger Tycoon can be found on the developers' zoomy page Zoomy Community Discord Server. We here at Pro Game Guides have the latest codes, so save this page and often return. 
Why aren't my Roblox Burger Tycoon codes working?
There could be a few reasons your Roblox Burger Tycoon codes could not work. The codes could already be expired if they are. Let us know in the comments so we can update our list. You could be misspelling the code in the text box. Ensure that the punctuation and grammar are correct when you type the code in.
What is a Roblox Burger Tycoon game?
In Roblox Burger Tycoon, you are the new restaurant in town, and you will need to build up your burger empire one patty at a time. The happier you keep your customers with the quality of burgers you are selling, the better you can make your burgers, and you will be able to upgrade your restaurant.
If you're looking for codes for other games, we have a ton of them in our Roblox Game Codes post! You can also get a bunch of free stuff via our Roblox Promo Codes page.