Image via Roblox Ultimate football
If like me you love your NFL, you're going to love playing Roblox Ultimate Football! It's a six-vs-six American football simulator including full games, with everything from passing and run plays to tackling, interceptions, and kicking thrown in too. Can you be the star of your team and lead them to victory? Or will you play like I do, running around like a headless chicken but making the occasional great play?
Roblox Ultimate Football codes reward you with in-game cash or free packs. Cash can also be spent on packs, which each give you a bunch of cosmetic rewards in a gacha-style system. However, you'll need to reach an OVR of 30 in-game (you start at 20OVR) before you can use codes, which means playing a lot of games and making some solid contributions. If you love American football Roblox experiences, also check out NFL Quarterback Simulator.
All Roblox Ultimate Football Codes List
Roblox Ultimate Football Codes (Working)
These are all the working Roblox Ultimate Football codes. Note that you need a 30 OVR to be able to claim any of these codes (you start with 20).
4000PLAYERS—Redeem for 10k coins
3KLIKES—Redeem for 10k coins
1MILVISITS—Redeem for 10k coins
3KPLAYERS—Redeem for 10k coins
750KVISITS—Redeem for 10k coins
2KLIKES—Redeem for 10k coins
500KVISITS—Redeem for 10k coins
2000PLAYERS—Redeem for 20k coins
FREERELEASE—Redeem for 20k coins
1KLIKES—Redeem for 20k coins
15KMEMBERS—Redeem for free Pro Pack
BETA—Redeem for free Pro Pack
Roblox Ultimate Football Codes (Expired)
These are expired codes for Roblox Ultimate Football.
There are no expired codes for Roblox Ultimate Football
Related: Football Pro Simulator Codes
How to redeem codes in Roblox Ultimate Football
Follow the instructions below to redeem codes in Roblox Ultimate Football.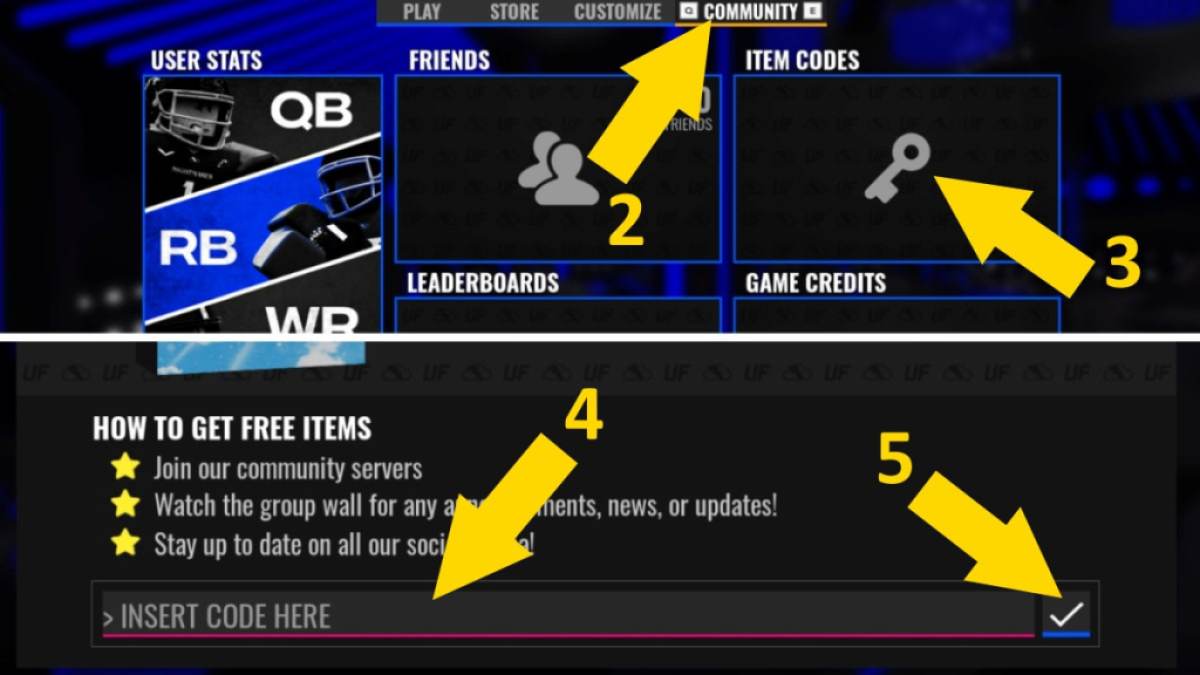 Launch Roblox Ultimate Football on Roblox.
Press the Community tab.
Click the Item Codes section.
In the text box saying INSERT CODE HERE, do so exactly as it appears above.
Press the tick button at the end of the text box to claim your reward!
How can you get more Roblox Ultimate Football codes?
Want to scheme up some more Roblox Ultimate Football codes? Start by joining the Cloudburst Interactive Roblox Group, created by the game's developers. You can also chase down codes outside of Roblox, starting with following @CloudburstGames on Twitter and joining the Cloudburst Interactive YouTube channel. Finally, be sure to check out the official Ultimate football Discord Server, where you can find loads of other players chatting in the community as well as channels for game content and updates.
Why are my Roblox Ultimate Football codes not working?
If you're struggling to get one of our Roblox Ultimate Football codes over the line, first check it for typos such as missing some capitalization. Even a small error will invalidate a code, so try to cut and paste direct from here when you can. If that doesn't fix it, or the code is coming up as expired, its game over for that code unfortunately. However, the end of one code often means there's a new one coming, so check back with us soon for new codes!  
Other ways to get free rewards in Roblox Ultimate Football
The best way to get more free rewards in Roblox Ultimate Football is to complete goals. To see your current challenges, click the Goals icon on the Play screen to find your list of both Daily Goals and Weekly goals. Completing Goals will get you either free Coins or XP. Make sure to make a note of how long it is until the Daily Goals expire, as I found it super annoying to be going for a goal only to find it had timed out. Also note that if you complete all eight Weekly goals, you'll get a bonus reward. Also, remember to do all of the Tutorials as each of them gives useful information, while also rewarding you with free coins just for participating.
What is Roblox Ultimate Football?
Roblox Ultimate Football is an American football Roblox experience that manages to pack in all the thrills of a live game. Friends can organize their own leagues and matches, or you play in pick-up games. It's only six-a-side, but otherwise, it offers the full NFL experience including runs, passes, tackles, and kicks. In-game cash can be spent on gacha-style packs that let you upgrade both your in-game and off-field look, as well custom balls.
If you're looking for codes for other games, we have a ton of them in our Roblox Game Codes post! You can also get a bunch of free stuff via our Roblox Promo Codes page. And in the meantime, take a look at the latest news to stay up-to-date on all things entertainment.