England will be without captain Owen Farrell and striker Tom Curry for Sunday's World Cup clash against Japan with the duo serving suspensions following red cards. England coach Steve Borthwick has joined his predecessor Eddie Jones in questioning the decisions made by world rugby
Last updated: 09/15/23 at 11:56 PM
England coach Steve Borthwick explains why he decided to start Lewis Ludlam as an eight over Billy Vunipola in their Rugby World Cup clash with Japan on Sunday.

England coach Steve Borthwick explains why he decided to start Lewis Ludlam as an eight over Billy Vunipola in their Rugby World Cup clash with Japan on Sunday.
Steve Borthwick has accused World Rugby of taking an inconsistent approach to disciplinary issues as the England coach continues to face suspensions for members of his squad.
Tom Curry was sent off in the third minute of Argentina's World Cup win last Saturday for a dangerous tackle and was banned for two matches, but similar incidents involving South Africa's Jesse Kriel and Chile's Martin Seagren failed to result in a sending off, citation or suspension. .
This has raised concerns within the English camp, and beyond, about the management of illegal head challenges.
Borthwick also highlighted that Owen Farrell was sent off for a dangerous tackle against Wales and then cleared by a disciplinary hearing, and World Rugby intervened by appealing the decision.
"There has been a significant amount of feedback from various sources about what appears to be a lack of consistency and transparency in the decision-making process," Borthwick said.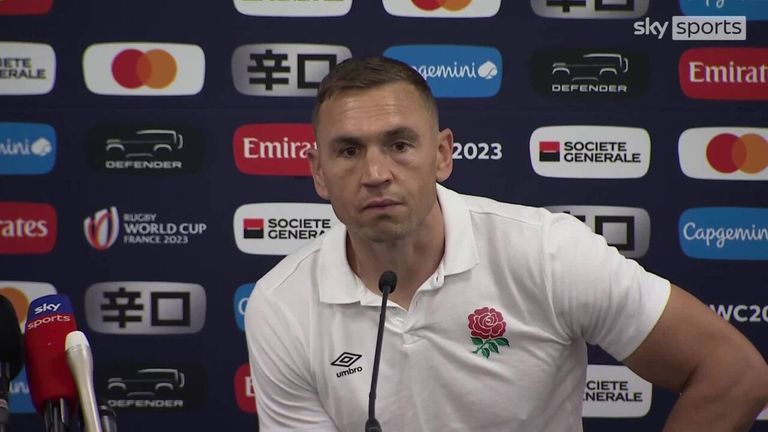 Kevin Sinfield says despite receiving three red cards in four matches, England have no discipline problem and there is a lot of 'hype' around the team.
"Now it's not my role to comment on that, it's World Rugby. I also note that there has been a huge amount of commentary from World Rugby on Owen Farrell for a couple of weeks as we prepare for this tournament.
"It's been an ongoing situation with a lot of commentary from World Rugby. I've noticed there hasn't been a lot of commentary from World Rugby – I'm told – in the last week or so. I'll leave that to the world of Rugby."
The suspended Carey is one of three players to withdraw from England's starting lineup for Sunday's match with Japan.
Borthwick chose to start Lewis Ludlam at number eight ahead of Billy Vunipola, who is available again after serving a four-match suspension.
While Vunipola could only earn a place on the bench, props Kyle Sinckler and Joe Marler were included in the starting lineup.
Jones: Using TMO is risky
Australia coach Eddie Jones also used his press conference on Friday to question the sport's international governing body.
"I think our use of TMO in rugby is risky as we are asking the referee in the stand to make decisions on a different angle of the game, through video," said Jones, the former England coach.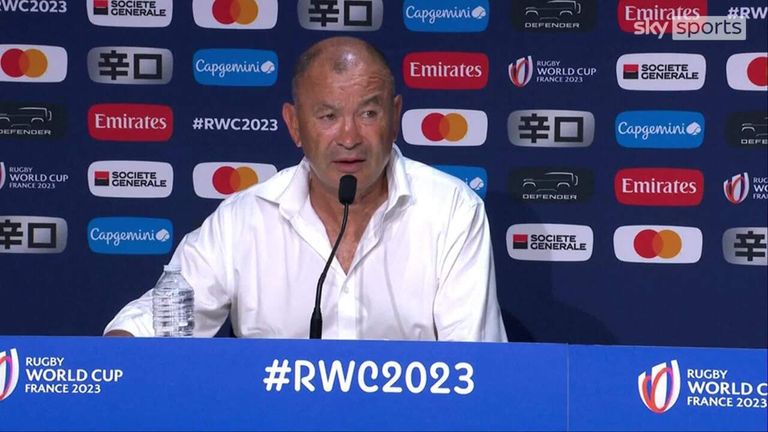 Australia coach Eddie Jones was pleased with the win over Georgia in their World Cup opener, but expects his team to improve as the tournament progresses.
"It doesn't make the game a better spectacle, it doesn't make it a better game for the players, and I think we're lucky that international rugby is so popular. But I think we really need to improve the game and on a global level. At the end of the World Cup there will be an opportunity to do that."
Jones, whose Australian side also play against Fiji on Sunday, pointed out that some of the changes the World Rugby Union has implemented in an attempt to make the game safer are actually having the opposite effect.
"World Rugby has tried to make the game safer, but they have made it more aggressive by having more stops in the game," Jones added. "And there are risks in that, there are risks when the game becomes more aggressive.
"The game is evolving into 30-second rounds of absolute power. This World Cup will be decided by who can win these contests of power. You need the game to be more sustained. The average duration of a ball play is 30 seconds, which is the average." The match is 70 seconds long, so you are encouraged to compete in strength. "We need more consistent play."
Watch England's Rugby World Cup match against Japan on Sky Sports digital platforms from 7.30pm, with the match kicking off at 8pm on Sunday.