All Blacks legend Dan Carter expresses confidence in New Zealand's chances at the Rugby World Cup and discusses some of the other teams in contention

All Blacks legend Dan Carter expresses confidence in New Zealand's chances at the Rugby World Cup and discusses some of the other teams in contention
The very best always have a habit of getting their timing spot on and on the eve of one of the most open World Cups, Dan Carter has as ever orchestrated his moment to perfection.
A book that began as a way of "repurposing life after rugby" has become a far more encompassing project.
Well aware of the "horror stories of athletes developing gambling, drugs, alcohol problems or mental health issues," Carter wanted to document his journey. But as the World Cup winner reflected on over two decades at the top, he realised he had far more to share.
Any country looking for an edge in France over the next few weeks might well find Carter's insight into preparation for body and mind, identity, building cultures and environments, and ultimately leadership and winning a valuable commodity.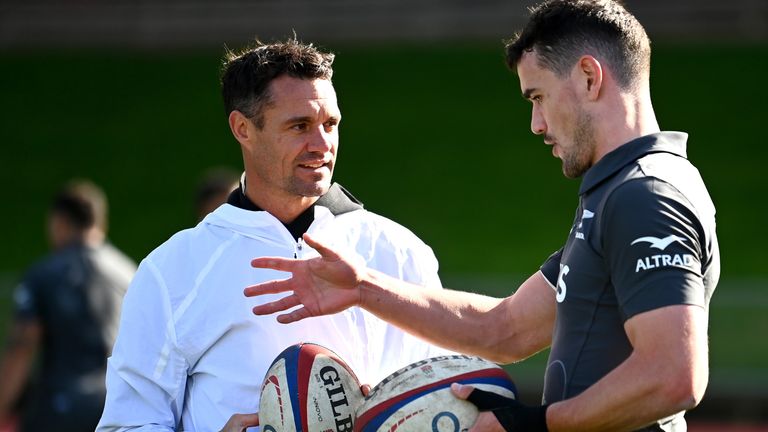 "Everyone wants to win. But that isn't a purpose, it's a goal. Your purpose is something beyond that," says the former All Black. "Every morning I got out of bed, I wanted to be the best rugby player possible that drove me. That's what a lot of my decisions were made on and then it finishes. There's a whole loss of identity? Who am I if I'm not a rugby player?"
Carter's journey culminates in his book, The Art of Winning, which highlights 10 performance lessons and draws on inspiration from leading people in business and, perhaps not surprising given the success he had in an All Black jersey, from some of the coaches he played under – Graham Henry, Steve Hansen and Wayne Smith, with the latter one of Carter's biggest mentors.
Carter has travelled a long way to understand how you can get a little bit better every day and it's taken him right back into the All Blacks camp, eight years after retiring from international rugby.
"It's really nice to be asked to spend a bit of time in in the environment and just be a fly on the wall. To see if there's anything that might be missing or just to be there for any of the players or management that might have any questions or want to draw on any of my experience of playing at four World Cups.
"It's been great to learn a little bit about their mindset and their vision and what they're aspiring to achieve at this year's World Cup. It has given me a lot of confidence that they're moving in the right direction, albeit they had a bit of a setback."
'New Zealand should think they can beat anyone'
Some would describe it as more of a humbling as Ian Foster's All Blacks team were subjected to a record defeat by the reigning world champions South Africa 35-7.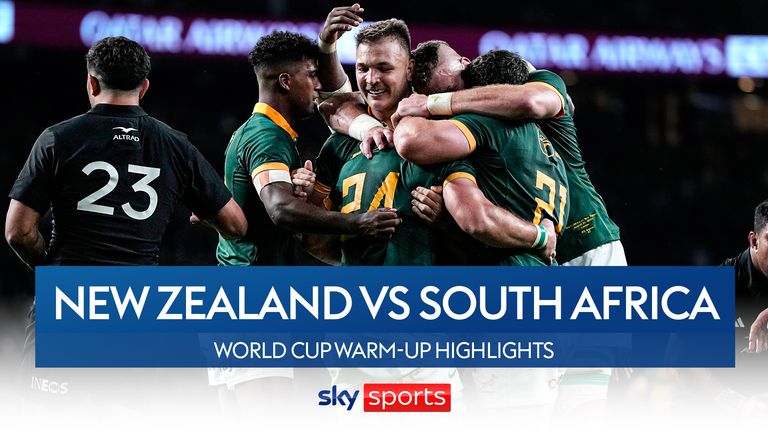 Highlights of South Africa's biggest-ever win over New Zealand, as the Springboks thumped their great rivals 35-7 at Twickenham.
Carter is not overly concerned about the form of his old side in a match where Scott Barrett was sent off for New Zealand: "They would have learned so much from that game. You only have to be off by a couple of percent mentally and you can lose a Test match by 30 or 40 points like they did.
"They will learn from that and better now than the first game of the Rugby World Cup, which is going to be another huge game against the French. They should also be confident in the progress that they've made this year from last and they should think that they can beat anyone."
So what of the world champions, who once again seem to be peaking at the right time?
"You see the likes of South Africa and how dominant their style of play is – it is suffocating. It is a really strong strength to have, especially in tournament play like a World Cup." Emphasised by a bench of seven forwards and just one back in that victory last week.
We talk about the host nation France and the huge sometimes suffocating pressure and expectation that brings – Carter was injured by the time the All Blacks played their World Cup Final in New Zealand back in 2011. They just about got over the line but it was far tighter than anyone expected.
There are teams that can really shake up the pool stage in this year's tournament, says the former-fly half. When it comes to eventual winners, thought, there is though no mention of England.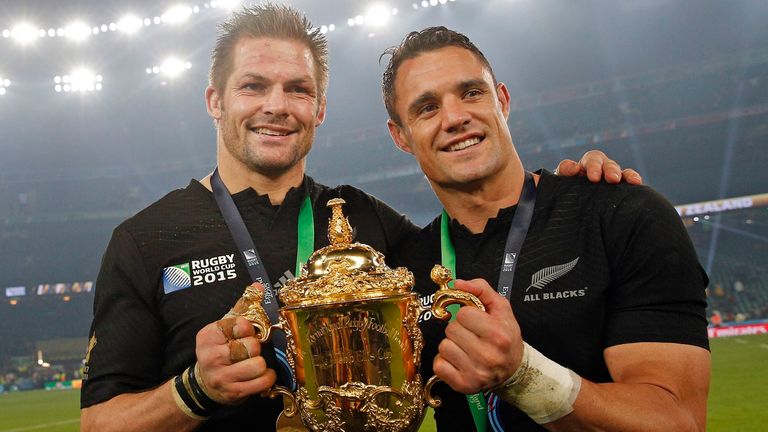 Perhaps that is not surprising given the build up to the World Cup under Steve Borthwick, which culminated in their first loss to Fiji last weekend.
'England need to work on critical few things'
"I've been very surprised by their sort of lacklustre performances but all they need is a really good performance to build that confidence, that belief because I can assure you they'll be working really hard after not getting the results to back up that hard work."
Carter goes on to reassure England fans: "We've seen in previous World Cups that it's not necessarily the form side going in that goes on to win it. It's not always the favourites. It's the team that gels well and can continue to just get better and better. They have the players, they definitely have the players that are capable of beating any team on their day."
England have the easier side of the draw and they have been here before, back in 2007, when against the odds and after a 36-0 defeat to South Africa in the pool stages, they made it all the way to the final eventually before losing to the Springboks.
If in some parallel universe Borthwick picked up the phone to Carter this week for a bit of advice what would he offer?
"This could be a good opportunity here to completely stitch England up, say the completely wrong thing and hopefully they read this interview and focus on those things which helps the All Blacks performance." None of his competitive edge has gone.
Carter goes on to say: "In the bigger moments you need to simplify things. You know there are seven or eight things that they could work on to improve their game, but what are the critical few? What are the two or three things that are going to make the biggest difference in turning around their performances and getting the wins?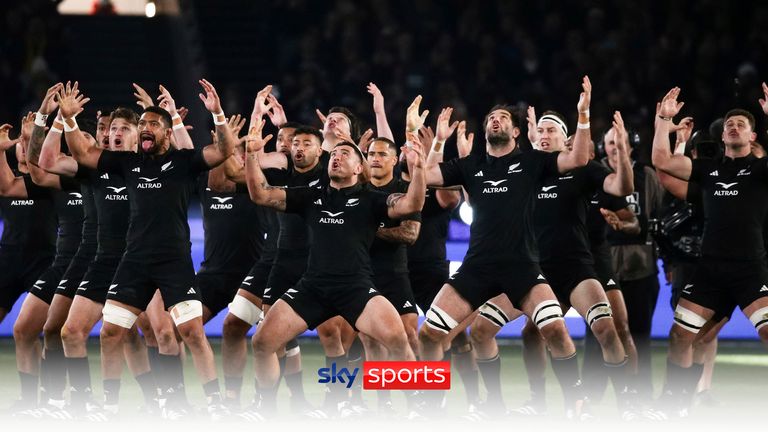 Watch every try New Zealand scored during their 2023 Rugby Championship campaign.
"Just going back to the basics, being dominant upfront, having a really strong set piece and most importantly discipline which is a huge one at y World Cup. I've seen a lot of yellow cards, red cards and they can be the difference in winning and losing and changing the momentum of the game."
Carter 'really impressed' with Ireland
The team that has impressed the former All Black most is probably Ireland, despite conceding that they haven't performed at the very highest level in the way that many would have hoped or expected in the past.
"They've never been so dominant as the number-one team in the world for the period that they've had recently, so this team is different." They can, says Carter "take confidence in everything that they've achieved over the last few years."
He adds: "Andy Farrell's done an incredible job. I watched them closely when they came down to New Zealand and beat the All Blacks and you could tell that this was just a stepping stone they were on, they weren't celebrating like they'd won a World Cup despite beating the All Blacks in a Test series, which rarely happens.
"They're keeping their feet on the ground, they know that there's a bigger goal in a few months' time that they are driving towards. I've been really impressed."
Transformation, growth, rising to great heights, embracing challenges – Carter can see it all in this Ireland team. Those building blocks he has been writing about are so key to lifting the World Cup.
But Carter is backing New Zealand to come good in Paris next month and win their fourth World Cup title.