Beth Mead and Fran Kirby are close to returning to England, says Lionesses manager Sarina Wegman, but both players need more playing time to be fully fit following their injuries.
Wegman has named a 24-player squad for the inaugural Women's Nations League later this month, with only Bethany England and Keira Walsh missing from the World Cup squad, with Lucy Staniforth, Maya Le Tissier and Jess Park also joining the squad.
But there is still no place for Meade and Kirby, who have since returned to Arsenal and Chelsea respectively after missing the World Cup due to long-term knee injuries.
Kirby featured for Chelsea in pre-season friendlies, while Meade was named on the bench for Arsenal's Champions League qualifying matches, but did not feature as a substitute.
"Arsenal played in the Champions League and Beth was in the squad. She has been out for a long time and needs games," Wegman said in a press conference.
"Fran is really close, she has already played friendly matches. But it is too early to include her. We are looking forward to seeing them play."
"It's time to move on from the Rubiales incident."
Spanish football journalist, Samra Hunter, said she was "shocked" by the news of Luis Rubiales' resignation, after a kissing dispute between Ginni Hermoso.

Wegman was speaking for the first time since Spanish Football Federation President Luis Rubiales said he intended to resign after he kissed Gini Hermoso on the lips during the Women's World Cup celebrations last month. Rubiales said she agreed to the kiss, but Hermoso denied this.
On Sunday, Rubiales announced his resignation from his position, which had been temporarily suspended by FIFA. Meanwhile, he was also ordered to testify before a Spanish judge after Spanish government prosecutors formally charged Rubiales with alleged sexual assault and acts of coercion last week.
Wegman has since claimed it is time to move on from the incident and celebrate the Spain players for winning the World Cup. The England coach also said that one of the learning points from this incident is the need to listen to the players.
"What I want to talk about now is that we should celebrate football and we should celebrate the Spanish players who won the World Cup. We haven't talked about that at all.
Jill Scott has praised Sarina Wegman and insisted the England coach sees the Lionesses as "family" amid rumors she could be wanted elsewhere.

"Of course, we have all seen and followed the news that it is still ongoing, and I have to leave that now to the people working on it.
"Players have to be listened to and we have to move forward. The women's game has improved a lot but there is still a long way to go.
He added: "Not only in Spain, but everywhere, there are many great players and athletes who face a lot of challenges, and we all have to work together, stay connected and try to make the world better for these players."
Wiegman on calendar concerns and FA bonus dispute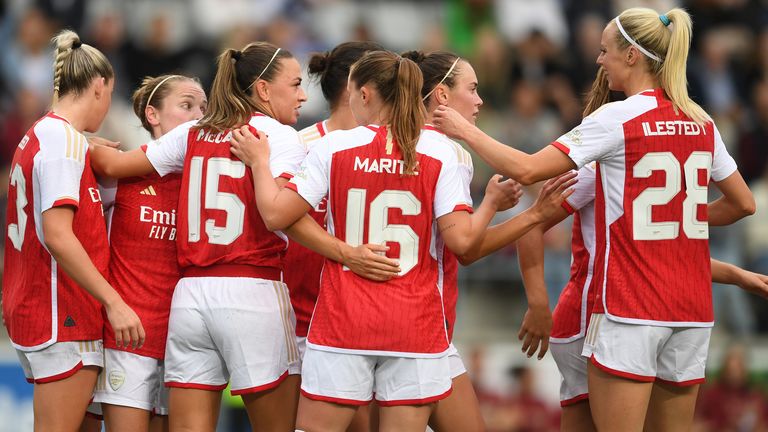 One such issue is the women's football calendar, with Wegman complaining that England players were not getting enough rest after their World Cup trips.
With players such as Alessia Russo and Lottie Woobin Moi already playing competitive matches after appearing in Wegman's World Cup squad, the Lionesses coach revealed that some England players had less than a week's rest before clubs called them back for pre-season.
"I'm very worried. I was worried before the World Cup. We knew this was a very short shift. It's something bigger."
"We are talking about the calendar and we really have to communicate with FIFA, UEFA and the federations. We have to make it better.
"The game is growing, which is really good. We see improvement in the game but also commercial things are coming into the game, which is good, but you have to grow together and the players need some rest as well.
"Next week, some players only have six days off, which is not good for them after a high-level, high-pressure competition.
"This has been going on for a long time because we have major tournaments in the summer all the time. The urgency to solve this problem and improve it is really high."
However, Wegman claimed she was confident the Lionesses and the FA would reach a resolution to the row over World Cup bonuses quickly.
The rift has dominated World Cup preparations in Australia and New Zealand. On the eve of the team traveling to participate in the tournament, a row broke out, with the players feeling "disappointed" with the bonuses the FA were set to pay them as they progressed through the competition.
However, the players announced in a statement that they would put aside their differences for the duration of the tournament.
Sky Sports News We're told frustration within the squad remains as they prepare to meet again. There is no indication that the players will strike, or that they will look to reduce their media and commercial duties while on duty at the FA.
"The players and the FA said they didn't have an agreement before the tournament, so they agreed to disagree and then started talks again after the World Cup," Wegman said. "There was a short turnaround but those talks will start again. I'm confident we will get a good result.
"I'm very optimistic and very positive. The environment and the way they talked to each other was good. They just need more time and we need to take time to get some good solutions. The people involved at the FA and the players are communicating well."
Full England Women's Nations League squad
Goalkeepers: Mary Earps (Manchester United), Hannah Hampton (Chelsea), Eli Roebuck (Manchester City).
Defenders: Millie Bright (Chelsea), Lucy Bronze (Barcelona), Jess Carter (Chelsea), Niamh Charles (Chelsea), Alex Greenwood (Man City), Maya Le Tissier (Manchester United), Esme Morgan (Man City), Lottie Wobben. Moy (Arsenal).
Midfielders: Laura Coombs (Man City), Jordan Nobbs (Aston Villa), Jess Park (Man City), Lucy Staniforth (Aston Villa), Georgia Stanway (Bayern Munich), Ella Toone (Manchester United), Katie Zelem (Manchester United).
straight ahead: Rachel Daly (Aston Villa), Lauren Hemp (Man City), Lauren James (Chelsea), Chloe Kelly (Man City), Alessia Russo (Arsenal), Katie Robinson (Brighton).