Scotland
Angus Gunn – 6
He couldn't do much about any of England's goals but made a good save when he had a better chance from substitute Eberechi Eze in the second half and also made a smart save from Jude Bellingham's shot at the near post.
Ryan Porteous – 6
He provided an excellent piece of defense early on to prevent Harry Kane from running towards goal. Otherwise Marcus Rashford has been kept busy on the left flank for England.
Jack Hendry – 4
He struggled to deal with Kane and the runners on either side of him. He cleared a crucial cross from Kyle Walker early on, but was out of position in the lead-up to England's opener, leaving Rashford free in the middle of the box. poor ever since.
Kieran Tierney – 5
He defended hard but spent most of the match chasing shadows. He was booked for a foul on Bukayo Saka after being outdone by his Arsenal team-mate.
Aaron Hickey – 5
Like Porteous, he had a difficult time facing down a rampaging Rashford, as England found plenty of space in his side, especially during the first half. We enjoyed some attacking bursts in the second half but didn't pose any real threat.
Lee Hendry claimed the "game is over" after England scored their second goal against Scotland, leaving an unhappy Chris Boyd shouting that he would leave if they scored a third.

Billy Gilmore – 5
The encounter was impressive the last time the two sides met, at Euro 2020, but they struggled to get a foothold in the game this time against the superior physicality of Declan Rice, Kalvin Phillips and Jude Bellingham. He was replaced by Lyndon Dykes at the hour mark.
Callum McGregor – 6
He worked tirelessly and passed the ball neatly, making just two of his 53 passes, but, like Gilmour, he struggled to contain Rice, Phillips and Bellingham.
Andrew Robertson – 4
An uncharacteristic error in England's second goal, as he gave the ball to Bellingham inside Scotland's penalty area when he should have cleared it. He tried to make up for that mistake with a cross and Harry Maguire scored an own goal, but then missed Kane to score England's third goal.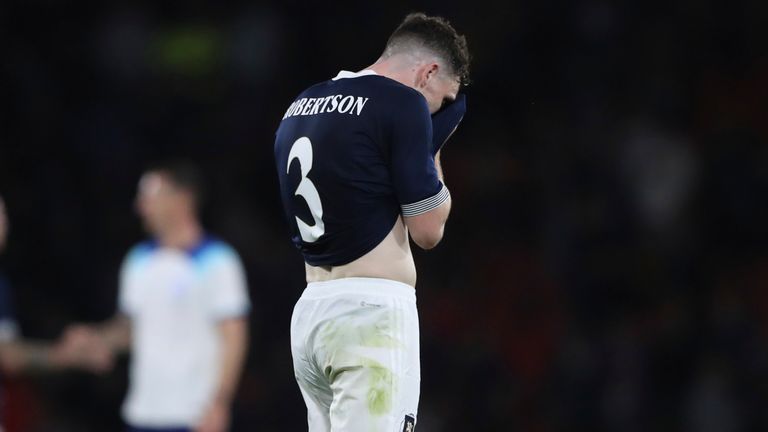 John McGinn – 5
A marginal character for most of the game. He produced a pass to free Robertson in the lead-up to Scotland's goal, then missed the chance to equalize when he headed home the Liverpool full-back's cross shortly afterwards.
Scott McTominay – 5
He never threatened to continue his recent scoring run in a Scotland shirt, as he failed to register a single shot. He was better in the second half and had a hand in the Scotland goal, where his pass found John McGinn to free Robertson, but fell well short of his best overall.
Che Adams – 4
He was fed scraps in the first half, barely touching the ball, and the second half saw more of the same before he was replaced by Ryan Christie.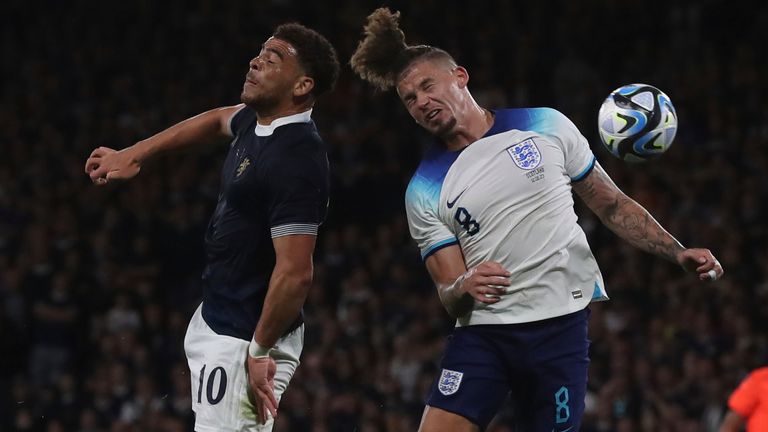 Submarines
Ryan Christie – 6
He made a positive impact, as his debut coincided with Scotland's best period of the game, but was easily overturned by Bellingham in the lead-up to England's third goal.
Lyndon Dykes – 6
She tried to make things happen but struggled to make a big impact.
Stuart Armstrong – 6
Tierney was replaced late on.
Lewis Ferguson – 6
He was introduced in place of McGinn.
Nathan Patterson – 6
Given the last two minutes instead of Hickey.
Ryan Jack – 6
McGregor was replaced alongside Patterson.
Chris Boyd felt there was nothing Harry Maguire could do to prevent himself from scoring an own goal against Scotland.

England
Aaron Ramsdale – 6
He had a chance to impress in place of Jordan Pickford, but for the most part he had little to do. Powerless to prevent Maguire's own goal. Pass the ball well.
Kyle Walker – 8
He charged forward with confidence after a man-of-the-match performance against Ukraine and almost found the back of the net again, firing a shot wide of target early on, then seeing another cross shot turned into the net by Phil Foden in the opener. He also produced some good passes.
Louis Dunk – 8
A surprise choice at centre-back but he has impressed in only his second appearance for England – and first in five years. Use the ball intelligently and control the air balls. He also produced an excellent block to deny Hickey in the second half.
Mark Guehi – 7
A strong display from the 23-year-old before he was withdrawn at half-time in favor of Maguire with a possible injury. He had some trouble handling Che Adams and looked comfortable with the ball.
Kieran Trippier – 7
He didn't progress as much as Walker at the other end but looked confident both in possession and defending. A strong display from the Newcastle full-back.
Declan Rice – 7
Confirmed offer in the event of no takeover. Rice was busy defensively and fed Bellingham in the lead up to England's third goal.
Calvin Phillips – 7
A first start of the season for a player still highly regarded by Southgate, if not by his club. He was booked for a quick challenge in the first half but showed his quality on the ball, passing the ball efficiently and helping England take control of the game.
Jude Bellingham – 9
He scored decisively – no surprise after his free-scoring debut at Real Madrid – and showed his class throughout, relishing his advanced role in midfield and brilliantly setting up England's third goal for Kane with a brilliant turn and run. Outstanding performance.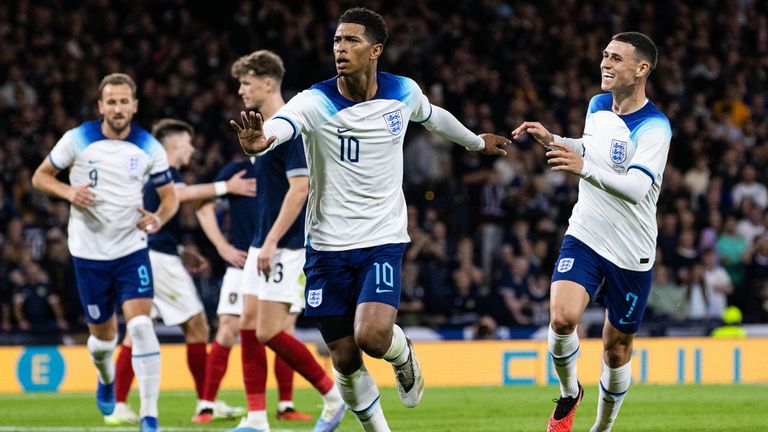 Marcus Rashford – 8
His pace and movement caused Scotland problems from the start as he frequently got in behind their defence. He set up Foden for an early chance, and then had a hand in his team-mate's opener, cleverly setting up Walker from Bellingham's through ball.
Phil Foden – 8
Southgate feels that his future lies in the English attacking line and not in midfield, and this performance showed why. He scored the first goal brilliantly, turning Walker's shot past Gunn, then sending in a wicked cross in the lead-up to the second.
Harry Kane – 8
He linked play effectively and, after a frustrating night in front of goal, scored the third goal brilliantly after an excellent turn and pass by Bellingham, burying a low shot into the far corner.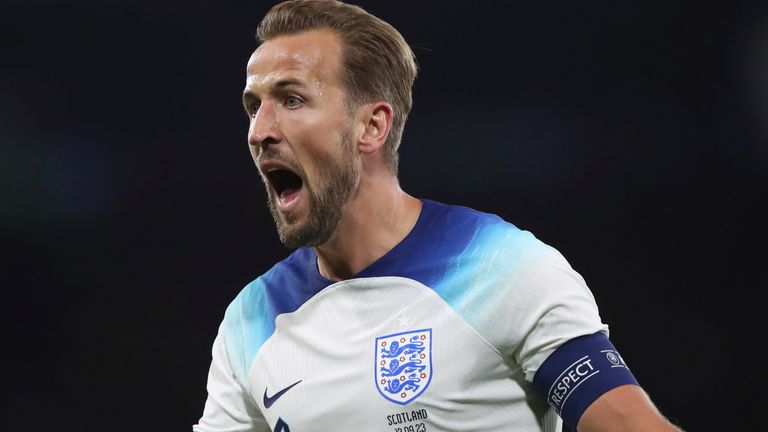 Submarines
Harry Maguire – 4
Ironically, his early touches were welcomed by the home fans after his introduction with Guehi, and his disastrous own goal will heighten the feeling that his days in the England national team should be numbered.
Bukayo Saka – 7
A stylish display from the Arsenal player, whose direct running caused Scotland problems.
Eberechi Eze – 6
He should have buried his chance when Walker crossed it on goal shortly after his introduction.
Callum Wilson – 6
Given the last few minutes instead of Kane.
Connor Gallagher – 6
Bellingham was substituted as player of the match late on.