Trailblazer Simran Jhamat says she is thrilled to have joined West Brom Women as she spoke exclusively to Sky Sports News in her first interview since joining the club.
The former Liverpool, Leicester and Bristol City attacker left Coventry United at the end of last season and has just signed for West Brom, making her debut in Sunday's league defeat against Nottingham Forest.
Jhamat, who is the first Punjabi girl to score for England at U17 level, told Sky Sports News: "It feels really good to be here and get my feet back on the ground. I just want to build things up and slowly get more minutes.
"The girls are all really nice and they have made me feel really welcome. I know a few of them from before and it's nice to be able to have that sort of link up. It will be good to build those connections more with the players in training and in matches.
"It's one of my local clubs and there is a real family feel here. It's great to come here and sign for a club and coaching staff that showed that they wanted me.
"I'm enjoying my football and I just need to build some more confidence, and chip in with some goals and assists.
"There's a lot to come from this team, it's only the start and we're all looking forward to what the season brings."
Simran Jhamat is a 'flagbearer' for British South Asians who dream of making it in the game, says Charlton Women coach Riteesh Mishra

Jhamat and team-mate Mariam Mahmood both feature in the first-ever timeline, documenting the journey of players from South Asian backgrounds that have broken through in the modern-day women's game in leagues across Britain.
The showcase, celebrating the anniversary of Sky Sports' partnership with the charity Sporting Equals, was launched at Stamford Bridge in March after a successful pilot in west London, before heading to Wembley Stadium for two FA Football and Faith events at the home of English football.
The exhibition has since gone on display free of charge at the Wolves Museum at Molineux, giving tens of thousands of people the opportunity to see it, learn more and get inspired.
Jhamat said: "It's amazing to be involved in this legacy project. Seeing is believing – and I hope this inspires children and parents alike.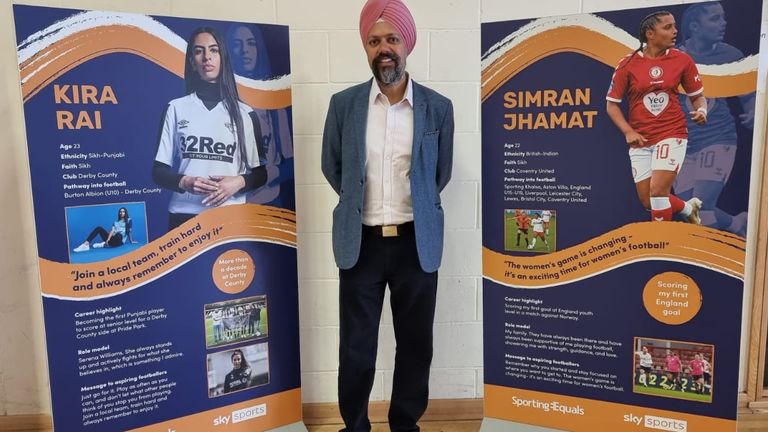 "We all want to see more South Asian players come through so that we can be confident when we say that it doesn't matter what race or religion you are, and that football is for everyone.
"Nothing comes easy in this industry and all the players featured have worked tirelessly to get to where they are."
Mahmood added: "It's an honour to feature in the timeline and to have my story showcased in this way.
"Education and bridging the gap in knowledge about South Asians in football remains a major issue. Our stories matter and I hope this raises positive awareness and encourages more children – particularly girls from South Asian backgrounds – to take up the game and enjoy playing football."
British South Asians in Football
For more stories, features and videos, visit our groundbreaking South Asians in Football page on skysports.com and South Asians in the Game blog and stay tuned to Sky Sports News and our Sky Sports digital platforms.