Carlos Sainz beats Charles Leclerc by 0.018 seconds to lead Ferrari back to first and second place in Singapore testing on Friday; George Russell third for Mercedes. Red Bull trails behind with Sergio Perez in seventh and Max Verstappen in eighth. Third practice at 10.30am on Saturday before qualifying at 2pm, live on Sky F1
Written by Jonathan Green in Singapore
Last updated: 09/15/23 at 3:16 pm
Ferrari set a milestone at the Singapore Grand Prix as Carlos Sainz took the lead over Charles Leclerc to take a 1-2 in FP2, while Red Bull were off the pace.
Both Ferraris were comfortably ahead of the rest of the field under the lights at Marina Bay on Friday, with Sainz setting a best time of 1:32.120.
After topping the opening session, Leclerc had to settle for second place in the timesheets for FP2 as he was 0.018 seconds behind his teammate.
George Russell was the closest competitor, but he was only 0.235 seconds behind Sainz's benchmark in his Mercedes.
"The Ferraris are looking good on track at the moment," Sky Sports F1's Karun Chandhok said in commentary.
"There are no real imbalances, the drivers are ready to attack the corners."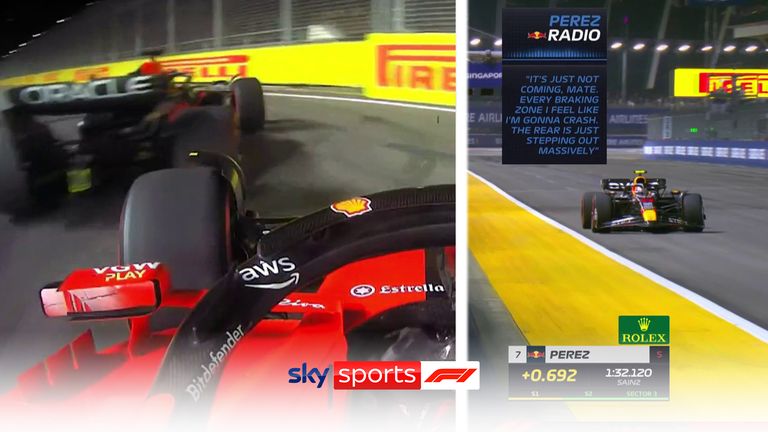 Red Bull continues to struggle in second practice with Sergio Perez telling his engineer on team radio that he feels like he is going to have an accident when he brakes.
While the Ferrari looked very balanced, the same could not be said for the Red Bull who were surprisingly off the pace.
Sergio Perez and Max Verstappen finished seventh and eighth respectively, almost seven tenths behind Sainz, with both drivers visibly struggling with the car's handling, with Perez saying on team radio that he felt like he was "about to crash" in every braking zone. Verstappen's hot lap was affected by traffic in the central sector.
Red Bull could secure the Constructors' Championship this weekend, but that is only possible if they secure a top-two finish in Sunday's race.
Fernando Alonso finished fourth in an Aston Martin, 0.358 seconds behind Sainz's time, while Lewis Hamilton came in tenth in the second Mercedes and Lando Norris in tenth in the updated MCL60.
"I'm really excited about qualifying. We have five teams in the top seven and Red Bull is only seventh," Chandhok said. Qualifiers will be held at 2 p.m. on Saturday.
The top ten was rounded out by Haas' Kevin Magnussen and Alfa Romeo driver Valtteri Bottas.
Alex Albon will be playing catch-up on Saturday after his session ended after just 10 minutes and five laps of running due to a problem with the power unit in his Williams.
More to follow…