In The Races, expert James Flaherty has the inside scoop on every runner and top judge in Saturday's race in the St Leger of Doncaster, live on Sky Sports Racing.
Alexandroupolis
Jockey: Shawn Levy | Coach Aidan O'Brien
The least experienced horse in the lineup this year after just three games. On his Galway debut he made a big impression when beating stablemate Espionage, himself a Listed winner this season. But Alexandroupolis has not yet begun this success. He was disappointing when he finished only third as favorite for the Ballysax at Leopardstown in April.
After a few months away from the track he returned to action in the Vinnie Roe Stakes but was again very flat and trailed home sixth in the Listed contest. It's interesting that he appears here, but it's hard to have any confidence in him after his last two track appearances. While it's hard to rule out someone coming from Ballydoyle, I'd be surprised if he eventually comes in based on what he's shown.
Arrest
Frankie Dettori | John and Tade Gosden
While Arrest won his maiden win on good to firm ground at Sandown as a juvenile, he has twice disappointed this season in better company in faster conditions, including at Epsom in the Derby when the track was put forward as a possible reason for his poor performance. By contrast, he was hugely impressive in the pre-derby Chester Vase on a heavy ground, a performance that saw him top the pre-market Epsom classic.
He returned to Newbury last time out with softer ground conditions. He seems to be dependent on the ground and may not take his chances even if the ground is good at race time. However, on soft ground, he would be a player. Communications hope all the rain forecasts (and more) arrive to give him the best chance of success. The obvious choice of Frankie Dettori is a decision that may have been made on the assumption of soft ground.
Chess piece
James Doyle | Simon and Ed Crisford
Considering he only competed once as a juvenile in November last year, he has kept busy this season with five starts since April. He's an interesting person to study in this race, especially because he ties some of the lines of the figure together. He finished behind both Gregory and Desert Champion in the Queen's Vase and Gordon Richards respectively.
He was no match for Gregory in the closing stages of Royal Ascot, eventually finishing more than five lengths back in third, but he was somewhat anxious in the early stages. He did better at Goodwood at 12 feet, but I felt he had a very smart ride on that occasion and perhaps the result pleased him a little. I have a sneaking feeling that he's not progressing as much as some others in this field.
continuous
Ryan Moore | Aidan O'Brien
Continus comes into the race as the highest-rated horse in the line-up according to the official figures after a career-best effort last time out in the Great Voltigeur at York which earned him a high rating of 115. Much has been made of how this race has developed and there is no doubt that it has certainly benefited from his position, where he was off the strong pace. The question that is difficult to answer is what is the value of this feature?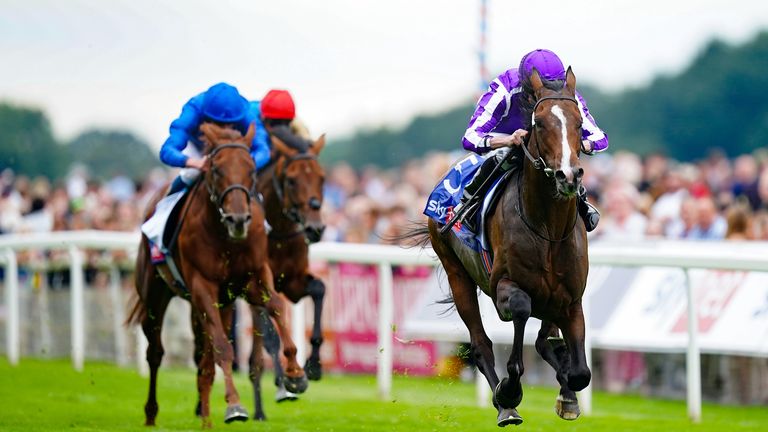 The margin of victory was enough to suggest that he probably would have won anyway. It is worth noting that the third horse in that competition, Gregory Al Maad, has a 3lb swing here. Continious has been improving steadily this season and was well behind King Of Steel at Royal Ascot ahead of his run at York. He looked as if he would stay this longer distance and had already won over a very soft distance in France as a youngster, although the form for that would be at a lower level.
Denmark
Danny Tudhope | Aidan O'Brien
The Denmark came agonizingly close to success at the Arc weekend in Parislongchamp last October, but this is the closest he has come to adding to his first success. He was behind Alexandroupolis at Ballysax when finishing fifth and came back from the break to find Middle Earth only too good at Melrose, giving that rival 4lbs.
That form looks lower than what is needed here, and he was the favorite at Haydock last weekend after being handicapped from the revised mark of 102. It will be very difficult to get competitive here on the back of this rather lackluster effort. . The Ballydoyle side appear to have stronger hopes elsewhere.
Desert hero
Tom Marquand | W.J. Hijaz
Desert Hero put himself in the picture for the St Leger when he won a strong renewal of the King George V Handicap at Royal Ascot. It was his first attempt beyond 10 feet, and he clearly improved on the endurance test, mirroring his London Gold Cup performance with Bertinelli in the process. This narrow win came with a mark of just 94, but it was worth more than the margin of victory suggests he faced a turbulent lane.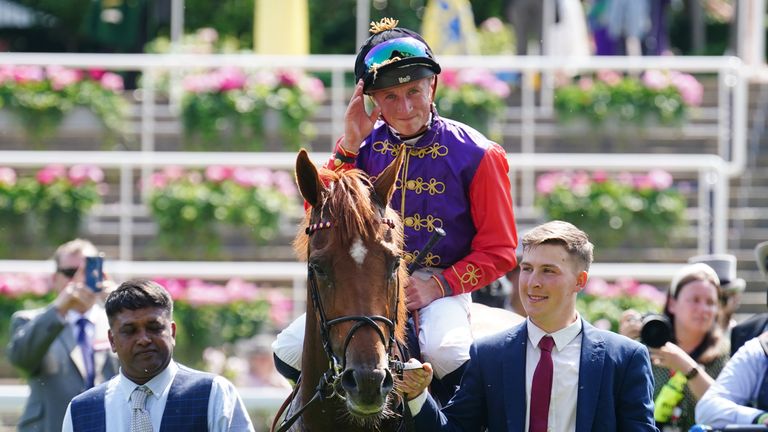 Desert Hero continued his progress at Goodwood when he achieved Grade 1 success in the Gordon Richard's Stakes. He beat a returned chess piece close to home on that occasion and I expect him to maintain that form. He looks progressive and any further improvement (most likely given his upward graph in his last two starts) would put him in the mix.
Gregory
Frankie Dettori | John and Tade Gosden
He suffered his first defeat at the hands of Continus in the aforementioned Great Voltigore, when he fell victim to an early pace that was too strong. To his credit, he kept going until the finish line when it looked as if he might just fade away. I think it's hard to rely too much on that round, as things went wrong for him that day.
He is best judged on his success at Royal Ascot in the Group 2 Queen's Vase during this trip when he bested a decent field (including a chess piece). This flight would probably suit him better than a 1m 4f flight assuming his energy is evenly distributed. He is unraced on softer ground than good, so Contacts will likely be hoping the rain stays away from him, unlike his stablemate, Arrest.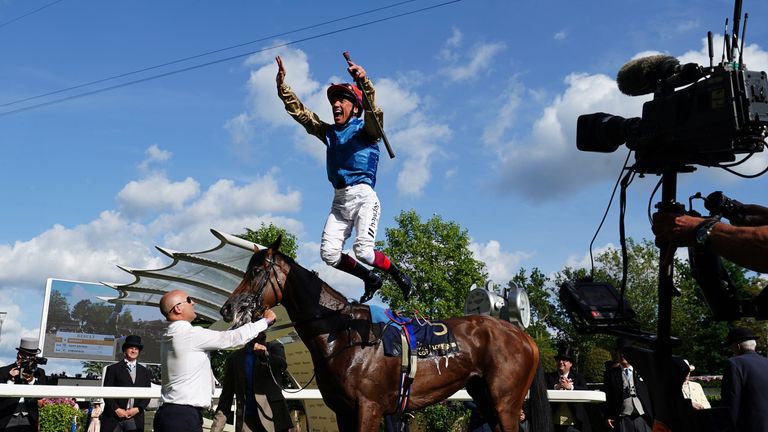 Middle Earth
Oisin Murphy | John and Tade Gosden
This competition continues on the back of winning the Melrose Race at the Ybor Festival in York. While he may emerge as a third option for the Gosden franchise on the market, it would be risky to rule him out. However, such bare form would leave him little to find in this company, and it is very difficult to go from winning a Handicap straight to winning a Group One, let alone winning a Classic.
This Melrose form didn't exactly set the world on fire either. The fact that Denmark were thrashed in Hajduk last weekend, with a fourth trailing home from York, raises question marks over Middle-Earth's chances of progressing enough to win Group A here. It is not without hope but it needs to take a big step forward.
London Tower
Jim Crowley | Aidan O'Brien
He was one of the horses that first struck me as a candidate for this race earlier in the season and was probably at the top of my shortlist until he was beaten by Castle Way at the July Festival at Newmarket. At the time I thought the race wasn't a complete success for him, but the more I looked at it, the more I felt it was a slightly disappointing effort.
Maybe it was just a case of finding his form and while we will know more about him on Saturday, it has changed my initial view of him. He has disappointed several times on soft ground, so he's another one hoping it stays dry in the lead-up to the race. No matter what the weather, he might find a very good couple anyway.
James Flaherty officiating
The race represents an opportunity for one of these to achieve a first Group 1 success. The race combines different profiles with Continious and Arrest campaigning as potential Group 1 horses from an early stage this season. In contrast, Desert Champion, Chess Piece and Middle-earth advanced through handicaps at various points. The most interesting profile and potential fly in the ointment is Gregory, who was always well thought out, but brought in quite quietly by John and Tade Gosden. He has had success in Group 2 already despite his short career.
I prefer horses aiming for better races as there is a noticeable difference between Group 1 races and handicap races, even down to the speed at which they are run. As a result, Arrest and Ongoing were at the top of my shortlist, joined by Gregory.
The weather seems likely to play a big part in this, and if the ground stays on the soft side (or gets worse) I'll be firm on the situation. Arrest camp. He's a horse I've liked since he first appeared when he was featured in the weekly Eyecatchers column on attheraces.com. We know he will handle soft ground, which is an understatement for many of his rivals and I think his win last time out at Newbury was very reliable.
If the rain goes away and the stream dries up continuous It may be one. I wouldn't say he's sure about confirming the pattern with Gregory who put in a lot of effort very early last time but I think it might be a safer option. He has the best form on offer in racing in my opinion, even if marginal. If he stayed on this longer voyage, he would have a class, as he did so well in Dante and King Edward VII.
The tactics would be great, and I think Ballydoyle might try to get the spotlight on the likes of Gregory and even Arrest. They might succeed, and if they do, I'm sure Continus will come in late, just like he won at York.
to choose:Smooth or slower ground: Arrest | Ground is faster than soft: continuous