Image via Roblox Strongman Smash
It's hard not to be a fan of developers The Gang Stockholm if you're a Roblox fan and Strongman Smash is from the same team. I love their game Baby Evil, so am already switched on to their new experiences. Especially when this one is celebrating the success of another of their biggest titles, Strongman Simulator. Strongman Smash is a clicker game where you smash up items to grow in strength. What will you pick up and then smash up today?
Strongman Smash codes give you boosts to help you progress through the game more quickly, opening up new areas. Codes may give you double smash speed or other abilities. Just use them wisely, as once you enter the code, the ability begins immediately and can be as short as 10 minutes. Make sure you get as much benefit as possible! If you love Strongman Smash, then you have to check out Strongman Simulator Codes.
All Strongman Smash Codes List
Strongman Smash Codes (Working)
These are all the working Strongman Smash codes.
smash500—Redeem for 10 minutes Double Smash Speed
Strongman Smash Codes (Expired)
These are expired codes for Strongman Smash.
There are no expired codes for Strongman Smash
Related: Strong Muscle Simulator Codes
How to redeem codes in Strongman Smash
Follow the instructions below to redeem codes in Strongman Smash.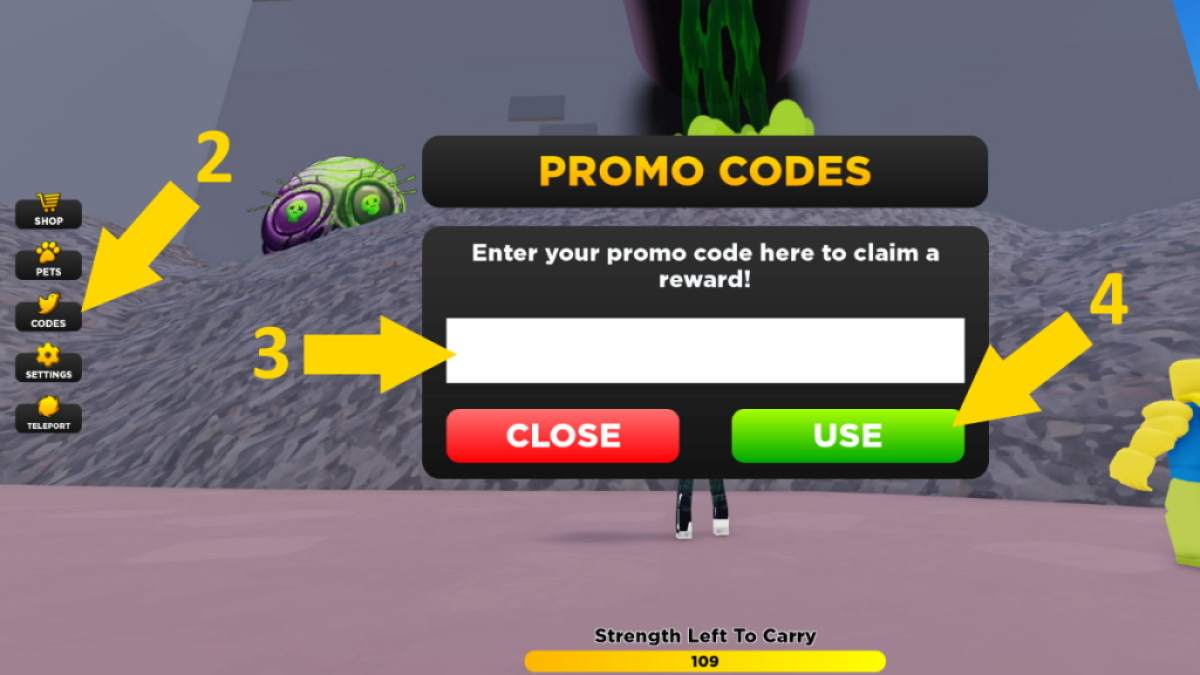 Launch Strongman Smash on Roblox.
Press the Twitter bird CODES button on the left.
In the white text box, enter the code exactly as it appears above.
Press the green USE button to claim your reward!
How can you get more Strongman Smash codes?
Think you're strong enough to find your own Strongman Smash codes? Then head over to The Gang Stockholm Roblox Group to start your journey. Next, you can head outside of Roblox to follow @TheGangSthlm on Twitter, subscribe to The Gang Gaming YouTube Channel, and join the official The Gang Gaming Discord Server.
Why are my Strongman Smash codes not working?
While Strongman Smash codes are tough, they're not unbreakable. You have to put them in exactly correctly, including the capitalization as it is printed above, otherwise, they won't work. If you have one that is coming up as invalid, try to cut and paste it to avoid mistaking a letter for a number of similar errors and typos.  If a code comes up as expired, it has likely been removed by the developers. This means it is gone for good, so let us know, and we can smash it off the list. Then come back soon for new codes!
Other ways to get free rewards in Strongman Smash
There are other ways than codes to get free rewards in Strongman Smash. If you join the Roblox Group (linked above), you can visit the chest with the Group Reward sign in the first area to claim 150 free Energy. Next to it, you'll find the Friend Invite Bonus, where you'll get a free booster if you can get one of your friends to join. Also, note that each item you smash gives you the chance to randomly get a free booster, so smashing up lots of smaller items should increase your chances!
What is Strongman Smash?
Strongman Smash is a Roblox clicker experience that sees you picking up items, moving them to a smashing area, and then destroying them to gain strength and energy. Energy can be used to train to gain strength or on boosters and accessories for your workout companion (pet) for permanent bonuses. You can also open new areas as you gain strength, which opens up new challenges.
If you're looking for codes for other games, we have a ton of them in our Roblox Game Codes post! You can also get a bunch of free stuff via our Roblox Promo Codes page. And in the meantime, take a look at the latest news to stay up-to-date on all things entertainment.