[ad_1]

Popular long-running online anime series Tower of God now has its own mobile game. It will come as no surprise that it's a gacha-style idle RPG, but the combat is tactical and turn-based. But don't think that makes the game easy, as in my experience it is anything but. It has a storyline to follow, but also PVP and more game modes. If you want to compete, you need to be thinking about creating the best possible team from the very beginning. This is why we've put together this Tower of God reroll guide.
How to reroll in Tower of God: Great Journey
I've found that not only is the Tower of God reroll system simple, is also much quicker than in many mobile RPGs. The tutorial you need to get through is very fast, especially on repeat attempts, so it isn't a barrier to repeated rerolls as long as you have a little patience. When you start, make sure to select Login as Guest.
Related: Tower of God Great Journey Codes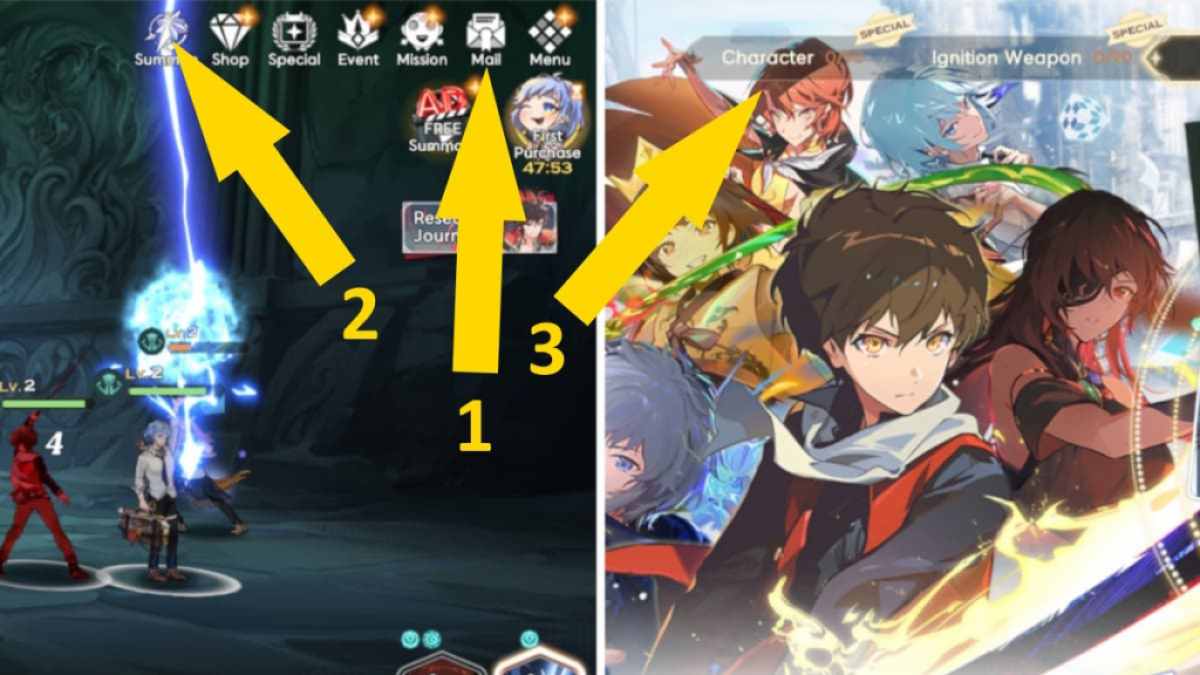 Play through the tutorial (look out for the skip button in the top right of the screen in many scenes, plus the auto move circle bottom left), until you get past the Tutorial Summon (Khun A. A. and Suspicious Messenger Bag). As soon as you can afterward:
Go to Mail (top right) and collect your free rewards which include 10 Destiny Summon Tickets.
Go to Summon (also a top-right icon).
Select Character and do your free 10-pull.
Note that you can mark one character (we suggest Evan) to have a slightly higher chance to drop. If you don't like what you get:
Click the Menu button.
Select the Option cog.
In the Option pop-up, click the Account tab.
Press Delete Account.
Once you've clicked OK, you can immediately create a new Guest Account and try again. I can do the whole process in five minutes.
It's important to note that, if you get the heroes or weapons that you want, you should immediately upgrade your account from guest. This will secure your characters, as a guest account is pretty fragile. If the game crashes and you need to redownload the app, or you want to play on a different device, your guest account will be lost.
Should I reroll in Tower of God?
If you're a casual player, there is no real need to reroll. But if you want to compete and try and be one of the top players, it makes sense to give yourself the best start. As you'll see in the image above, there's quite a generous two percent chance to get a Legendary (1.6 percent Legendary Character, 0.4 percent Legendary Weapon).
Which are the best Tower of God Great Journey heroes to reroll for
I'd consider any of the characters on this list as great picks but, as the game is relatively new, you can expect balance changes and new powerful characters to be introduced regularly. But these are our early S-tier (bold) and A-tier picks.
| | | |
| --- | --- | --- |
| Albelda | Jinsung Ha | Jyu Viole |
| Daniel Hatchid | Hansung Yu | Urek Mazino |
| Evan | Reflejo | W H Mirror Khun |
| Green April Anaak | Sachi Faker | Yura Ha |
Urek Mazino and Viole are generally considered the top two attackers in the game right now, with Evan and Albelda the best support characters, so if you've rolled any of these, you're in great shape.
Looking for more anime-themed mobile game guides? Check out Hero Cantare Hero Tier List and our Girls Connect Tier List & Reroll Guide here at Pro Game Guides.
[ad_2]