Image via Roblox My Hello Kitty Cafe
From birthday parties to seasonal events, My Hello Kitty Cafe is always adding new content for its huge player base. In celebration of its one-year anniversary (the experience opened to the public on April 25, 2022), My Hello Kitty Cafe brought a special, limited-time only party to the experience. During this party, players can collect a new Heart currency, which we'll be discussing in the brief guide below.
How to get Hearts in My Hello Kitty Cafe
Hearts can be found and collected all across the My Hello Kitty Cafe map, both in Cafe Town and The City. They come in three colors, yellow, blue, and pink, and can be picked up by walking into them. Take note, however, that only 20 of these Hearts can be collected per day (20 blue, 20 pink, and 20 yellow); once you've collected 20 of each, you won't be able to pick up anymore until the next day starts.
You can also earn Anniversary Hearts, which are different than the standard Hearts found around the map. Anniversary Hearts can be purchased with Candy or Bow Coins at either of the minigame booths found in The City, though you'll need to grind a bit to unlock them.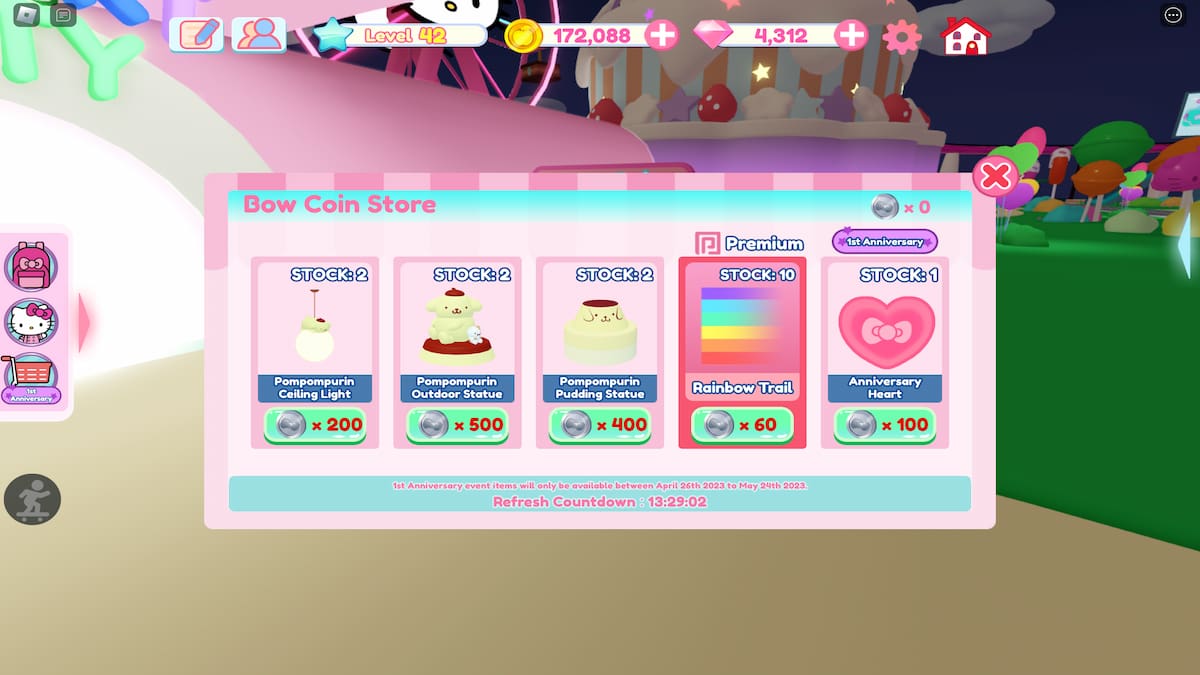 How to use Hearts in My Hello Kitty Cafe
Both standard Hearts and Anniversary Hearts can be used to unlock certain items at the Event Center in The City.
Related: Roblox My Hello Kitty Cafe Codes
The bigger and "better" items can only be purchased with Anniversary Hearts, whereas the smaller and less rare items can be purchased with standard Hearts. Check out the images below for a quick look at a few of the items that can be purchased using your Hearts.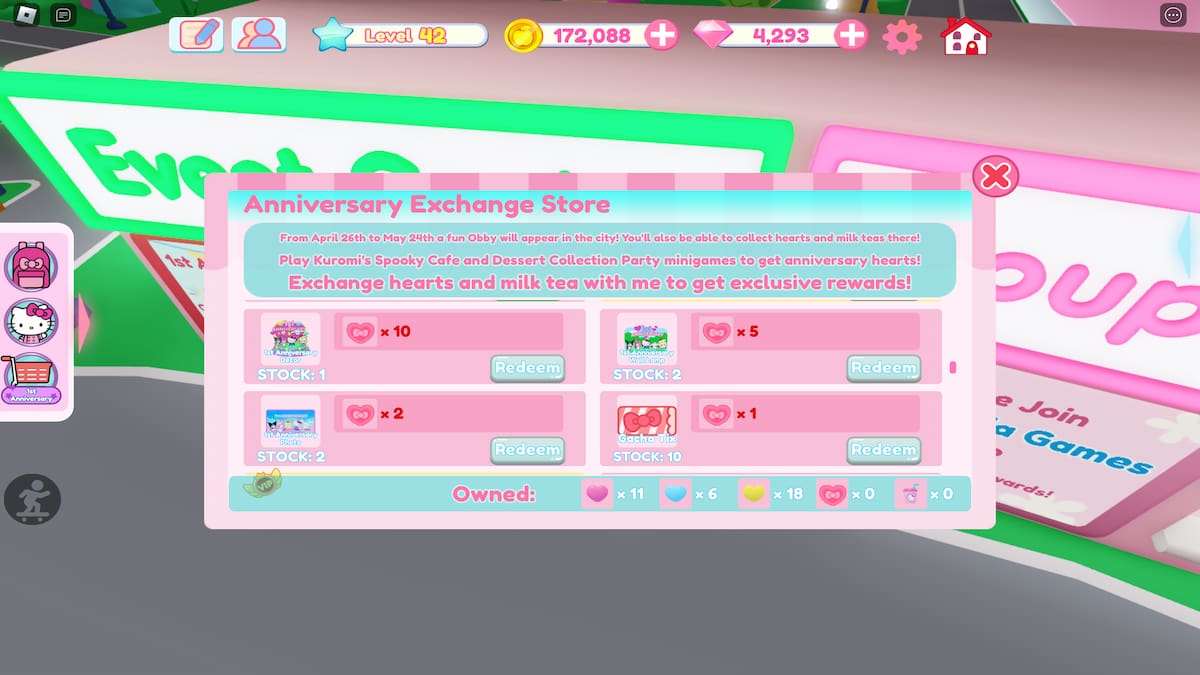 How long can I use my hearts in My Hello Kitty Cafe?
Hearts will disappear from the experience on May 2023, so be sure to spend them sooner rather than later if you're interested in any of the event items!
End
That's it for our guide on My Hello Kitty Cafe's new Heart currency! As mentioned above, this limited-time currency won't be around for much longer, so earn it and spend it ASAP!
Looking for more My Hello Kitty Cafe content? Check out our recent guides on How to get Kuromi in My Hello Kitty Cafe – Roblox or Where is the Fire Station in Roblox My Hello Kitty Cafe? here on Pro Game Guides!