Image via Roblox Wheat Farming Simulator
Golden fields of wheat can be so calming, but in Wheat Farming Simulator, there is no time to admire the scenery work needs to be done to beat the other players in this game. Unlock the coolest versions of your harvesting tool so that you can gather more wheat than any of the other players around. So, put on that straw hat and dungarees, it's time to get that grainy goodness!
The codes in Wheat Farming Simulator will give you extra Taming Crystals. Taming Crystals are needed to buy Pets to help you harvest wheat faster in the game. Pets are expensive in this game, so make sure to claim these Taming Crystals to help you buy one.
If you enjoy games that let you get your hands dirty in Roblox, we have the best codes for farming and market games that Roblox has to offer. Claim codes on these pages to help you start your farming empire: Roblox Bee Farm Codes, Farm Factory Tycoon Codes, Roblox Farming and Friends Codes, Roblox Welcome to Farmtown Codes, and Build a Market Codes. 
All Wheat Farming Simulator Codes
Updated May 26, 2023

Checked for new codes!
Wheat Farming Simulator Codes (Active)
TAMEPETS—Redeem code for 20 Taming Crystals (New)
LAVABEAST—Redeem code for Lava Beast Pet
PETS—Redeem code for 10 Taming Crystals
TAMING—Redeem code for 20 Taming Crystals
MEGAREBIRTH—Redeem code for 20 Taming Crystals
Wheat Farming Simulator Codes (Expired)
There are currently no expired codes.
Roblox Wheat Farming Simulator FAQs
Here's everything you need to know regarding Roblox Wheat Farming Simulator codes.
How to Redeem Codes in Wheat Farming Simulator
If you want to enter codes into Wheat Farming Simulator, just follow the steps below: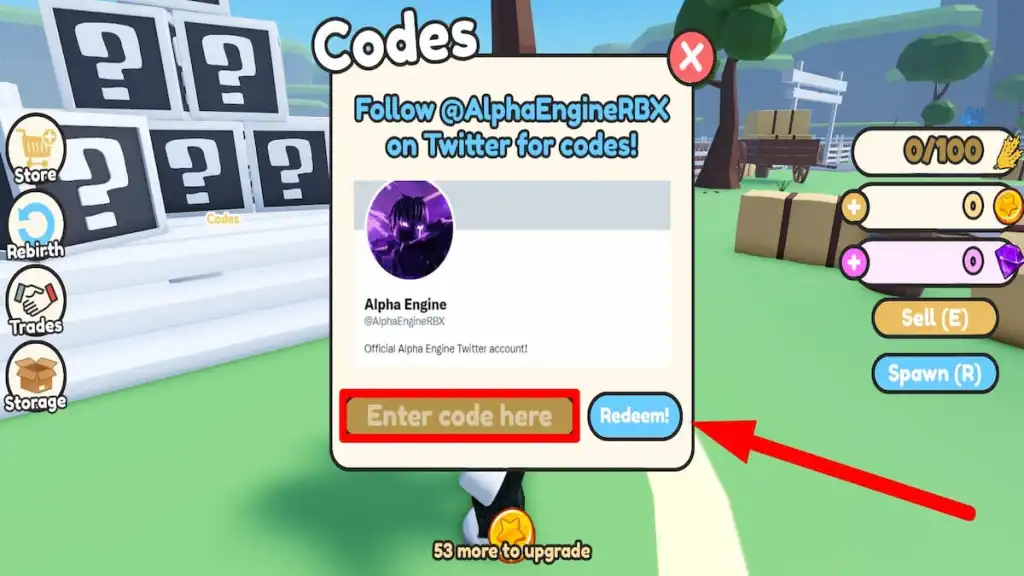 Launch the game.
After spawning in, run to your right near the fence.
Find boxes with question marks on them and a circle that says Codes.
Stand in the Codes circle and a text box will appear where you can enter codes.
Enter the codes in the Enter code here box.
Click on Redeem! to claim your rewards.
How can you get more Wheat Farming Simulator codes?
All the latest codes from the developer, Alpha Engine, can be found on their social media pages like Twitter via @AlphaEngineRBX and their Alpha Engine Discord Server. They also have a YouTube channel, Alpha Engine, that you can subscribe to for additional content. We here at Pro Game Guides always have the latest codes for your Wheat Farming Simulator. Bookmark this page and visit us often for all the latest rewards to redeem!
Why aren't my Wheat Farming Simulator codes working?
There could be several reasons why your Wheat Farming Simulator codes are currently not working. These codes may be mistyped into the text box. Ensure your spelling and punctuation are correct when typing into the text box. You can also copy and paste the codes from our list to avoid mistakes when redeeming the code. These codes may also be expired. Codes usually expire according to how long the developer allows them to be active. Claim these codes as possible to avoid missing out on any of the rewards that come with them. Let us know in the comments if a Working code is expired so that we can check and update this page accordingly.
Where to get Pets in Wheat Farming Simulator
Pets in Wheat Farming Simulator are hard to come by, and it will take some grinding to unlock them. The first place you can get Pets is in the store. This option is for those who have Robux in their account. The other place you can get pets is out in the wheat field. By exploring the wheat field, you will find purple crystals that contain Pets on the ground, and you can only unlock them by having a certain number of Taming Crystals. Explore the whole wheat crop to find all the hidden Pets.
What is Wheat Farming Simulator?
Roblox Wheat Farming Simulator is a farming game where you will start with a primary harvesting tool to gather wheat. Sell this wheat for coins so you can upgrade your harvesting tool to gather wheat faster. Many harvesting tools will give you bonuses while collecting the wheat. Pets will also help you harvest in this game, so make sure to collect them in your wheat-harvesting journey. The more money you make, the higher you will climb on the leaderboards!
If you're looking for codes for other games, we have a ton of them in our Roblox Game Codes post! You can also get a bunch of free stuff via our Roblox Promo Codes page.