Image via Xeno Two Studios on Roblox
Xeno Online 3 is a sandbox ARPG Roblox experience, which is a complete remastering of the popular title Xeno Online 2. You'll gain strength by competing in combat, whether you win or lose, while you can also make progress by completing quests and fighting bosses while creating factions and discovering secret areas as you explore. Can you and your faction conquer the planets?
Xeno Online 3 codes give you free in-game Spins. These allow you to change your race and traits, which can give you unique abilities and looks to match your play style and cosmetic wishes (see more details below). If you love anime ARPGs, you should also check out our list of the Best Roblox Dragon Ball Games.
All Xeno Online 3 Codes List
Xeno Online 3 Codes (Working)
These are all the working Xeno Online 3 codes.
ultrainstinct—Redeem for 500 Spins (New)
GOODBYEXENO—Redeem for 500 Spins
GETMEOUTOFHERE—Redeem for 75 Spins
KIMETHODBRAINWASH—Redeem for 100 Spins
2XEXPERIMENT—Redeem for 85 Spins
HANMA—Redeem for 90 Spins
BROLY—Redeem for 75 Spins
RELEASE—Redeem for 150 Spins
BUGFIXES—Redeem for 50 Spins
Xeno Online 3 Codes (Expired)
These are expired codes for Xeno Online 3.
There are no expired codes for Xeno Online 3
Related: Dragon Soul Codes
How to redeem codes in Xeno Online 3
Follow the instructions below to redeem codes in Xeno Online 3.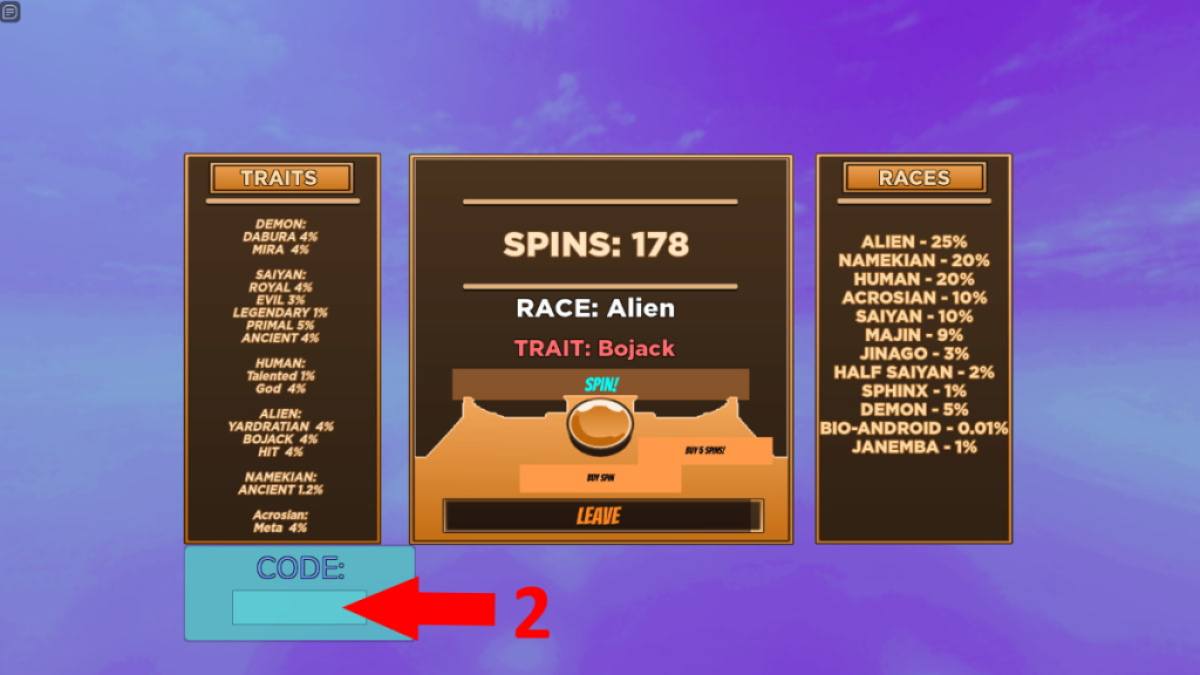 Launch Xeno Online 3 on Roblox and click Reroll on the home screen.
In the blue text box, beneath where it says CODE, enter the code exactly as it appears in the list above.
Press Enter on your keyboard to claim your reward! Your spins may not show initially, but if you click SPIN! they will show up (which will also initiate a spin).
How can you get more Xeno Online 3 codes?
Looking for more information and codes for Xeno Online 3? A good idea to start is joining the Xeno Two Studios Roblox Group. You might also want to follow @BanditTaquito on Twitter and subscribe to the BanditTaquito YouTube channel. Finally, it is well worth becoming part of the Xeno Online 3 Discord Server, where there are channels for announcements and updates, as well as active codes.
Why are my Xeno Online 3 codes not working?
If you try one of our Xeno Online 3 codes and it doesn't work, it could be one of a few problems. First, check the code for typos. If you miss a capital letter or mistake a letter for a number, it will invalidate a code, so cut and paste them in if possible. If it's put in correctly and still won't work, it has probably expired. Let us know so we can update the guide, please, and check back soon for more codes.
How to use Spins in Xeno Online 3
One of the key rewards you get in Xeno Online 3 is free Spins (you can also purchase them). You use Spins gacha-style to attempt to change your race and acquire traits. If you want to use your Spins, click the Reroll option on the initial loading screen, as you would enter a code (above). As long as you have some Spins available, click the SPIN! Button to try your luck. You'll note that the Race menu on the right lists the percentage chance of getting each race. The more valuable column is the one on the left, which lists the percentage chance of getting a trait if you roll one of the races that have them. So, for example, you have a five percent chance of rolling a Demon. And if you do, there is a four percent chance you'll either get the Dabura or Mira trait. It is worth rerolling until you have a trait and then trying it out to see how it plays.
What is Xeno Online 3?
Xeno Online 3 is the third game in the Xeno Online Roblox series, keeping the feel of the original games while improving every aspect of the process. Players find a race and traits in a gacha-style system, then explore a sandbox-style world with RPG elements, including missions, trainers, and always-on PVP, which rewards you with strength whether you win or lose.    
If you're looking for codes for other games, we have a ton of them in our Roblox Game Codes post! You can also get a bunch of free stuff via our Roblox Promo Codes page. And in the meantime, take a look at the latest news to stay up-to-date on all things entertainment.