Alice Davidson-Richards has found a way to put the fun back into her game after being called up to the England squad for the final two matches of the ODI series against Sri Lanka.
While out cycling last Friday, the 29-year-old received a phone call informing her that she would be brought back into the international fold and would return to her roots the next day to watch some friends from her. Teenage years playing in club matches.
A return to her roots proved energizing for Davidson-Richards, who scored 101 on Sunday to help South East Stars defeat leaders The Blaze in the domestic Rachel Hugh Flint Cup, then took two wickets on her return to England in Tuesday's rain-affected ODI against Sri Lanka. .
"It's been a fun few days," Davidson-Richards said. "I went to some club cricket on Saturday and seeing it in its true form put me in very good stead for Sunday.
"I just remembered how fun cricket is and what it is like to play in club matches on a Saturday. It's been a very enjoyable few days and I tried to bring that into Tuesday.
"If I put pressure on myself, that's when things don't go well. It was just that I remember how relaxed I was when I was playing club cricket.
"On Sunday, I was imagining playing at this club and thinking about how stress-free it would be, so I think that really helped calm my mind and stop Alice from getting in Alice's way."
England reduced Sri Lanka to 106-9 before the second ODI at Northampton was abandoned due to rain.

Tuesday's match at Northampton, where the seamer's wicket helped England reduce Sri Lanka to 106-9 after 31 overs before rain brought an early end to proceedings, was Davidson-Richard's first ODI appearance since last December's 151-run win over the West Indies. . .
The absence of Emma Lamb through injury and the decision to rest 17-year-old bowler Mahika Gaur after her impressive debut in the seven-wicket win at Chester-le-Street has opened the door for Davidson Richards and spinner Charlie Dean to feature. Back in the side to face Sri Lanka at the County Ground.
This was only the fifth ODI appearance of her career as well, underscoring the depth of bowling options available in England. However, Davidson Richards, who has taken 10 wickets in The Hundred for Northern Superchargers and has 12 for the Stars so far this season, is enjoying the competition for places and believes it is a sign of progress being made in domestic women's cricket.
"The more people we can get to that level, the better for England and we can keep putting pressure on each other," Davidson-Richards said.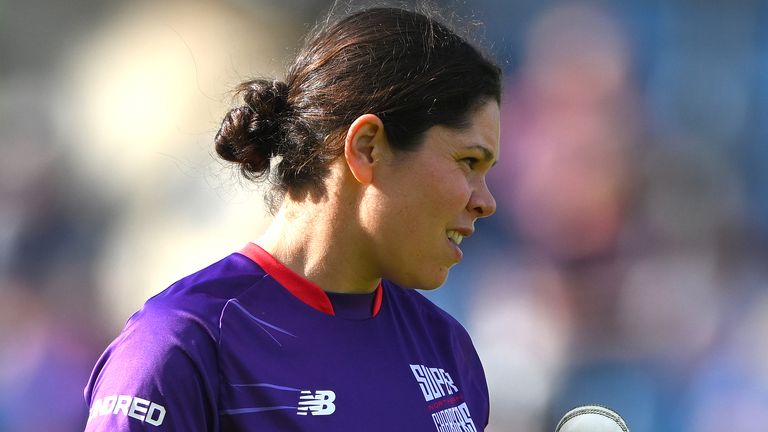 "The depth was always there, but it was about how do you get them out and get them to that level.
"I think the structures we have now across the country are fantastic and in domestic cricket, everyone is getting better every year.
"Competition and levels between regions are also improving, so I think it's a natural development and will improve over time."
Abandoning Tuesday's match at Northampton without a result means England head to Leicester still holding a 1-0 lead over Sri Lanka and aiming for an outright win after a shock 2-1 loss in the IT20 match of their opponent's tour.
Stephen Finn finds himself moderating a very important question during the second ODI between England and Sri Lanka in Northampton!

Despite taking 2-16 at an economy rate of 3.20 runs per over, Davidson-Richards was of the opinion that she could have played better on the day.
However, did she feel she had done enough to secure her place in the team for the final match of the series at Grace Road on Thursday?
"I can't think of anything beyond eating some ice cream on Wednesday," Davidson-Richards said. "We'll deal with it Thursday when we get there."
Watch the third and final match of the ODI series between England and Sri Lanka live on Sky Sports Cricket from 12pm on Thursday 14 September (first ball at 12.30pm). Also stream on now.