Screenshot by Pro Game Guides
Rivet Town may look like one of the simpler maps in Honkai: Star Rail, but when you're a completionist, it's a horror scene. There are too many alleyways, only a few warp points, and very dark. Plus, there are more treasure chests than the average area. This guide will help you locate them all.
Honkai Star Rail  – Where to find all Treasure Chests in Rivet Town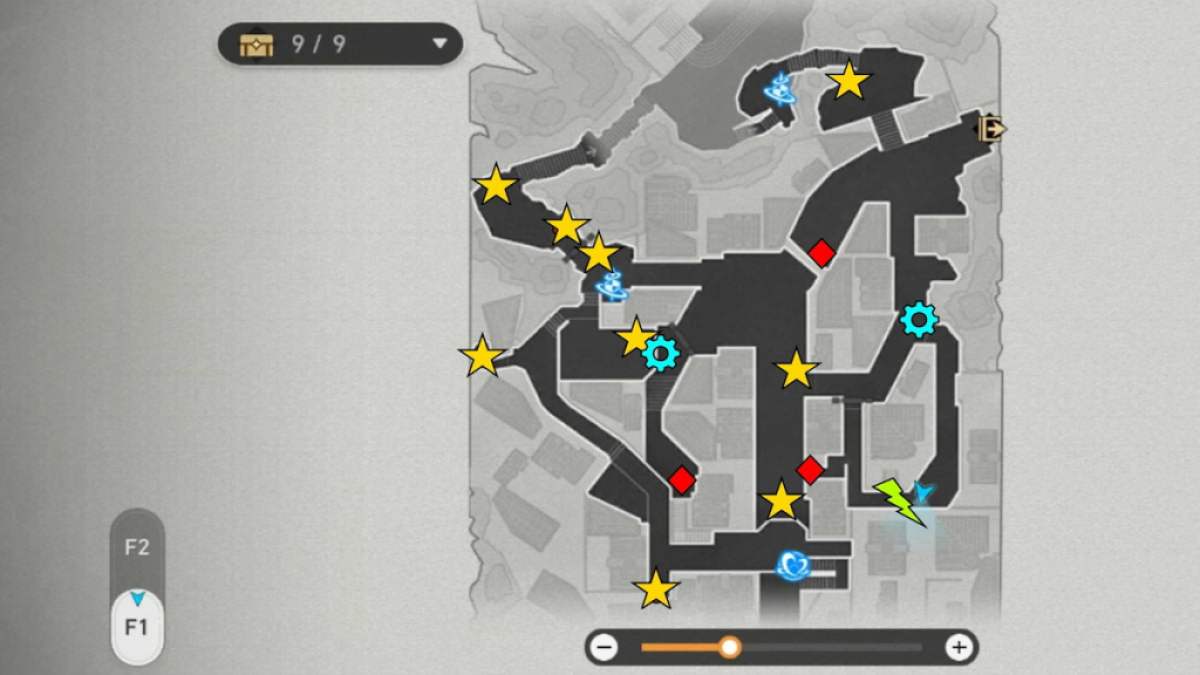 Much like most locations in Star Rail, there are more chests than the "9/9" listed on the upper right corner of the map. I actually lost count of which chests counted in the 9/9, I just marked all the ones I found.
For reference:
Yellow means you can find them out in the open. The two treasure chests on the upper left can only be accessed after you visit the orphanage.
The cyan ones are either their exact location (behind a puzzle) or the location of the machine that will lead you to them.
Red means they're blocked by powerful monsters.
Lastly, the green bolt is for the Warp Trotter that you need to defeat in Rivet Town. The Warp Trotter is the last "treasure" count in the area.
Related: Honkai Star Rail – All Supply Zone Treasure Chest Locations
Eight out of the nine yellow stars will count in the 9/9 treasure chests you need to find in the area. The ones blocked by monsters and machines/puzzles do not. Rivet Town also has a hidden mission that starts when you hear a weak female voice. It involves the item you pick up from defeating the Warp Trotter, so be sure to complete it too!
For more treasure hunting help in Honkai: Star Rail, take a look at Honkai Star Rail – All Outlying Snow Plains Treasure Chest Locations and Honkai Star Rail – All Storage Zone Treasure Chest Locations here at Pro Game Guides.