David Montgomery's fourth-quarter touchdown lifts the Detroit Lions to victory over the defending Super Bowl champion Kansas City Chiefs; Week One continues Sunday as the 49ers visit the Steelers, with coverage from 4.30pm ahead of kickoff at 6pm, followed by the Dolphins at Chargers
Last Updated: 08/09/23 6:30am
Highlights of the Detroit Lions' clash with the Kansas City Chiefs in Week 1 of the NFL.

Highlights of the Detroit Lions' clash with the Kansas City Chiefs in Week 1 of the NFL.
The Super Bowl champions Kansas City Chiefs began their defence in defeat as they were beaten 21-20 by the Detroit Lions at Arrowhead in Thursday night's 2023 season opener.
Lions running back David punched in the go-ahead eight-yard touchdown with 5.05 remaining in the game before icing the win with a decisive first down run inside the final two minutes.
Quarterback Jared Goff threw for 253 yards and a touchdown, while Amon-Ra St. Brown had six catches for 71 yards and a score.
Lions rookie Brian Branch also returned Patrick Mahomes' first interception in an opener 50 yards for another touchdown as Detroit snapped the Chiefs' eight-game Week One winning streak.
Mahomes finished the night 21 of 39 passing for 226 yards, two touchdowns and one interception as he played without star tight end Travis Kelce, who was officially ruled out earlier in the evening ahead of kickoff due to the knee injury suffered during the week.
The Chiefs were also without All-Pro defensive tackle Chris Jones, who sat and watched from the stands amid his contract holdout.
The Lions were trying to run out the clock when Goff had a fourth-down pass near midfield batted down with 2:30 left.
It handed the Chiefs a chance, only for Kadarius Toney to drop a potential 20-yard gain, before a deep completion was called back for holding. Skyy Moore then dropped a pass and a false start left Mahomes heaving a fourth-and-25 throw downfield.
Detroit would subsequently take over, paving the way for Montgomery to clinch the decisive first down that would enable the Lions to run down the clock.
Stats leaders:
Detroit Lions
Passing: Jared Goff, 22/35, 253 yards, 1 TD
Rushing: David Montgomery, 21 carries, 74 yards, 1 TD
Receiving: Josh Reynolds, 4 catches, 80 yards
Amon-Ra St Brown, 6 catches, 71 yards, 1 TD
Kansas City Chiefs
Passing: Patrick Mahomes, 21/39, 2 TDs, 1 INT
Rushing: Patrick Mahomes, 6 carries, 45 yards
Isiah Pacheco, 8 carries, 23 yards
Receiving: Marquez Valdes-Scantling, 2 catches, 48 yards
Justin Watson, 2 catches, 45 yards
The Lions had struck first in a meeting of two of the league's top offenses a year ago, Goff taking advantage of a clean pocket to march downfield and find St. Brown with a nine-yard touchdown pass.
The Chiefs answered with Mahomes finding five different wide receivers, the last of them rookie Rashee Rice, who atoned for an earlier drop by snaring a short touchdown pass to knot the game at seven-apiece.
Kansas City later found themselves facing fourth-and-two near midfield but had been called for holding, though rather than decline it Lions head coach Dan Campbell chose to push them back. Mahomes responded to third-and-17 by hitting Marquez Valdes-Scantling with a 24-yard strike.
He added a 26-yard pass to Justin Watson, before hitting Blake Bell with a short touchdown throw to give the Chiefs a 14-7 halftime lead.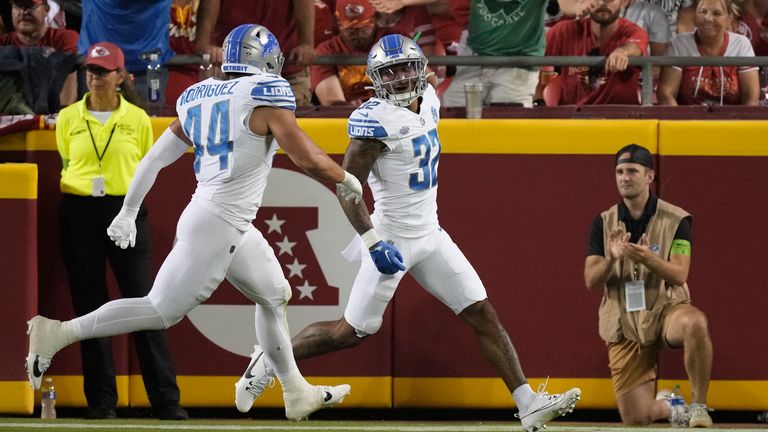 Brian Branch intercepts Patrick Mahomes after a Kadarius Toney tip and claims his first ever NFL touchdown for the Detroit Lions against the Kansas City Chiefs in Week 1 of the NFL.
With the Lions' offense stuttering, the defense stepped up as Branch caught a pass that bounced off Toney's hands – he had several drops in the game – and found nothing but 50 yards of grass separating him from the end zone and a 14-all tie.
Until that point Mahomes had thrown 20 touchdown passes and no interceptions in five-plus season openers.
The Chiefs tacked on two field goals, but the missed chances to get into the end zone proved costly. The Lions followed up Harrison Butker's second field goal by driving 75 yards, twice converting on third down, with Montgomery capping the march with a nine-yard touchdown run to give Detroit the lead for good.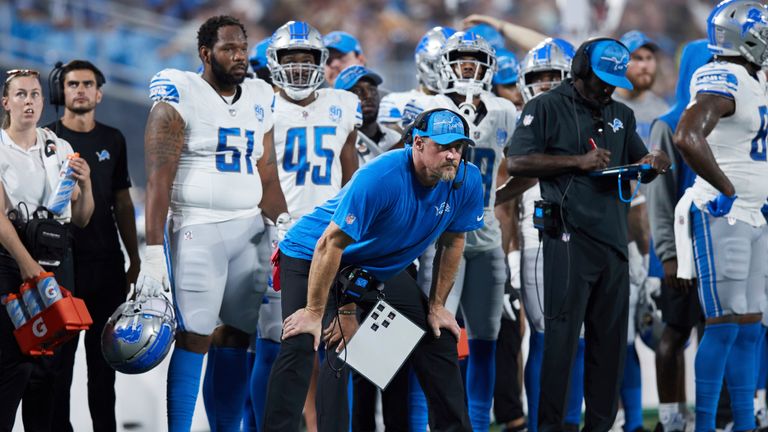 Super Bowl-winning defensive tackle Ndamukong Suh discusses Lions head coach Dan Campbell and explains why their fans deserve a Championship run. Suh will be joining Sky Sports NFL's Sunday coverage from October 1 for four weeks.
Scoring summary
Scoring summary
| | |
| --- | --- |
| FIRST QUARTER | |
| Lions 7-0 Chiefs | Jared Goff nine-yard TD pass to Amon-Ra St Brown (extra point) |
| SECOND QUARTER | |
| Lions 7-7 Chiefs | Patrick Mahomes one-yard TD pass to Rashee Rice (extra point) |
| Lions 7-14 Chiefs | Patrick Mahomes four-yard TD pass to Blake Bell (extra point) |
| THIRD QUARTER | |
| Lions 14-14 Chiefs | Brian Branch 50-yard interception return (extra point) |
| Lions 14-17 Chiefs | Harrison Butker 35-yard field goal |
| FOURTH QUARTER | |
| Lions 14-20 Chiefs | Harrison Butker 39-yard field goal |
| Lions 21-20 Chiefs | David Montgomery eight-yard rushing TD (extra point) |
What did they say?
Lions head coach Dan Campbell: "We expected to win this game. We came in here, knew what we needed to do, knew it wasn't going to be easy, and we did that. We won. I didn't learn anything. I got verification on what I already know: This is a resilient team. We're built to handle some stuff and we did that today against a very good opponent."
Chiefs head coach Andy Reid: "The Lions did a heck of a job. They capitalised on a couple of things and we've got to fix it. I liked the aggressiveness on the defensive side. There were some good things on offense. We just have to be more consistent."
What next?
The Lions will now meet the Seattle Seahawks in their opening home game of the season next Sunday, while the Chiefs are on the road against Trevor Lawrence and Doug Pederson's Jacksonville Jaguars in a repeat of their Divisional Round playoff matchup.
Elsewhere, the Sky Sports NFL coverage of Week One resumes Sunday when the San Francisco 49ers take on the Pittsburgh Steelers in the 6pm kickoff followed by the Miami Dolphins against the Los Angeles Chargers.
Week One continues Sunday as the San Francisco 49ers visit the Steelers, with coverage from 4.30pm ahead of kickoff at 6pm, followed by the Dolphins at Chargers at 9.25pm. Stream with NOW.