With the ongoing devastation in their homeland, Saturday's Euro qualifier is the closest Ukraine will get to a home game. And with all the extra emotion surrounding the fixture, England's players are likely to feel they are taking on an entire nation, rather than just 11 players on the pitch.
Since the war started more than 18 months ago, 6.2m Ukrainian people have been forced to leave the country, with Poland – the venue for this game against England – the most receptive neighbour.
More than three million displaced people have crossed the Western border to escape the horror, swelling the total number of Ukrainian people in Poland to over 4.5m, according to UN figures.
The match against England is close to a sell out, meaning there is likely to be more than 40,000 "home" fans inside the Wroclaw Stadium on Saturday night.
Those supporters have more than just a Euro qualifier to unite and motivate them, and how England's players deal with the inevitable outpouring of national pride on and off the pitch could be key to their success. Or otherwise.
That's what makes this match much harder than usual for Gareth Southgate and his squad. Italy away was always going to be the toughest prospect in qualifying: this is a close second.
Arsenal striker Eddie Nketiah says he is 'very happy to be here' after his selection for England and says it has been quite a journey to get there.

England dominated more than the 2-0 scoreline suggested against the same opposition at Wembley six months ago. Goals from Harry Kane (inevitably) and a stunner from the recently-crowned England player of the year, Bukayo Saka, were enough to maintain Southgate's 100 per cent start to Euro qualifying.
But it was far from easy, and the devastation of the war was in everyone's minds.
England fans walked along Olympic Way to the stadium with their nations' shirt on their backs, but with Ukraine flags around their shoulders.
England train at St George's Park ahead of their European qualifier against Ukraine on Saturday.

For the first time ever at a football match, those half-and-half scarves felt appropriate.
The Ukraine players emerged from the Wembley tunnel, each cloaked in their nation's flag. Both sets of players stood united behind a banner emblazoned with the word "Peace" before kick-off. England fans unanimously applauded the Ukraine national anthem.
It felt different. It felt like the usual football animosity had given away to a shared humanity. And it actually made life much more difficult on the pitch for England's players.
Rob Dorsett is joined by Dougie Critchley and Henry Hill from Football Daily to discuss who they think will be named in the England squad for the upcoming internationals against Ukraine and Scotland.

The same is likely to be true – but further amplified – in Poland on Saturday night. And so, from a team selection perspective, Southgate is likely to field what he thinks is his strongest team, but it will almost certainly be a very experienced starting XI too.
Debuts for Eddie Nketiah and Levi Colwill will have to wait.
Harry Maguire – controversially – will almost certainly be at the heart of England's defence, despite playing only 23 minutes of football all season. His central defensive partner (in what I'd expect to be a back four) is likely to be Marc Guehi or Fikayo Tomori rather than 20-year-old Colwill, or Lewis Dunk (who hasn't played for England for four years).
We take a look back at every single goal Eddie Nketiah has scored in the Premier League to date.

England's Mr Reliable, Jordan Pickford, will start in goal despite conceding eight goals in four Premier League matches for Everton so far (few of those, if any, were his fault by the way, and his brilliance rescued a point at the death against Sheffield United last out).
The ever-steady and fully-energised Kyle Walker will add his pace and experience at right back. And I wouldn't be surprised if Kieran Trippier rather than Ben Chilwell got the nod at left back, for his consistency and stronger defensive qualities.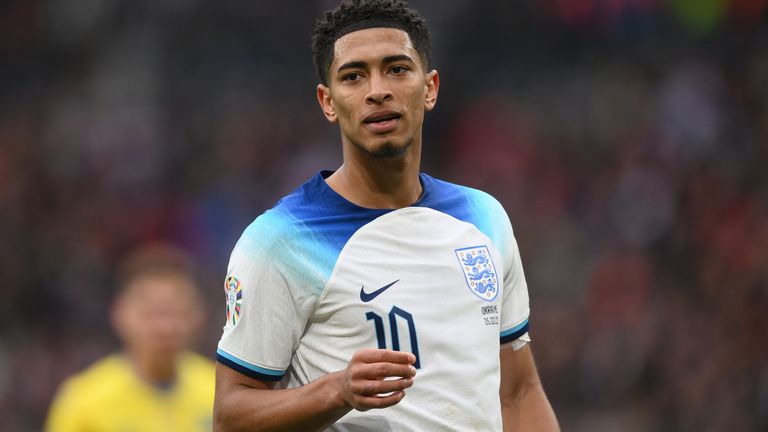 Jude Bellingham and Declan Rice will be expected to dominate the midfield, but is this the sort of game where Southgate will include an in-form James Maddison alongside them as a number 10? I'd say that is very doubtful.
And so we could well see the equally controversial inclusion of Jordan Henderson to offer further solidity and defensive cover (or maybe Conor Gallagher if Southgate feels he wants to move the ball forward through the thirds more quickly).
Kane will, of course, start up front for England in his first game since his move to Germany, and the brilliant Saka is a shoe-in on the right wing. Marcus Rashford is probably in pole position on the right flank, although Phil Foden is an equally attractive option.
England manager Gareth Southgate revealed that Chelsea's Raheem Sterling was unhappy with missing out on the England squad for the European Championship qualifier against Ukraine and friendly with Scotland.

And so – even at this early stage – it seems there are only two or three slots in England's starting XI up for grabs: left back, central midfield and right wing.
Does that make England predictable? Probably. Does it make them a more solid and reliable unit to break down? Almost certainly.
That is what Southgate will want, and what I expect him to aim for in the team he selects.
He knows if England win this game, having already won four out of four, they are within spitting distance of qualification for Germany next summer.
With the top two qualifying, England would be nine points clear of Ukraine in Group C, with only Italy realistically capable of pipping them to top spot (and even that would need England to drop points inexplicably against Malta and North Macedonia).
The Football Association are reportedly targeting Pep Guardiola to become the manager of England if Gareth Southgate leaves after the upcoming Euro's, and Charlie Wyett says they need to be approaching the best managers in the world.

Such is England's dominance in the group, Southgate also knows a draw in Wroclaw would leave his team in a very strong position, however frustrating that might be for the England supporters in Poland to accept.
So the head-turners and adrenaline-inducers that are Nketiah, Maddison, Eberechi Eze and Foden may have to bide their time.
And England's players on the pitch may have to be patient and resolute too, as they doff their cap of respect to an opponent who will be pushed by a force much greater than football.