Season 20 of Destiny 2 is almost over, with Season 21 looming close on the horizon. Season of the Deep brings new content such as a fresh Season Pass, Exotics changes, Strand Fragments, and more. Here's everything we know about Destiny 2 Season of the Deep (so far).
Destiny 2 Season of the Deep overview
Destiny 2 Season 21 adds the following new content to Bungie's popular FPS title:
Season of the Deep seasonal quest
New Strand Aspects
New Destiny 2 dungeon
Exotic armor focusing and decrypting
Trials of Osiris changes
No power band update
Season Pass price increase
Bounty tweaks
Good Boy Protocol returns
Economy changes
Destiny 2 Season of the Deep start date and time
Destiny 2 Season of the Deep starts immediately following the end of Season 20, Season of Defiance, on May 23, 2023, at 10am PDT / 1pm EDT, the time of the weekly reset.
Destiny 2 Season of the Deep seasonal quest
The Season 21 seasonal quest has players "explore the city to learn about the nature of the Veil through Osiris's research and newly uncovered Ishtar Collective data."
This leads to Guardians unlocking three new Strand Aspects.
New Strand Aspects
There are three new Aspects for the Strand subclass, one for each Guardian class. These are:
Titan—Flechette Storm
Warlock—The Wanderer
Hunter—Threaded Specter
Flechette Storm is a Strand Aspect for Berserker Titans and gives them a slide-melee move that launches them into the air. Once airborne, using a melee move sends out a cluster of Unraveling projectiles toward opponents.
The Wanderer is a Strand Aspect for Broodweaver Warlocks. It is a sentient Tangle that's created once they pick up a Tangle. When thrown, this Tangle hones in on the closest enemy and attaches itself to them before exploding and suspending them in the air.
Threaded Specter is a Strand Aspect for Hunter Threadrunners and creates a decoy when dodging. When an enemy approaches or hits this decoy, it sends out Threadlings that chase the opponent down.
New Destiny 2 dungeon
Bungie has confirmed that Season of the Deep will bring a new dungeon, though that is all we know at the time of writing. No name or details have been shared.
Exotic armor focusing and decrypting
One of the biggest additions in Destiny 2 Season 21 is free Exotic Engram decryption and Exotic armor focusing with Rahool in the Tower. Decrypting Exotic Engrams pulls an Exotic from the standard Exotic loot pool.
The cryptarch also offers Exotic armor focusing in two tiers. Tier 1 costs one Exotic Engram, one Ascendant Shard, and 30,000 Glimmer, and allows you to pull a random armor piece from any of the following expansions (if you own it):
Red War: Exotic Helms
Red War: Exotic Arms
Red War: Exotic Chests
Red War: Exotic Legs
Forsaken: Exotic Armor
Shadowkeep: Exotic Armor
Beyond Light: Exotic Armor
The Witch Queen: Exotic Armor
Lightfall: Not available, but will be added in the future.
Tier 2 Exotic armor focusing costs one Exotic Engram, one Exotic Cipher, three Ascendant Shards, and 60,000 Glimmer. It allows you to choose a specific piece of Exotic armor from an expansion that you own, provided you've already owned it.
Trials of Osiris changes
Trials of Osiris is getting some tweaks, namely to the intro quest, Trials Passages, the gilded Flawless title, and a new game mode.
There are also new Exotics and a Shader to earn, which are:
Hero's Wake Exotic Ghost Shell—Random drop from Lighthouse reward chest.
Valiant Memory Exotic Ship—Random drop from Lighthouse reward chest.
Survivor's Journey Exotic Sparrow—Random drop from Lighthouse reward chest.
Glorious Patina Shader—Obtained when opening the Lighthouse reward chest for the first time.
New Trials of Osiris loot pool additions
The following weapons are being added to the Trials of Osiris loot pool:
The Messenger High-Impact Kinetic Pulse Rifle
Unexpected Resurgence Adaptive Arc Glaive
Intro quest rework
In Season 20, Guardians had to get 50 Crucible kills, raise their Power level, and reset their Valor rank once to gain access to the Trials of Osiris. In Season 21, this is changed to:
Complete your Competitive placement matches (helps to get players introduced to 3v3 and revive game modes in an environment where they will be matched against similarly skilled opponents).

Get 50 kills in Competitive.
Raise your Power level.

Pick up a Trials Passage.

Play a game of Trials.
Win one round of Trials.
Get one elimination in Trials.
For doing so, players will receive a roll of the Astral Horizon Trials Shotgun as a reward.
Trials Passage changes
Passage of Wealth and Passage of Mercy are both receiving tweaks in Season of the Deep:
Passage of Wealth

Previously granted increased reputation on wins 3, 5, and 7 on a card.

This is at odds with a system that wants you to continue playing on a seven-win card to get the most efficient progress and best rewards.

In Season 21, this passage will grant +75 Trials rep for every win, along with an additional bonus for your current major rank in Trials, up to +150 total.

This encourages players to stay on the same card and take advantage of the system granting more reputation for wins later in the card.

Passage of Mercy

In Season 21, this passage will forgive two losses if you have not yet been Flawless for the week.
After going Flawless if you reset your card, it will revert to forgiving a single loss on each card.
This will give all players a better chance of going Flawless for the first time each week, and for those players who can go Flawless without using both Mercies, it will give them additional opportunities to play for extra rewards while their first card remains Flawless.
New Dominion game mode
The core game mode is changed to Dominion, AKA zone capturing. Bungie has rationalized this by stating that it wants players to have an easier time scoring points outside of kills, that matches will be faster, it promotes more map engagement, and it influences the use of different subclasses, armor, and weapons.
Gilded Flawless title updates
In Season 20, Guardians had to complete various tasks to win the Gilded Flawless title, including getting 180 kills, winning seven games on a seven-game ticket, and carrying two players on Flawless.
In Season 21, the requirements have been changed to the following:
Get 500 kills.
Earn 16 Trials ranks (reset Trials reputation once).
Go Flawless and get 50 kills with one of the Seasonal Exotic weapons equipped.

You do not need to get 50 kills with the weapon itself, you just need to have it equipped while you get 50 kills.

Skill of the One – While on a ticket with zero losses with the Light for the Lost emblem equipped:

Win 20 games.
Acquire the following medals.

Double Kell (rapidly eliminate two opponents) – 10x.
Skull Breaker (deal the most total damage to opponents in a match) – 5x.
The Beginning (land the first elimination of a match) – 5x.

Strength of the Many – While on a ticket with no losses with the Flawless Empyrean Emblem equipped:

Win 20 games.
Acquire the following medals.

Flight of the Pigeon (win a match in which your team never trailed) – 10x.
Paradoxically Perfect (as a team, win a round in which each player eliminates a different opponent, and no opponent is revived) – 10x.
Time Trials (as a team, win a round within 20 seconds) – 5x.
I personally love the change to the Gilded Flawless title because it makes obtaining it much more of a challenge, making it feel so much better if you manage to pull it off. It separates those with it to those without it and tells everyone, "Hell yeah, I'm just this good."
No power band update
For the first time, the Destiny 2 power band isn't increased in Season 21. This includes Power Floor, Soft Cap, Powerful Cap, and Pinnacle Cap.
According to Bungie, if players "hit the Pinnacle Cap during Season 20, they will remain at the Pinnacle Cap in Season 21."
Season Pass price increase
The price of the Destiny 2 Season of the Deep Season Pass is increased from 1,000 Silver to 1,200 Silver. The Season Pass and 10 Ranks Bundle is increased from 2,000 Silver to 2,200 Silver.
Bounty tweaks
Season 21 adds in a new repeatable Bounty that focuses on getting Fireteam kills in Vanguard. It also brings other new Bounties:
Killing elites, mini-bosses, and Champions.
Kills with elemental abilities, with bonuses for killing with a subclass verb.
Complete two Vanguard activities.
Existing daily Bounties require twice the amount of kills but, as balance, can be completed anywhere in any activity, with Vanguard Ops or Nightfalls rewarding more progress.
Good Boy Protocol returns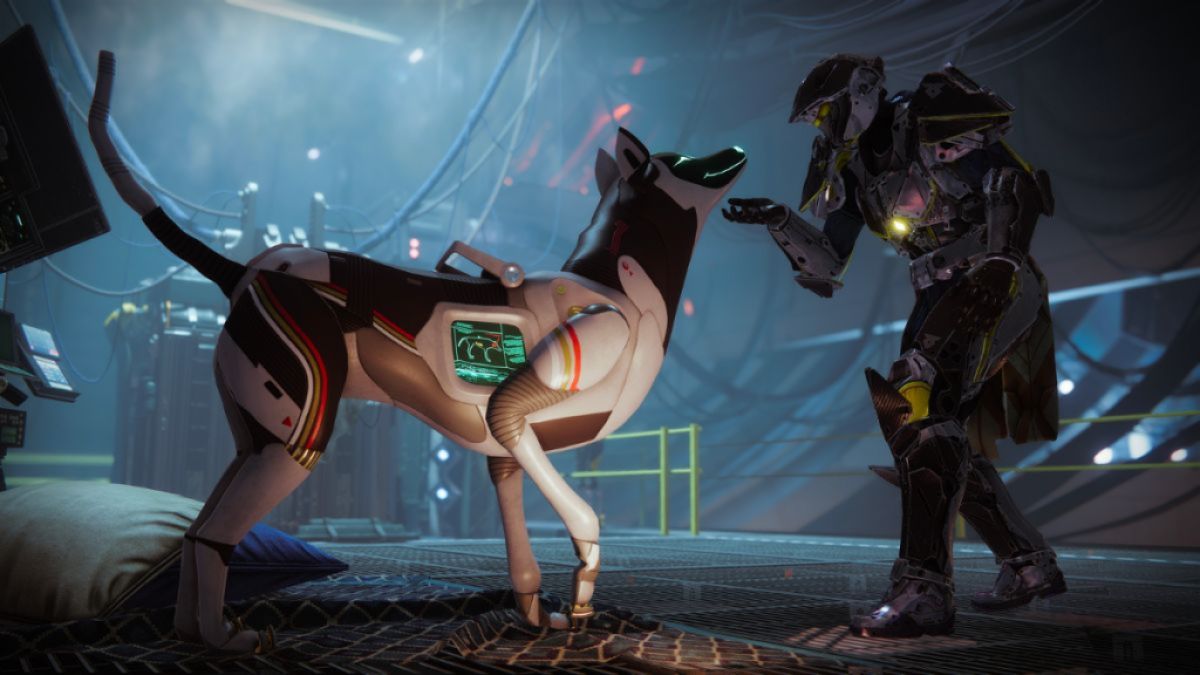 At the end of Season 19, Guardians were outraged when Bungie removed Destiny 2's resident good boy, Archie. He returns in Season 21 for good, having been given a home at the Tower.
Economy changes
Several features are getting economy tweaks, including Fragments, Supers, Strand, and more:
Fragments changes
The following tweaks are being made to single Fragment slot Aspects:
Increased the Fragment slot allotment for the following Aspects from one to two:

Hunter

Trapper's Ambush
Shatterdive
Gunpowder Gamble

Titan
Warlock
Supers changes
All Supers get increased PvE damage resistance by 20%, along with the following individual class Super changes:
Titan
Fists of Havoc

Light attack cost reduced from 8.5% to 6%.
Heavy attack cost reduced from 18% to 12%.
Increased heavy attack PvE damage by 33%.
Heavy attack now blinds targets near the center of the slam area.

Glacial Quake

Increased Shiver Strike thrust speed while in Super by 10%.
Increased light attack damage by 20%.

Sentinel Shield

Increased PvE damage by 20%.

Hammer of Sol

Increased PvE damage by 10%.

Burning Maul

Increased PvE damage by 10%.
Now creates a Sunspot on cast when Sol Invictus is equipped, matching the behavior of Hammer of Sol.
Heavy attack cyclone now applies scorch over time.
Warlock
Nova Warp

Increased PvE damage by 15%.
A fully charged attack now makes enemies Volatile on hit.

Nova Bomb

PvE damage increased by 20%.

Stormtrance

Increased PvE damage by 25%.
Damage ramp while attacking now occurs more quickly (over three seconds, down from five).
Landfall detonation and seekers now jolt targets.

Chaos Reach

Increased PvE damage by 25%.
Sustained damage on a single target now creates a jolting lightning strike at the target's location.
Increased damage resistance vs. players from 40% to 50%.
Increased maximum strafe speed from 3.5m/s to 4.5m/s.
Adjusted Super camera to avoid the player's body blocking view of targets when strafing.

Winter's Wrath

Increased PvE damage by 10%.

Daybreak

Adjusted Super camera to allow the player to look down further and avoid VFX blocking view of targets when moving quickly.
Hunter
Golden Gun (Marksman and Deadshot)

Increased PvE damage by 20%.

Arc Staff

Increased PvE damage by 20%.

Spectral Blades

Increased PvE damage by 35%.
Heavy attack now weakens targets on hit.
Fixed an issue causing some right-hand Spectral Blades attacks to fail to connect when attacking at maximum attack speed.

Gathering Storm

Direct impact damage vs. players increased from 200 to 300.
Delayed lightning strike damage vs. players increased from 300 to 500.
Lingering lightning tick damage vs. players increased from 40 to 60.
Now deals increased damage vs. Well of Radiance and Ward of Dawn.
Strand updates
Certain abilities get cooldown tweaks and other changes:
Titan
Frenzied Blade

Decreased cooldown based on how many melee charges the player has stored.
At 0 charges, cooldown reduced by 15%. At two charges, cooldown reduced by 30%.
Warlock
Arcane Needle

Decreased cooldown based on how many melee charges the player has stored.

At 0 charges, cooldown reduced by 15%. At two charges, cooldown reduced by 30%.

Increased projectile speed based on the projectile's flight time.

Initial velocity increased to 40 meters per second, up from 30.
Final velocity increased to 70 meters per second, up from 60.

Increased projectile tracking strength by ~10%.
Hunter
Threaded Spike

Increased projectile travel range before beginning to return to the player by 30%.
Increased damage vs. PvE combatants by ~55%.
Slightly reduced speed of the dart as it returns to the player to make catching it easier.
Increased energy gain for catching the dart based on the number of enemies hit.
Now pierces Cabal Phalanx shields.
No longer prioritizes the catch action over the grapple melee if an enemy target is within grapple melee range.
Grapple
Reduced base cooldown from 105 seconds to 82 seconds.
Reduced the minimum time between grapple activations from 2.5s to 0.2s.
Thread of Generation
Reduced energy generation provided by some damage-over-time mechanics.
Reduced energy generation provided by Trace Rifles by 36%.
Statis updates
Titan
Shiver Strike

Maximum thrust while in flight increased by 16%.
Decreased maximum downward influence of gravity while in flight by 18%.

Howl of the Storm

Increased width of freezing cone vs. players by 31%.
Warlock
Frostpulse

Now provides two meters of additional melee lunge range after activation for 1.2 seconds.
Hunter
Withering Blade

Increased projectile tracking search range on bounce vs. players by 20%.
Increased maximum tracking strength by 12.5%.
Light class updates
Light classes are being tweaked, focusing on over and under-performers.
Titan
Seismic Strike, Shield Bash, Hammer Strike

Now cost 15% melee energy on activation.
Base cooldowns are now standardized at 91 seconds (previously ranged from 101s to 114s).

Knockout

Lunge range reduced from 6.5m to 5.5m.
Uncharged melee PvE damage bonus increased from 60% to 100%.

Shield Throw

Increased base impact damage from 60 to 70.
Increased consistency of finding and adjusting initial trajectory toward a new target after a bounce.

Throwing Hammer

Now adjusts its initial flight trajectory based on your aim assist target.

Sol Invictus

Increased damage dealt by Sunspots to enemy players per tick from 17 to 22.
Warlock
Incinerator Snap

Fixed an issue preventing the secondary projectile arming shape from activating.
Total damage vs. players reduced from 150 to 135 to compensate for dramatically increased consistency.

Ball Lightning

Increased PvE damage by 30%.
Reduced ping scalar on both primary and secondary detonations so combatants are less likely to be knocked out of the secondary strike area while the player is amplified.

Chaos Accelerant

Scatter Grenade

Increased tracking consistency of charged Scatter Grenade submunitions.
Increased submunition arming duration.
Fixed a bug where some submunitions were impacting the ground on creation in some situations, resulting in an early detonation.

Magnetic Grenade (Handheld Supernova)

Increase charged hold time from 3.2 seconds to 4.5 seconds.

Lightning Surge

Fixed an issue allowing Lightning Surge to deal more instances of secondary strike damage than intended – now targets can take a maximum of two instances of damage from a single activation of the ability: one from the primary lightning strike around the player, and one from a secondary lightning strike.
This change necessitated some changes in damage values, but in general its damage output should be significantly more consistent and slightly higher than the intended value previously, but without the ability to one-shot a single enemy Guardian from full health.
Hunter
Snare Bomb

Increased PvE weaken duration on detonation from four seconds to eight seconds.

Proximity Explosive Knife

Detonation damage vs. players reduced from 105 to 90.
Impact damage vs. players increased from 14 to 20.

Weighted Throwing Knife

On mouse and keyboard, reduced minimum tracking shape size by 25% and maximum tracking shape size by 10%. This shape grows over 0.5 seconds after the projectile is thrown.

Lightweight Knife

Projectile speed increased from 30 meters per second to 40 meters per second.
Tracking shape size increased by 20%.

Gunpowder Gamble

Reduced cooldown from 12 seconds to six seconds.