Our Fortnite Deathrun Codes feature some of the best maps for players looking to challenge their timing, patience, and maneuverability! If you are really looking to challenge your movement abilities, these Deathruns are perfect for you.
Deathruns are maps that test your skill and patience in the game of Fortnite. While your building and shooting abilities won't usually be tested, that doesn't mean there is no challenge. These maps are fairly long and have multiple levels with different challenges in each of them. Do not fret if you are struggling with these—they are made to be difficult and be played over and over! Keep trying and you will eventually conquer them.
Best Fortnite Deathrun Maps
Reef Runners
Reef Runners Map Code: 8861-7301-2053
After the launch of Creative 2.0, the custom maps are getting more and more immersive in the Fortnite Universe. One such example is the Reef Runners Deathrun map, as it beautifully integrates most new features like water physics into its core gameplay. I highly suggest the map to people who want to experience the new features and a decent map that provides decent deathrun  
Deathrun 20 Levels Mega Hard Part 1,2, & 3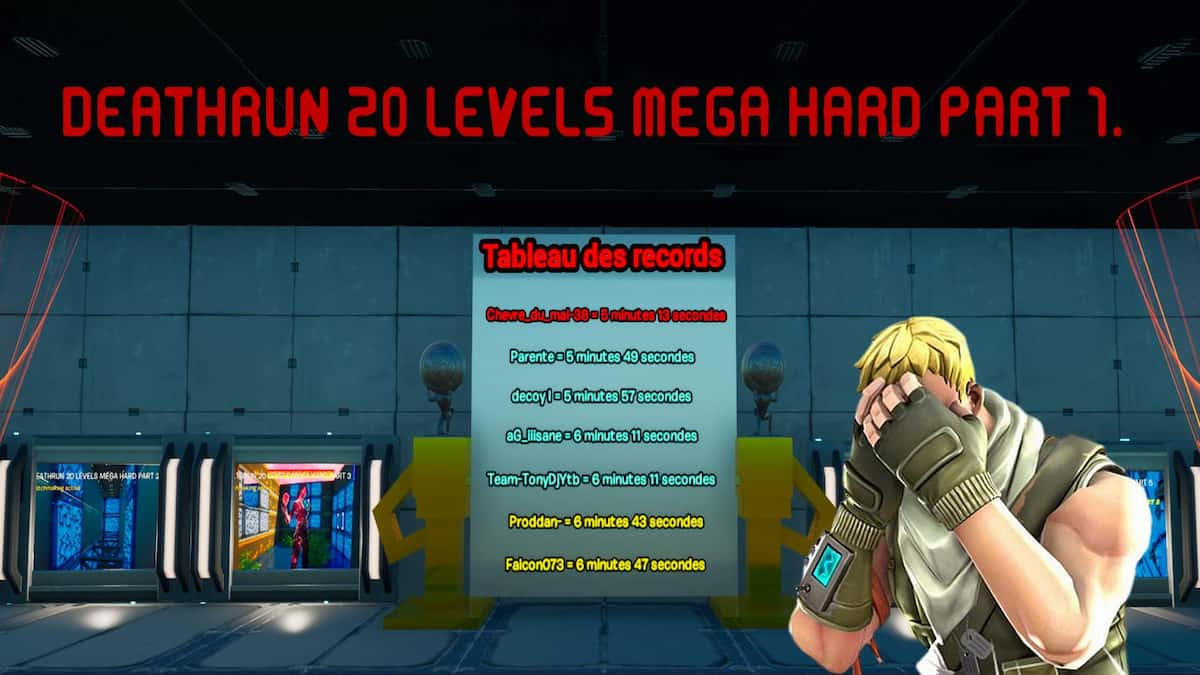 Deathrun 20 Levels Mega Hard Map Code 1: 7001-2970-1192
Deathrun 20 Levels Mega Hard Map Code 2: 7675-8160-9260
Deathrun 20 Levels Mega Hard Map Code 3: 2584-1590-4449
This deathrun map is classified as an insanely hard deathrun course map by its developer — Tonydjytb. The developer has divided the entire course into three different maps, with each room consisting of 20 levels in various settings. All the maps are equally tough and will require hours of practice/repetition of perfect sliding, combo movements, and other parkouring techniques to complete each of them. I highly recommend you check out all the maps if you want a high-intensity deathrun gameplay experience each time.
Blackout Deathrun(Hard)
Blackout Deathrun(Hard) Map Code: 2556-2166-1966
Few custom room creators in the Fortnite universe always try to innovate with existing rules and norms from time to time. Saine also has joined that array of developers with his latest map Blackout Deathrun(Hard), which features a unique gameplay element called blackout that turns off the light of the entire map at random instances, making you rely on past runs to complete each level. Definitely have a look inside the server if you are looking for something new in the deathrun genre.
The Golden Lady Deathrun
The Golden Lady Deathrun Map Code: 6863-9471-5419
This map room experience by Tinkerbell1980 is marked as a Medium difficulty in rating. True to its words, the map room is indeed a tough experience as players need to use a lot of mechanics ranging from super jumping to slide-jumping combos to complete the 20 levels of the game. So, if you are a fan of deathrun maps that demands players to use a lot of cool skill movements, definitely add The Golden Lady Deathrun to your custom room wishlist. 
200 Level Default Deathrun
200 Level Default Deathrun Map Code: 1234-8368-4039
This Deathrun map by FXXDI has a total of 200 levels to play and complete. Unlike other maps, where the setting remains the same throughout the campaign, the ambiance in the 200 default run keeps changing for every 50 levels providing a soothing and fun gameplay experience for players. Also, the map adopts a progressive scaling approach. So the initial levels will be easy to complete, and the latter will be very tough. Also, the room has unique features like high score save, challenge mode, and even bonus levels if you complete the entire game.
Escape Grandma's House Obby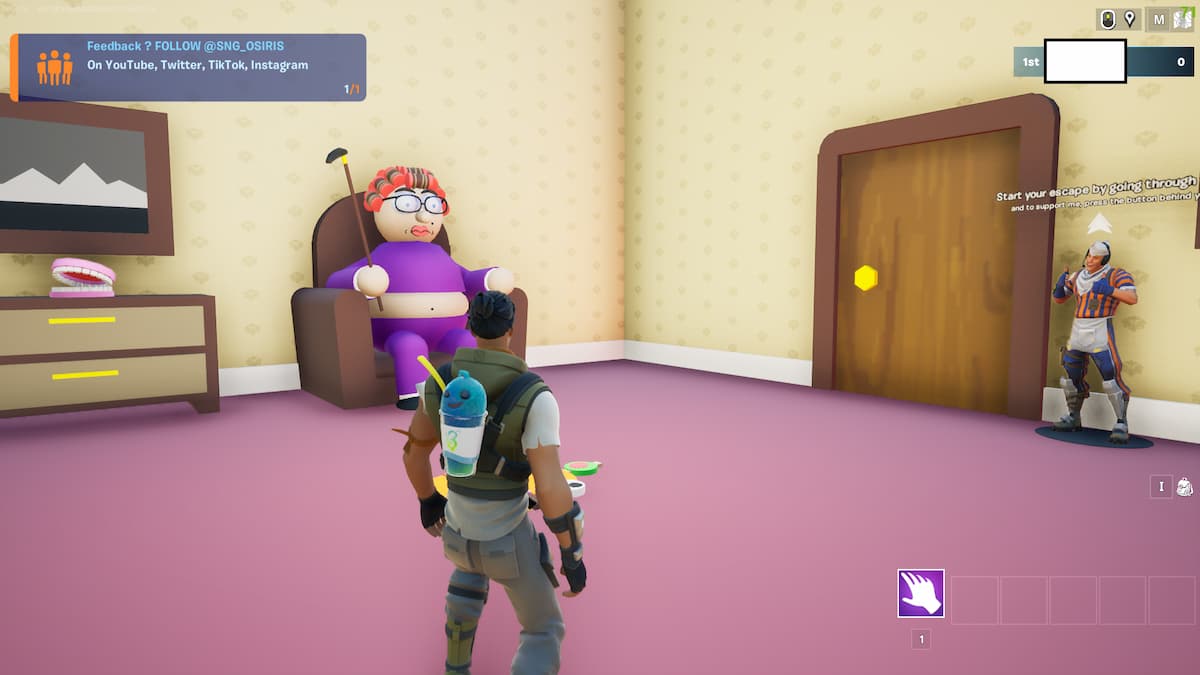 Escape Grandma's House Obby Map Code: 7752-6922-0926
Deathrun maps with a small backstory or theme are always a hit in the deathrun genre, and Escape Grandma's House is no different. Indicative of the title, you are stuck inside a Grandma's house. The only way out of the premises is to complete all the deathrun levels. The levels are also beautifully made to match the theme, as the stages involve you jumping around cookies, kitchen sinks, and a fake tooth set. Though it may look childish and colorful, the levels are insane, as you need to practice a lot to finish each stage. Do check out the map if you want a good set of deathrun levels with a theme-based twist.
The Slightly Different Deathrun
The Slightly Different Deathrun Map Code: 7800-0491-7824
Indicative of its title, this deathrun by Fraubanaus is a weird and unique deathrun map. Its weirdness mainly arises due to its map design which ranges from running inside rooms to vaulting across vertical tiles. It's a very addicting map and will make you hooked due to its unconventional gameplay. Even though it supports up to 16 players, we highly recommend you to play the map as a solo player as it's catered to enjoy without much distraction from friends.
8 Frames Deathrun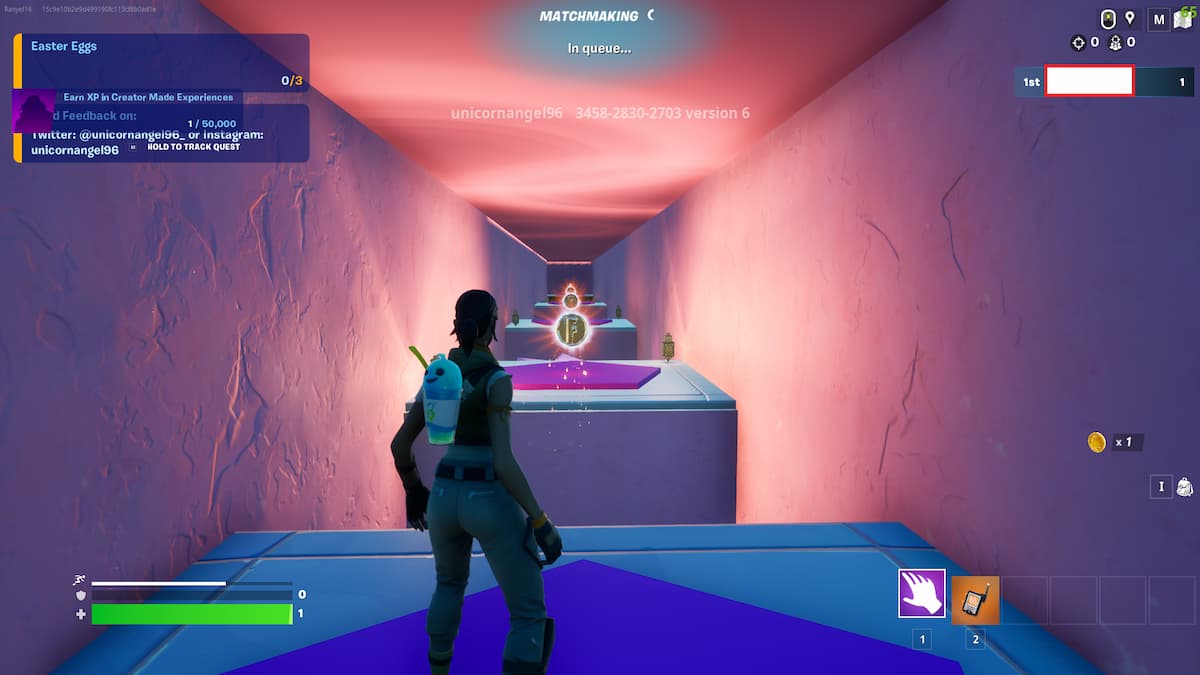 8 Frames Deathrun Map Code: 3458-2830-2703
8 Frames Deathrun is one of the newly created deathrun maps on the list. Unlike a traditional deathrun map where you must run rhythmically, eight frames deathrun has a mixture of gameplay elements. For example, on some levels, you need to use a bike to traverse across a ledge. In others, you must jump properly on tiles with zero gravity. This mix and match of gameplay elements is the reason the map why the map stands apart from the rest of the code rooms. Do look at the map if you want an experience that's unique in the deathrun genre but has the traditional rules.
Deathrun Hard De L'Impossible +++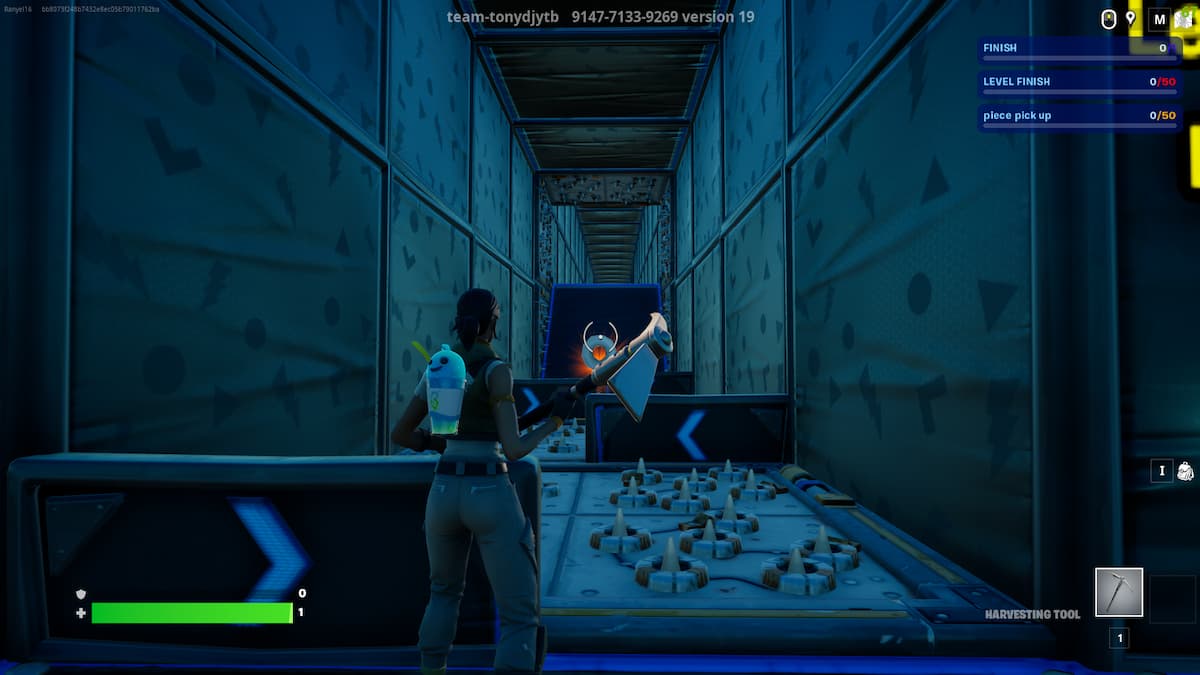 Deathrun Hard De L'Impossible +++ Map Code: 9147-7133-9269
As the name suggests, this deathrun by Team- Tonydjybt is one of the hardest deathrun in the Fortnite universe. It's so tough that even some of the veterans of the deathrun genre have given up the idea of finishing it, as some of the level sequences look impossible and will require a lot of luck than practice to finish it. If you think you are really good at completing difficult deathrun maps, please give a chance to Deathrun Hard De L'Impossible. We are pretty sure that it will not disappoint you at any cost.
Junji Ito Maniac Haunted House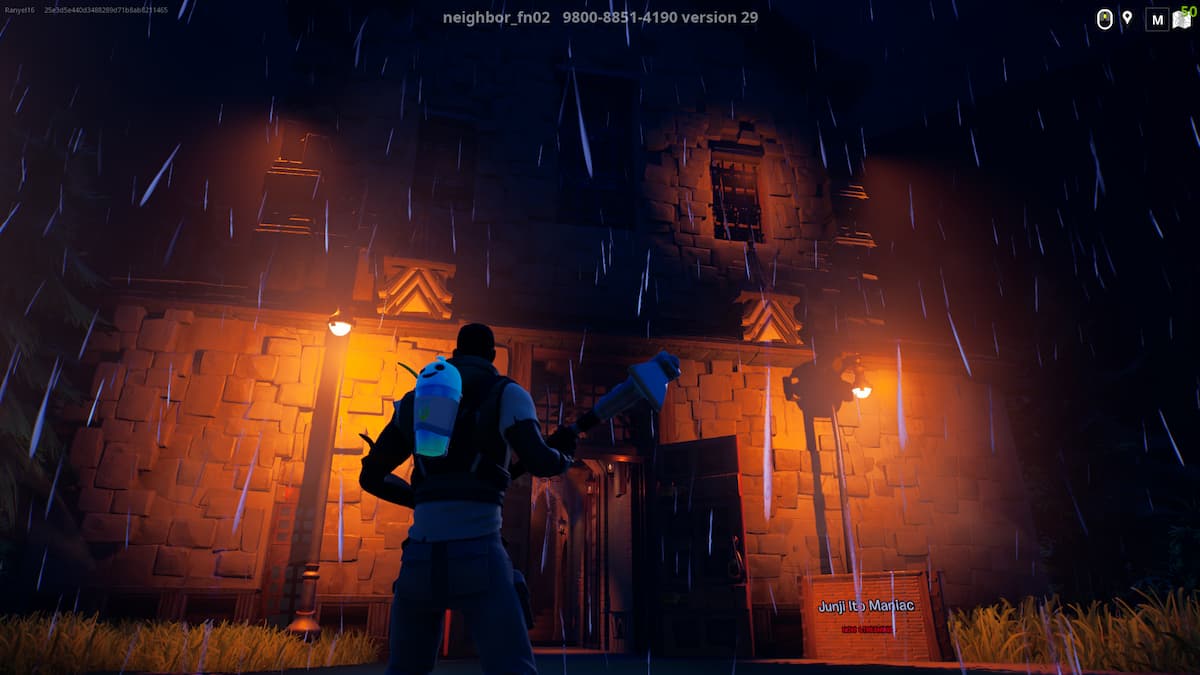 Junji Ito Maniac Haunted House Map Code: 9800-8851-4190
When anyone speaks about deathrun maps, it's usually all about running inside a maze-like corridor using all their parkouring and movement skills. But, this map by Neighbor_Fno2 deviates from that format by including several unique elements in the map, like running, flying, driving, and even balancing, as a part of its gameplay structure. Due to this varied approach, the map is fun to play and never makes you bore. Plus, the spooky elements that the map incorporates add a subtle layer to the world-building aspect. Please check the map if you want something different from the generic deathrun maps of the Fortnite universe.
The Mecha Deathrun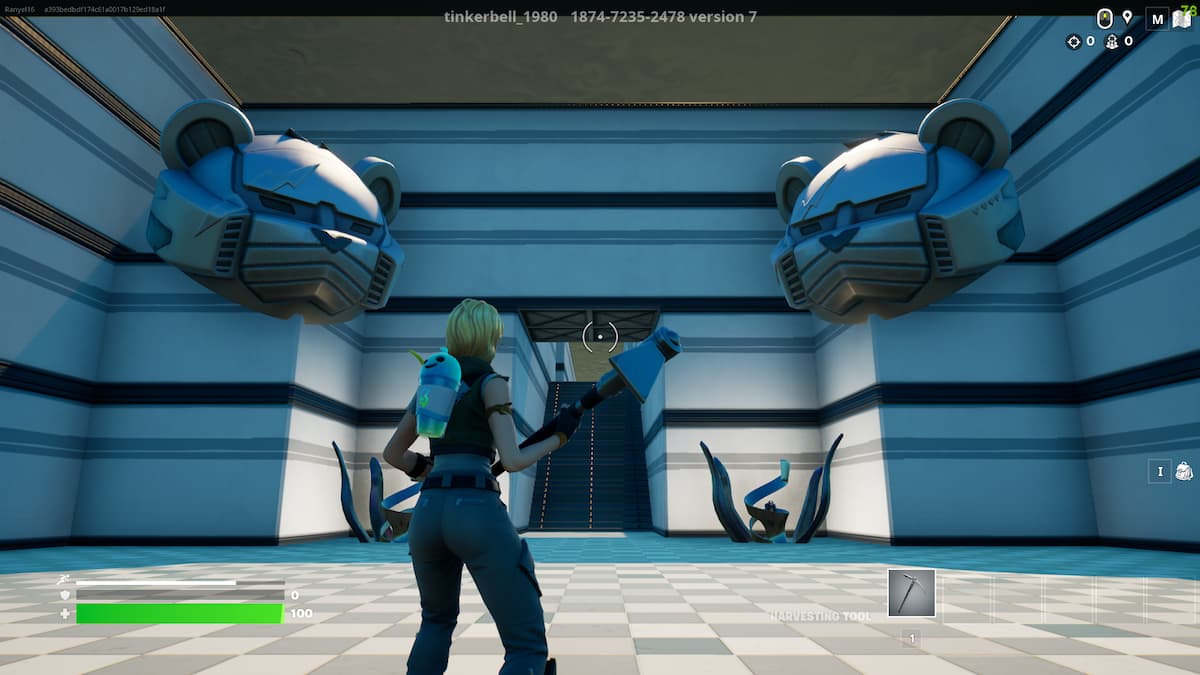 The Mecha Deathrun Map Code: 1874-7235-2478
This Tower Deathrun by Tinkerbell stands out from other types of deathrun mainly due to its insane difficulty. Though it features only 13 levels, you need to sweat out a lot even to finish one single stage. Don't think it may be only hard for a beginner or intermediate players, as it will even bring the best deathrun veterans to their knees. Also, the map supports the ability to play with 12 other players concurrently. So, share the code with your friends if you don't want to go through this gruesome experience alone.  
The Tower Deathrun 99% Impossible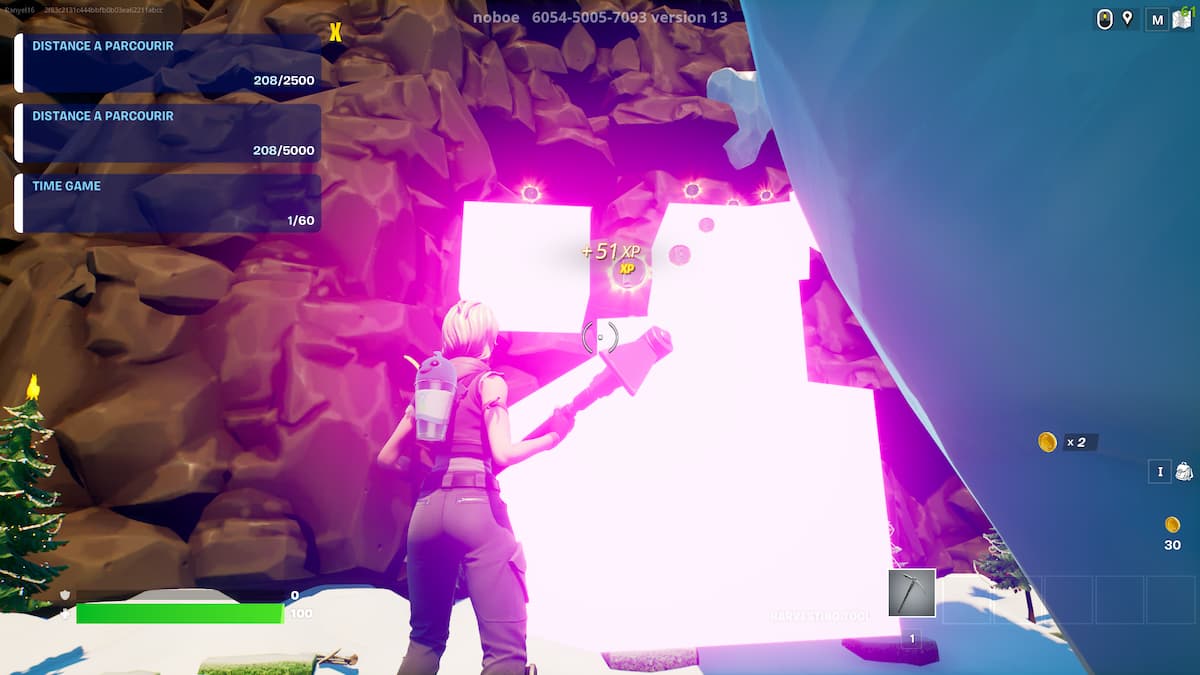 The Tower Deathrun 99% Impossible Map Code: 6054-5005-7093
The Tower deathrun 99% is one of the latest and trending tower death runs in Fortnite. Unlike other deathrun maps that are difficult from the get-go, the tower deathrun slowly picks pace by giving simple tasks at the beginning and transitioning into insanely mundane quests that require a lot of repetition/training. The other best part is that the map rewards XP to players for completing each stage, providing a fair deal for spending their valuable time on the server.
21 Ways to die Deathrun Part 1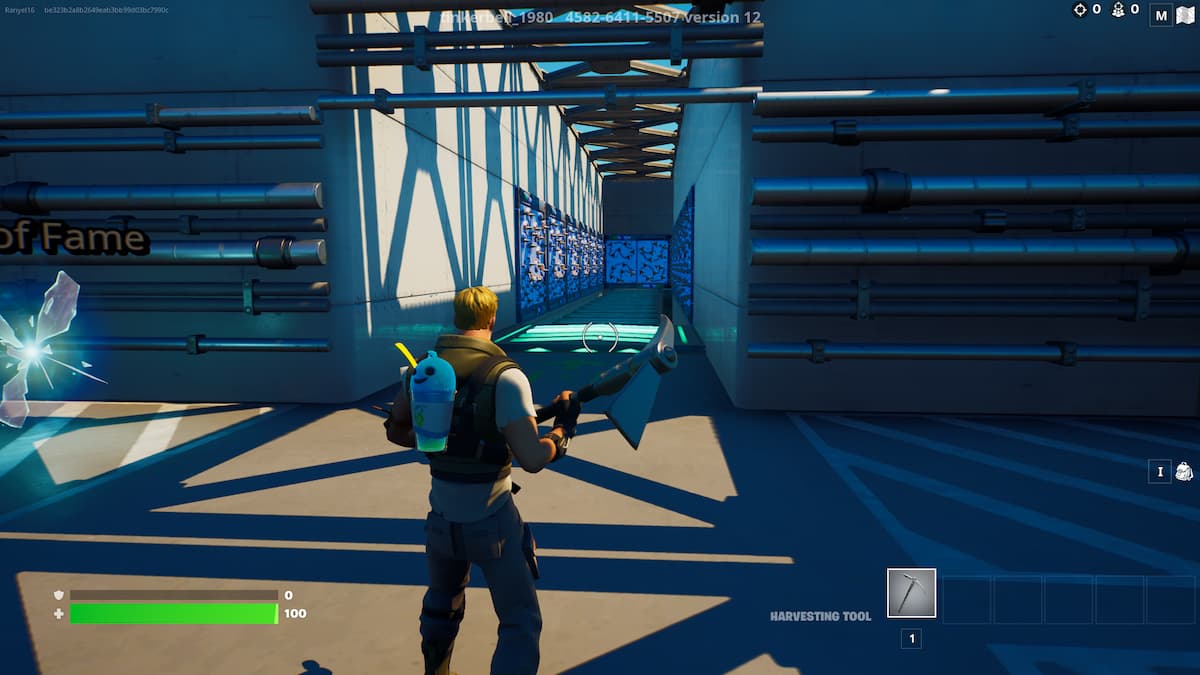 21 Ways to die Deathrun Part 1 Map Code: 4582-6411-5507
Indicative of its title, this deathrun map code from Tinkerbell_1980 is one of the hardest and most challenging ones in the entire list. Unlike other deathrun maps, where you might get some breathing space in the initial stages, this one directly urges players to be on their toes and move precisely according to the obstacles provided. Each one of the 21 levels is uniquely designed and never feels like you are overusing the same mechanics repeatedly.
The Official Car Deathrun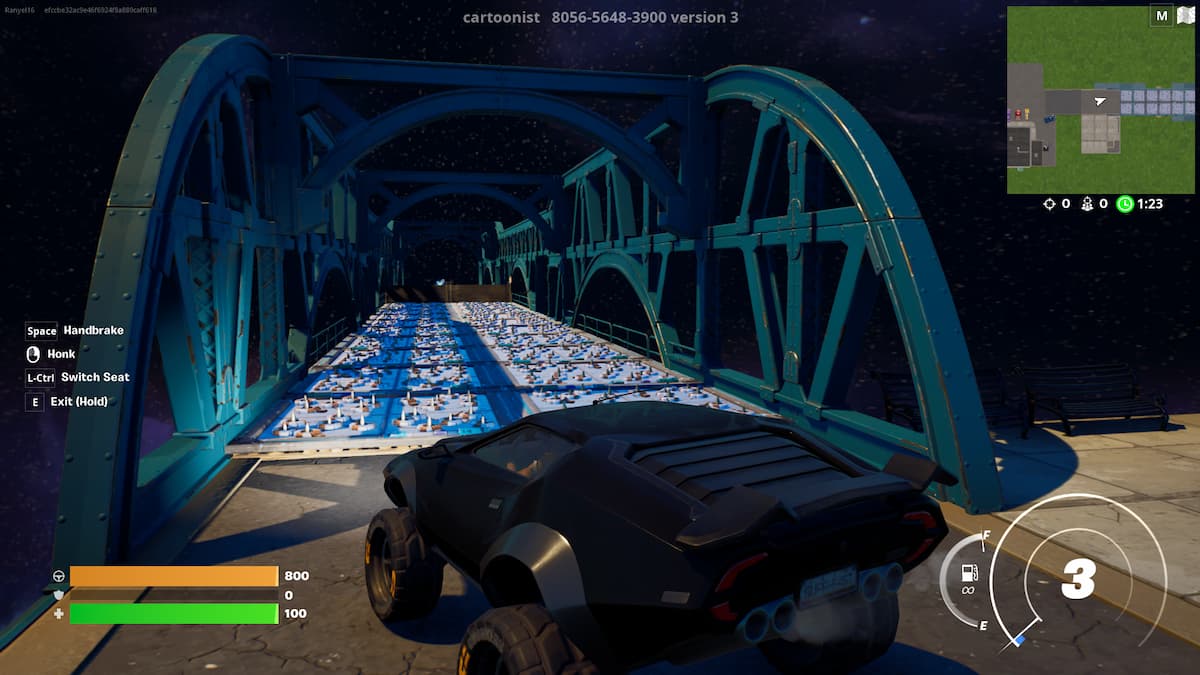 The Official Car Deathrun Map Code: 8056-5648-3900
The Official Car is a unique deathrun map in Fornite. Its specialty arises from its gameplay mechanics, as instead of using the character model to parkour across the levels, you have to drive vehicles to cross the given stages successfully. These concepts were quite popular in the GTA Online game mode before making their way to the Fortnite universe. Though the map has few levels, the ones available are extremely fun to play, and more importantly, they are balanced in terms of difficulty scaling.
Related: Fortnite Murder Mystery Codes (January 2023)
2023 New Years Deathrun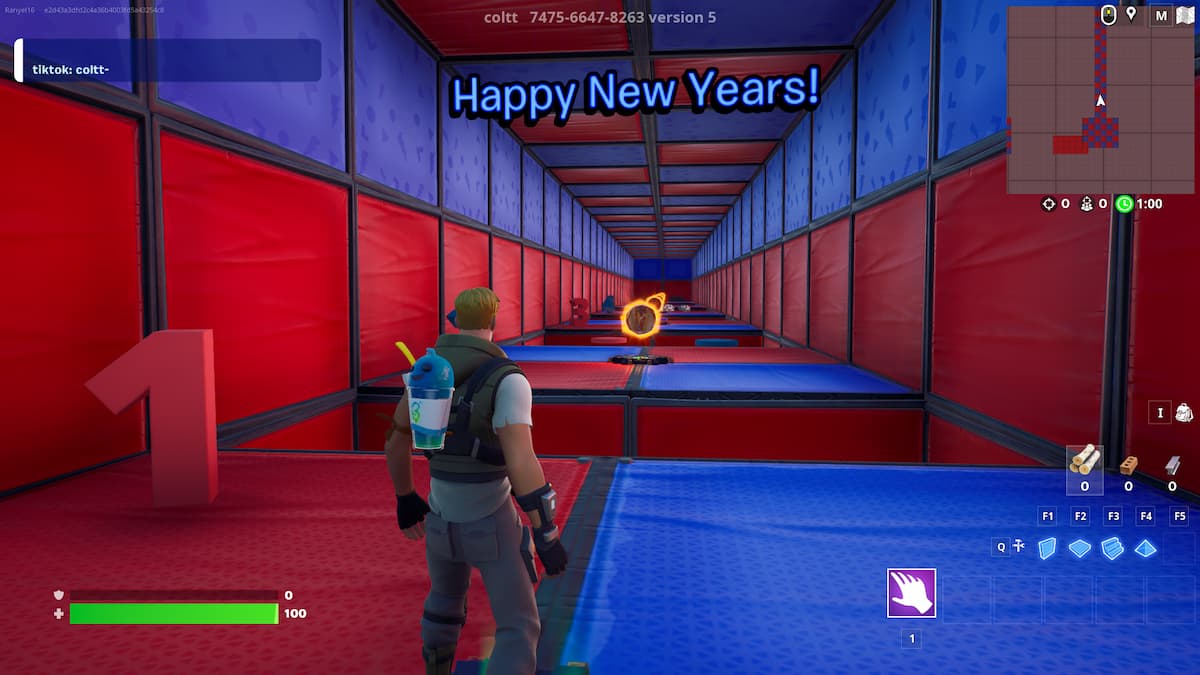 The Official Car Deathrun Map Code: 7475-6647-8263
This new year theme map from Colt is an arduous deathrun that tests almost every skill in your bag. Let it be the precise movement-based jumps or the latest sliding+ jumping combo technique, every single movement mechanics must be mastered even to complete the initial few levels. Due to this punishing nature of the map, we recommend the room to the competitive veterans of the Deathrun genre, who would happily learn and master these advanced techniques through repetition.
300+ Levels Halloween Parkour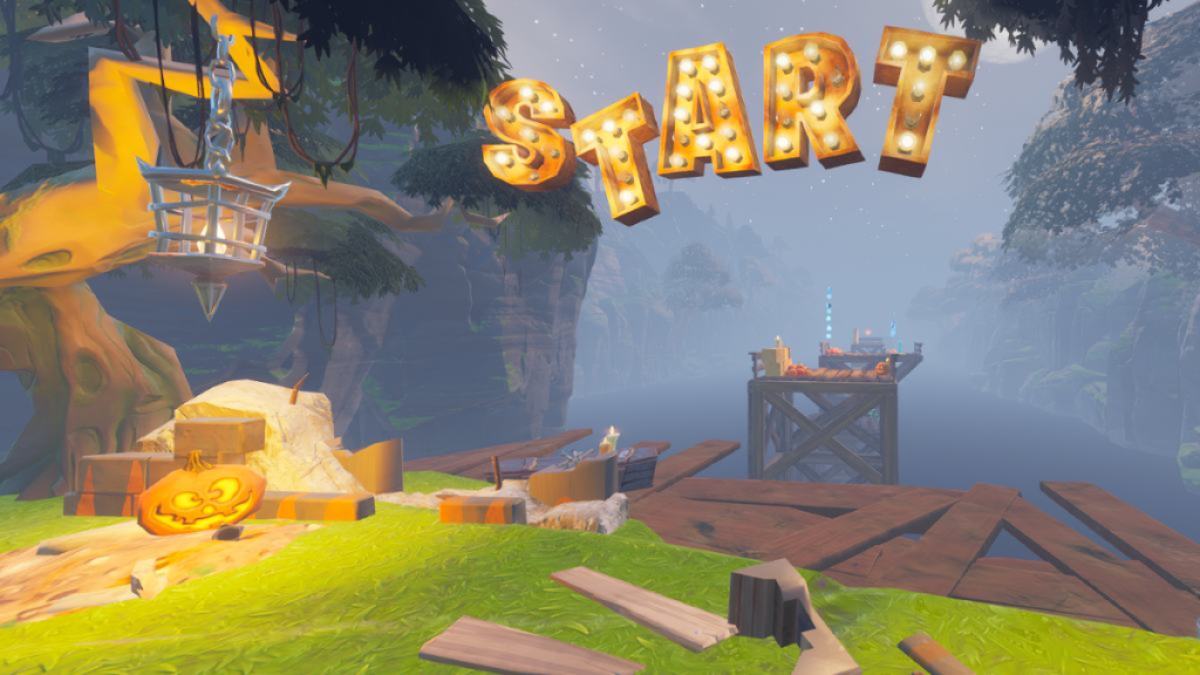 300+ Levels Halloween Parkour Map Code: 0077-7797-7371
Halloween is one of the most popular times to build themed maps for a lot of creators, and this map was quickly recognized as one of the best Halloween-themed maps of 2022. It has a (literally) straightforward path design and only allows four players per game, which means it works perfectly as a spooky casual game for your squad!
First Person Deathrun Practice
First Person Deathrun Practice Map Code: 2876-1894-8328
Having been published over two years ago, this is one of the earliest Deathrun maps to feature first-person. It proved to not only be a great first-person map, but also just a fun deathrun map to return to and play every so often. For those of us that like an additional challenge that completely changes the way you master your Fortnite parkour skills, this is the perfect map. Can you time your jumps properly and get to the end on a map where you can't see your character's feet?
Summer Deathrun Roxs
Summer Deathrun Roxs Map Code: 7534-0670-4898
This map might as well be considered the official deathrun map of the Summer, and not only for its name. It was featured as one of the maps to play on the No Sweat Summer playlist in the Fortnite Discover tab, which instantly made it popular. In this deathrun, you are forced to make it through 100 levels (and a few secret levels!) that are all themed for the season. We might even pick this map over a trip to a real beach during the summer!
Related: Fortnite First Person Codes – Best First Person Maps!
Galactic Deathrun Parkour + Moving Block
Galactic Deathrun Parkour Map Code: 8814-3273-4734
Some people might call it sensory overload, but even with the vibrant lights and intense colors, this is a well-designed deathrun map. It was released during Chapter 3 Season 2 and quickly became a fan favorite within the Creative community, accumulating thousands of views most of which had positive responses. If you're willing to risk falling into the spacial void, this is a great deathrun to try!
500 Levels Default Deathrun
500 Levels Default Deathrun Map Code: 9386-6875-7537
Sometimes, if you want to make a good deathrun, you just have to make it big—massive, even. Of course, it's still important to be decent quality. Decent popularity doesn't hurt either, since sometimes it's fun to play along with others as you repeatedly try to reach the end. You'll find all of this in the 500 Levels Default Deathrun. This map is frequently featured on the Discover tab and, with 500 levels, isn't lacking in content. If you want to tune out for a couple of hours and have fun with your other players, this is the best map to play!
Klombos 300 Levels Deathrun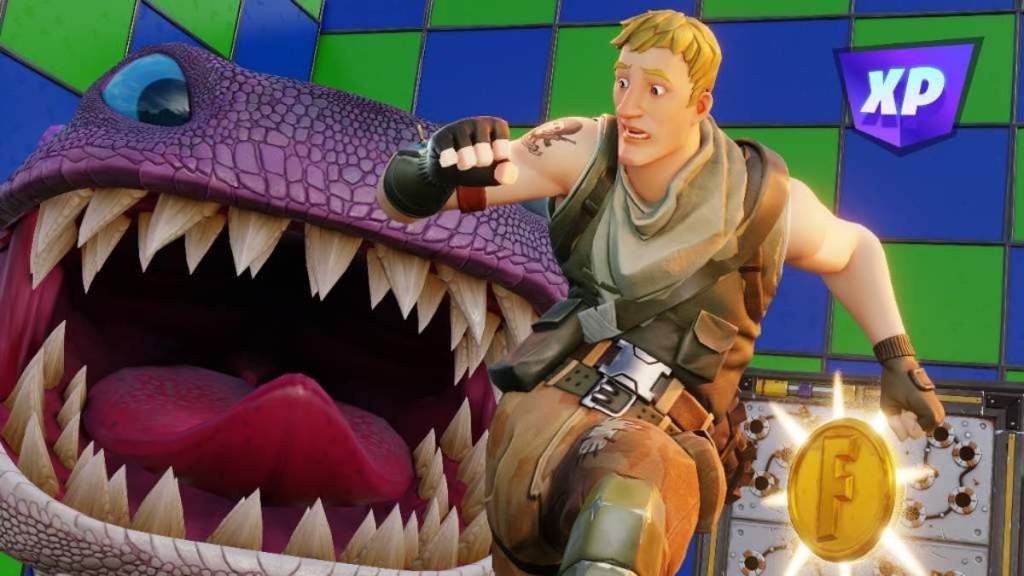 Klombos 300 Levels Deathrun Map Code: 6922-5419-0878
This is a Klombos-sized deathrun with a massive 300 levels to conquer! This map quickly climbed the ranks of popularity as soon as Klombos were added to the game in Chapter 3 Season 1. It features a variety of challenging levels that don't follow the typical game mechanics for Deathruns. Many players suggest this Deathrun is too easy, but we certainly found it to be a challenge. Do you think you can defeat the Klombos run?
Duo Love Run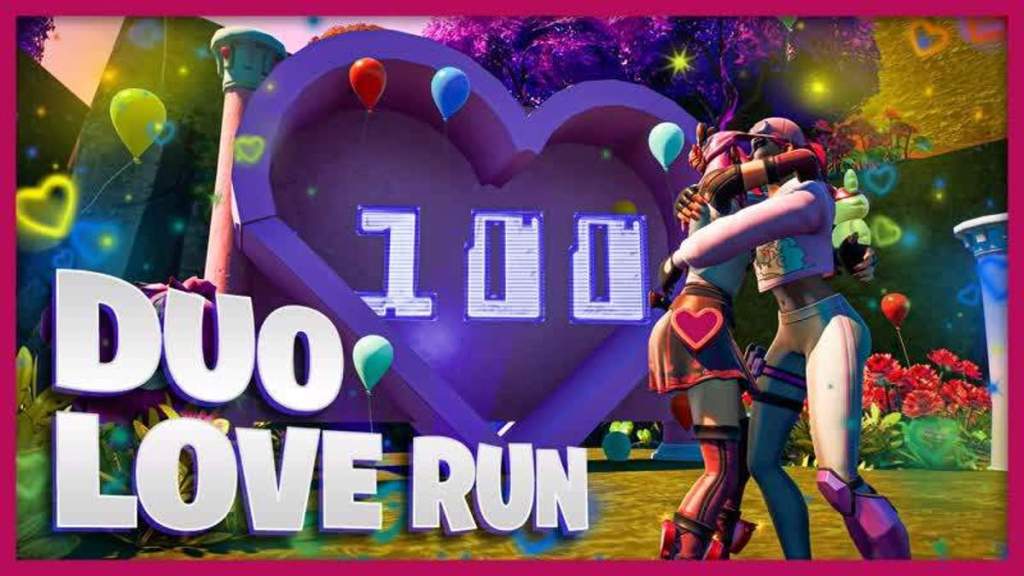 Duo Love Run Map Code: 5460-4360-3292
Live and die with your sweetest in this Valentine's Day-themed Deathrun that pits you and your partner against a long corridor full of dangerous traps, fun challenges, and doom around every corner. If you think you and your Fortnite friend can conquer death and work in tandem to stay alive, this is the perfect map for both of you! If you make it to the end, be sure to give your co-runner a hearty hug!
Duo Disco Deathrun
Duo Disco Deathrun Map Code: 7662-4632-7482
The Mystery of Lonely Island Deathrun
The Mystery of Lonely Island Deathrun Part 1 Map Code: 1139-9109-8728
The Mystery of Lonely Island Deathrun Part 2 Map Code: 9892-3048-0866
In this two-part series, players are stranded on Lonely Island and need to explore and survive through a myriad of traps and challenges to escape. Part 2 is a 50-level deathrun that feels like it has a new mechanic for each level. Perhaps one of the most enticing aspects of this map is the level of detail that went into it, as the atmosphere really pulls you into the feeling of being on an isolated island!
Related: Easy Deathrun Codes for Fortnite (January 2023) – Maps for Noobs!
Pirate Jonesy's Deathrun
Pirate Jonesy's Deathrun Map Code: 7452-9966-3879
This is one of the most popular Deathrun maps available in Fortnite. It seems all the best Deathrun maps involve Jonesy in some way (see Season 5 Battle Pass Deathrun below). This map contains 10 difficult levels to complete before you get to square off against Pirate Jonesy himself! Can you declare yourself captain?
Island Master Deathrun
Island Master Deathrun Map Code: 2064-5844-7922
We love themes on Fortnite maps and we love races in Deathrun maps. This map features the best of both worlds. You race against other players in your party to the end of the run to be declared Island Master! This Deathrun contains plenty of difficult parkour, so be ready for a challenge!
Fortnite Creative Maps Coverage