Image via Roblox Hero Tower Defense
If you're a fan of the anime series My Hero Academia, you're going to love the Roblox experience Hero Tower Defense! Summon your favorite heroes including Dabi, All Might, and Tetsu Tetsu, then follow the storyline or select infinite defense and defend you're your base from all-comers! Complete levels and quests for more gems and bolster your roster with even better hero towers.
Hero Tower Defense codes give you hundreds of free Gems! Gems are the main currency in the game and allow you to summon new heroes. The game is still in early access, so there may well be more code options in the future such as codes giving you unique items and free boosters. If you love anime tower defense Roblox games, also check out Anime World Tower Defense.
All Hero Tower Defense Codes List
Hero Tower Defense Codes (Working)
These are all the working Hero Tower Defense codes.
150kVisits!—Redeem for 900 Gems
Cementoss—Redeem for 600 Gems
FlectTurn—Redeem for 600 Gems
SorryForShutdown—Redeem for 500 Gems
WorldHeroesMission—Redeem for 1,000 Gems
kingluffy—Redeem for 350 Gems
Hero Tower Defense Codes (Expired)
These are expired codes for Hero Tower Defense.
100KVisits!—This code has expired.
1KLikes!—This code has expired.
500Likes!—This code has expired.
25KVisits!—This code has expired.
100Likes!—This code has expired.
Related: Tower Defense Shinobi Codes
How to redeem codes in Hero Tower Defense
Follow the instructions below to redeem codes in Hero Tower Defense.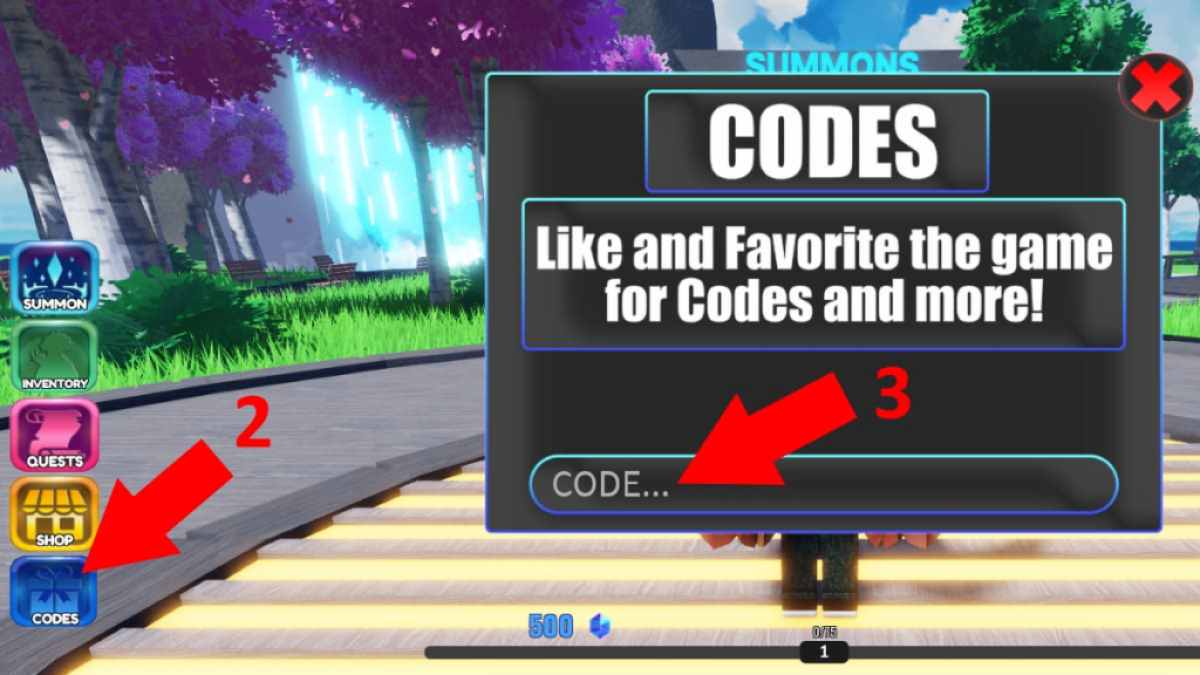 Launch Hero Tower Defense on Roblox.
Press the blue CODES button on the left.
In the text box saying CODE… enter the code exactly as it appears in the list above.
Press Enter on your keyboard to claim your reward!
How can you get more Hero Tower Defense codes?
If you're looking for more Hero Tower Defense codes, it's well worth starting by joining the Komplex Studio Roblox Group, the home of the game's developers. Outside of Roblox, you can follow @KomplexStudio_ on Twitter for updates and become part of the official Hero Tower Defense Discord Server, where you'll find sneak peeks, updates, and more.
Why are my Hero Tower Defense codes not working?
If you've attempted to use one of the Hero Tower Defense codes printed above and it hasn't worked, the first thing to try is cutting and pasting it directly from us. If you make a typo, even if it's just getting capitalization differently than we've written it, that can invalidate a code. If you've tried that, then it is likely the code has expired. If the developers have removed it, we can't help, so let us know in the comments below so we can update the guide. Then bookmark us and check back soon, as we'll be taking down towers and looking for new codes everywhere we can!
Other ways to get free rewards in Hero Tower Defense
The best way we've found to get more free rewards in Hero Tower Defense is to complete quests. You can check current quests by clicking the pink Quests button (two up from the Codes button). These can give you free Gems and XP for doing things you'll be doing in the game anyway, such as reaching new levels and defeating enemies. Be sure to check your quests tab regularly to see what you need to achieve and to collect your free rewards!  
What is Hero Tower Defense?
Hero Tower Defense is a standard anime-inspired tower defense-style Roblox experience. It has a slick interface and a simple gacha-style system for collecting towers. You can feed duplicate tower picks to your favorite heroes to level them up and make them more powerful, while the selection of available heroes changes regularly. There are also two game modes: storyline and infinite.
If you're looking for codes for other games, we have a ton of them in our Roblox Game Codes post! You can also get a bunch of free stuff via our Roblox Promo Codes page. And in the meantime, take a look at the latest news to stay up-to-date on all things entertainment.