Screenshot by Pro Game Guides
Pixel Gun 3D is a first-person shooter game where you can unlock new weapons and equipment and level them up by playing different game modes. Besides playing on the different multiplayer maps, you'll also get to enjoy various mini-games, battle royale, and campaign mode in Pixel Gun 3D. Gems and Coins are two of the primary currencies in Pixel Gun 3D, and you will need them frequently to get new items in the game.
Leveling up and upgrading all your weapons in Pixel Gun 3D can be a prolonged task, and this is where you can use codes to get a good head start in the game. Pixel Gun 3D codes can be used to redeem resources like Gems and Coins, and claiming these rewards will help you get a head start in the game. If you are looking for similar guides, check out UNO Mobile Codes, Lords Mobile Codes, and Mobile Legends: Adventure Codes on Pro Game Guides.
All Pixel Gun 3D Codes List
Updated April 21, 2023

No new codes today.
Pixel Gun 3D Codes (Working)
These are all the working Pixel Gun 3D codes.
MAILBOX—50 Gems and 50 Coins
Pixel Gun 3D Codes (Expired)
These are expired codes for Pixel Gun 3D.
Related: Fruit Warriors Codes
How to redeem Codes in Pixel Gun 3D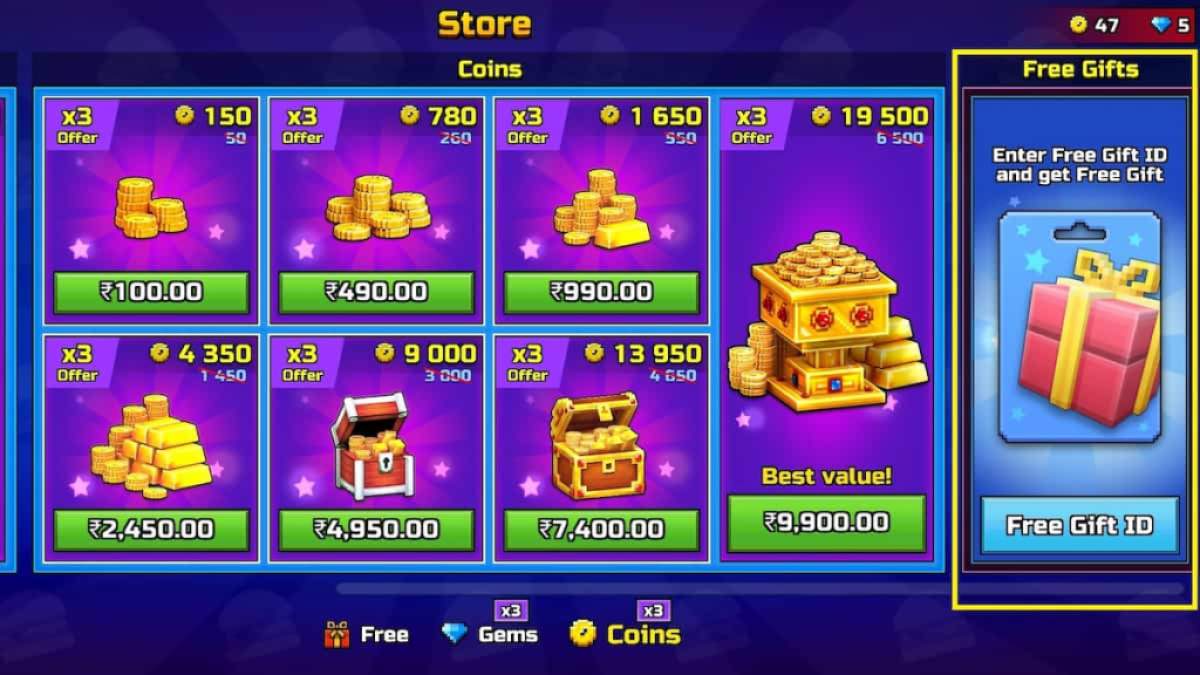 Redeeming codes in Pixel Gun 3D is simple. Just follow the steps below.
Launch Pixel Gun 3D.
From the Lobby menu, tap on the Plus Icon on the top right-hand side of the screen.
You will get to the Store section, from where you'll need to scroll to the right to find the Free Gift ID tab.
Press on the marked text field and enter the Working codes in the blank space.
Press Enter to redeem the code and claim your free reward.
How can you get more Pixel Gun 3D Codes?
Pixel Gun 3D codes are released by the developers, and they are intended to reward active users. These codes allow you to get rewards for participating in different in-game events, and most of them are available for a limited time. If you are looking to get more Pixel Gun 3D codes, then we recommend following the official @PixelGun3D Twitter page. You can also join the Pixel Gun 3D Discord forum to stay ahead of the latest updates. We make sure to keep our code articles up to date, and you can expect this page to be updated when the developers add any new codes! You can also bookmark this page by pressing Ctrl+D, and check back regularly to see if new codes are added to the game.
Why are my Pixel Gun 3D Codes not working?
Pixel Gun 3D codes can reward you with Gems and Coins in-game, but sometimes they do not work for several reasons. The most common mistake is misspelling the code, or typing it incorrectly with missing characters. You can directly copy codes from the website's Working Codes list and paste them into the game. Keep in mind that some of these codes are only available for a limited time, and you can check the Expired Codes list above to be sure. We recommend redeeming the codes as soon as they release to get the best shot at progressing quickly in Pixel Gun 3D.
How to get extra rewards in Pixel Gun 3D
Besides redeeming Pixel Gun 3D codes, there are a few other methods to get exciting new items in the game. You can claim a free reward in Pixel Gun 3D every day. Visit the store section and claim the Daily Gift to collect your free item. Likewise, there is also a Mafia Lottery system in Pixel Gun 3D that can be unlocked with keys. Keys are won by playing the game, and you can unlock chests from the Lottery system using these keys. You'll also get the option to watch a video to claim a Mafia Lottery chest for free in Pixel Gun 3D.
What is Pixel Gun 3D?
Pixel Gun 3D is a first-person shooter published by Cubic Games, featuring a range of game modes. You can jump into the immersive campaign mode, or test your skills in the multiplayer maps and battle royale. There are several classes of weapons, armor sets, gear, and other equipment that can be unlocked and upgraded in the game. Pixel Gun 3D also has a brilliant character customization section, where you can personalize your avatar by wearing different skins and cosmetics.
If you're looking for codes for other games, we have a ton of them in our Roblox Game Codes post! You can also get a bunch of free stuff via our Roblox Promo Codes page.